Refugees & Asylum Seekers in Israel Conference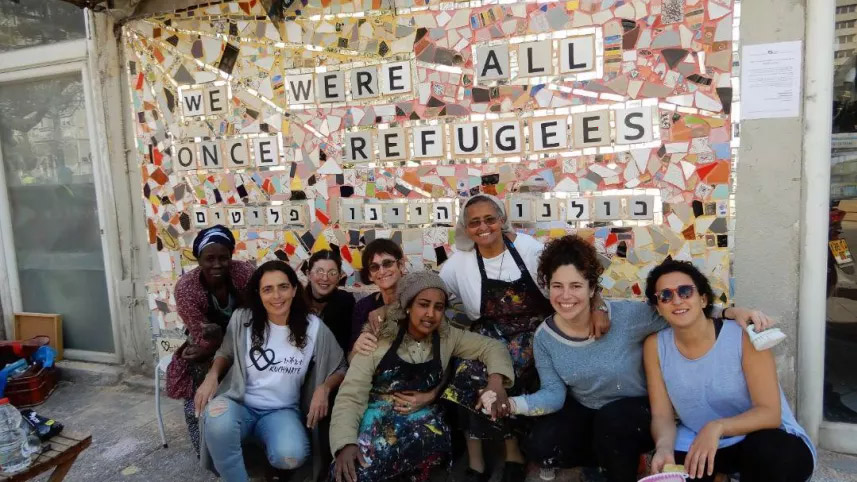 While Israel was founded to become the home for Jewish refugees from all over the world, in recent years many non-Jewish refugees, mainly from Africa, have reached the Jewish state. This conference will look at the different groups of mainly non-Jewish immigrants, refugees, and asylum seekers by assembling the leading academic experts in the field, as well as activists and refugees.
Conference Background & Schedule
Israel was built as a state for immigrants: Jewish immigrants. In 1948, no one expected Israel to become a destination for non-Jewish refugees and asylum seekers. The Law of Return of 1950 regulated the "return" of Jews to Israel, not the immigration of non-Jews. When, in 1977, Menachem Begin's first action as newly elected prime minister was to grant asylum to sixty-seven Vietnamese boat refugees who were drifting aimlessly in the Chinese Sea, this was a symbolic act, without major implications for Israeli society. During the 1990s, when many Jews from the former Soviet Union immigrated, the number of non-Jews in Israel rose dramatically, as non-Jewish family members were able to enter under the Law of Return.
With very few Jews left in the former Soviet Union and Europe, no potential immigrants in Arab countries, and no realistic prospects of drawing masses of American Jews, Israel's future immigrants may well come from sub-Saharan Africa and South Asia. It is there that hundreds of thousands, perhaps millions of people claiming to be descendants of the "Lost Tribes" are waiting to be officially recognized as Jews. Besides these "emerging Jews" there are hundreds of thousands of recent non-Jewish migrants to Israel, who have come as guest workers from the Philippines, Thailand, India, Sri Lanka, Romania, and other countries. They are principally employed in senior care, agriculture, and construction.
Finally, there are African refugees without claim to Jewish descent who come in search for a new home, diversifying Israeli society today. According to estimates, about 60,000 African refugees reached Israel between 2005 and 2015. Many of them settled in the poor neighborhoods of South Tel Aviv, where they found work in restaurants and other businesses. Their legal status is undefined, as Israel does not have asylum laws. As in most Western countries, so in Israel, this undocumented immigration evoked both gestures of welcome and expressions of resentment. A number of private organizations helped the new arrivals find places to live, learn the language, and get settled. Their support countered street protests and acts of violence against the refugees, who were often viewed in the context of fear of terrorists' infiltration. The Netanyahu government reacted by building a fence along the southern wall of Israel and by taking measures to return some of the refugees to their countries of origin.
This conference will look at these different groups of non-Jewish immigrants, refugees and asylum seekers by assembling the leading experts in the field.
Opening Remarks
5:00-5:15
Michael Brenner, Director, American University Center for Israel Studies
Peter Starr, Dean, College of Arts and Sciences
Legal and historical background
5:15-7:00 
The Israeli Asylum Regime: A Socio-Legal Introduction
Tally Kritzman-Amir, Harvard University
Israel, the Making of the UN 1951 Refugee Convention, and its Impact on the Coming of African Refugees
Gilad Ben-Nun, Leipzig University
Politics, Populism, and the Refugee Question
Shai Tagner, Ben-Gurion University of the Negev
Moderator: Jayesh Rathod, Washington College of Law
All sessions will take place at American University's East Campus Constitution Hall, with the exception of the 2:45-5:30 sessions in the AU Museum at the Katzen Arts Center.
Being Black in Israel: African Immigrants and Refugees in Israel
10:30-12:30
Already Black, and Proud and Righteous: Black Hebrews and Other (Black) Immigrants to Israel
Fran Markowitz, Ben-Gurion University/Emory University
Being Black, Becoming Black and E-Racing Black: Ethiopian Israelis and their Neighbors
Steven Kaplan, Hebrew University
Fighting for Dignity and against Deportation: West African Leadership and Israeli Policy toward African Migrant Workers, 2002-2005
Sarah Willen, University of Connecticut
The Asylum Community in Israel
Tageldin Haron Gamaa Abaker, founder, African Student Organization, Israel
Moderator: Morad Elsana (American University) 
Boxed Lunch
12:30-1:15 ($10 Cash Contribution)
Panel Discussion: Refugee Experiences in Israel and the US
1:15-2:30
Julie Fisher, Consortium for Israel and the Asylum Seekers, Jerusalem
Mutasim Ali, Former Sudanese Refugee in Israel, George Washington University
Donald Kerwin, Center for Migration Studies, New York
Mark Hetfield, HIAS
Moderator: Alan Kraut, American University 
Radical Link: A New Community of Women, 1855-2020 Exhibition
2:45-3:45 
Guided Tour with artist Michal Heiman
The Reflection of the Immigrant and Refugee Experience in Israeli Art
4:00-5:30
Portraying States of Uprootedness in Israeli Art: From Olim to Refugees, Asylum Seekers and Migrants
Smadar Sheffi, COLLMAN-College of Management Academic Studies, Rishon LeZion
The significance of Michal Heiman's work
Sharon Sliwinski, Western University, Ontario 
Discussants: Michal Heiman, UCLA, and Ayelet Gundar-Goshen, UCLA
Moderator: Sarah Gordon
Ayelet Gundar-Goshen: Reading and Discussion of
Waking Lions and The Liar
7:00
Moderator: Lauren Strauss, American University
American University Sponsors
WCL Jewish Law Students Association
Non-AU Sponsors