Israel signifies idea and place. For over two millennia, Jews scattered in a far-flung diaspora preserved their attachment to Israel and the idea of return to their ancestral homeland. At the turn of the twentieth century, Zionist thinkers called upon Jews to create a Jewish state. Half a century later, the modern State of Israel emerged.
As place, Israel reflects its geography and history. The country is at one and the same time Middle Eastern and European, a Jewish state and a home to many religions. At times in harmony but also at times in tension, these diverse cultural influences define Israel. As place, Israel has also been shaped by its particular topography and ecology. These challenges have sparked Israeli pioneers in the sciences and social sciences.
The Center for Israel Studies at American University was created to study, examine, and interpret the rich landscape of Israel as a nation and a people.
Idea and place come together in creative tension to find their expression in the arts, humanities, sciences, and social sciences. Israel's world leadership in arid agriculture and its fusion of diverse influences in dance are two examples of how idea and place merge to shape Israeli contributions to the world.
The center integrates the prominence of American University faculty who have long-standing reputations in Israel with the university's expertise in the design of experiential and global education. It is a national and international hub for the creation and dissemination of knowledge about Israeli contributions in:
literature and letters
economic organization
environmental science - water resource utilization and arid agriculture
law and society
public administration
visual arts
performing arts-dance, music, theatre
Jewish studies
New Knowledge
It is not enough simply to learn and teach about what is. Ideas and culture are forever evolving, creating, and recreating from the past, while charging ahead to a future where globalization makes collaborations among countries imperative. American University's Center for Israel Studies has become a trendsetter in the fusion of national cultures and knowledge within a globalized society.

Through conferences, colloquia, collaborative research, and faculty exchanges, the center develops innovative ways to achieve the objective of understanding how nations can be integrated into a global discourse while preserving their national identities. Implementation of the New Knowledge Project is at the core of research activities in the Center for Israel Studies and will serve as a prototype for other country study programs in the United States.

Every year, at least one major conference is held at American University on some topic that pushes forward the study of the tension between globalization and national identities, ideas, and societies. At the end of one and a half decades of American University's Center for Israel Studies, the numerous conferences, faculty collaborations, and books constitute a major set of reference works on globalization and binational discourse.
American University has many attributes that make it an ideal site for the Center for Israel Studies:
gifted faculty with long-standing ties to Israel
commitment to sharing and enriching the heritage of Israel
a unique location with access to an existing international community and one of the largest Jewish communities in the United States-both of which can benefit from and contribute to the work of the center
extensive experience in international education
technology infrastructure which can provide inexpensive and rapid communication to facilitate dialogue among individual faculty, researchers, and students in both countries
The Center for Israel Studies:
houses and nurtures both existing and new knowledge of Israel
provides opportunities for the education of the next generation of both Israeli and American researchers and teachers
ensures that the inheritance of knowledge is passed on to Israeli and American University students
The Association for Israel Studies
The Center for Israel Studies was the first administrative headquarters for the Association for Israel Studies — the international professional association of scholars and researchers who study modern-day Israel. The center has hosted two of their international conferences.
Jewish Studies Program at American University
Courses in Jewish Studies enrich the understanding of American and world Jewries and of our pluralistic society.
Shimon Peres's Inaugural Address
27:49
Shimon Peres Inaugurates the Center for Israel Studies at American University, the first of its kind in the United States.
Dedication from Shimon Peres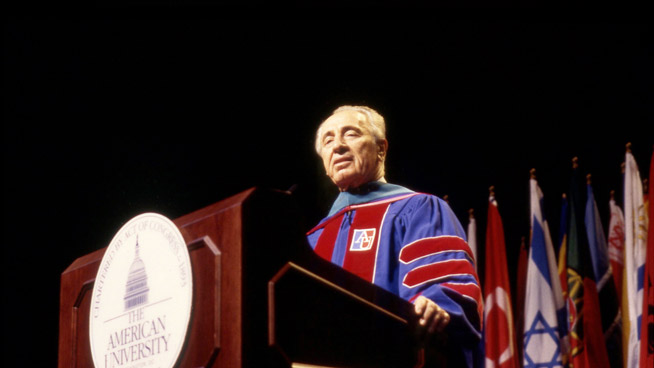 "Let me congratulate American University on your creation of a Center for Israel Studies. It is a timely and imaginative initiative in exploring Israel's many contributions to human dignity and progress in our country's 50 years of existence. You will help to bring together Israeli and American scholars, writers, artists, and scientists to share their knowledge and face the challenges of the new global era. This is a commendable idea and worthy of the widest support."

—Shimon Peres, former prime minister and president of Israel, giving a speech at AU's commencement after receiving an honorary doctorate.