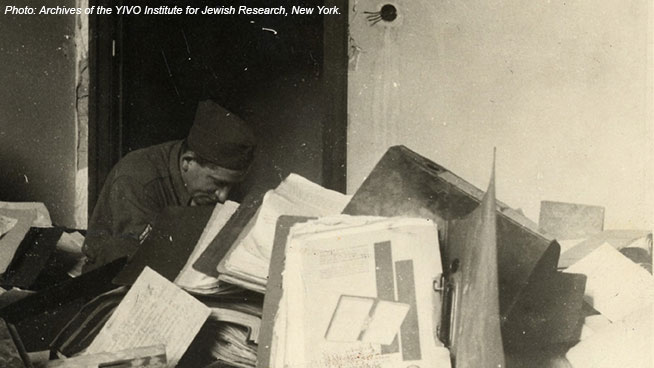 Do you want to know more about antisemitism, the Holocaust and its film and literature, Jewish comedy, Fiddler on the Roof, politics (American, Jewish, and Israeli), the Bible, Jesus, and how to order a falafel in Hebrew? If so, then American University's Jewish Studies Program has courses for you.
Our prize-winning faculty explore these topics and many others in our classrooms. Our students pursue internships at the world-class US Holocaust Memorial Museum, at the many Jewish communal agencies headquartered in the nation's capital, and on the Hill. Our campus hosts outstanding guest scholars and artists to deepen our understanding of Jewish life and culture. Our majors and minors graduate with a deeper understanding of the civilizations of the Jewish people and go on to careers in public service and the for-profit sector.
Why Take a Course in Jewish Studies?
Through the Jewish Studies Program, students may train for a career in the Jewish community or in Jewish education, learn about Jewish issues and opportunities for Jewish public service, and develop a deeper understanding of American and world Jewry. Moreover, since dynamic contact with many other religions and cultures influenced the development of Jewish civilization, students study Jews and Judaism within the broader context of dominant societies and the spectrum of the arts, humanities, and social sciences.
Even after a course ends, students continue to apply their classroom knowledge in a variety of experiential learning settings.
JWST 396: American Jews & Israel: A Complicated Relationship
W 8:20-10:50pm
Feb. 17, 2020- Mar. 31, 2020
Lauren Strauss, Scholar-in-Residence
This 6-week, one credit course examines the century-long relationship between America's Jews and the modern State of Israel from before the State's founding to today. We explore Israel's multifaceted relationship with American Jewry, from political rhetoric to philanthropy, from pop music to hummus, from folk dance, summer camps and tourism to war heroes and Wonder Woman.
HIST 496/696-003: Genocide, History, and Memory
Tu 5:30-8:00pm
Alana Holland, Postdoctoral Fellow
This course examines the history of genocide and crimes against humanity in a global context. Students will navigate different genres for historical truth telling and remembrance, covering topics in economics, law, politics, and the arts.
HIST 419/619-002: Holocaust
M/Th 11:20am- 12:35pm
Pamela Nadell, Director, Jewish Studies Program
Tracing the histories of antisemitism and racism that led to the Holocaust. Examines the historical development of the Final Solution. Considers the variety of responses to Jewish persecution by the Nazi perpetrators, the Jews, and the nations of the world.
HIST 496/696-005: Israel and Europe
W 5:30-8:00pm
Michael Brenner, Director, Center for Israel Studies
The class starts with the European roots of Zionism and covers the Holocaust as one factor leading to the establishment of Israel. It leads up to present day relations between Israel and the EU and includes virtual discussions with leading European and Israeli diplomats.
HIST 245: Modern Jewish Civilization
M/Th 9:45-11:00am
Lauren Strauss, Scholar-in-Residence
Fulfills AU Core Integrative Requirement: Diversity and Equality. This course explores Jewish political, social, cultural, religious, and intellectual history from the early modern period to the mid-twentieth century, covering Eastern and West/Central Europe, the Middle East, North Africa, and America. Students use primary documents and secondary literature to analyze such topics as religious reform, political emancipation, gender and class differences, the rise of Zionism, and antisemitism.
HEBR 117: Hebrew Elementary Modern II
M/Th 8:10-9:25am
Sarit Lisogorksy, Adjunct Professor
HEBR 217: Hebrew Elementary Modern II
M/Th 9:45-11:00am
Sairt Lisogorsky, Adjunct Professor
ISR 300-001: Arabs in Israel 
Th 5:30-8:00pm
Morad El Sana, Adjunct Professorial Lecturer
This course introduced students to the Israeli Arab community in Israel through analysis of its economic, educational, historical and political structure and experiences.
ISR 340: Israeli Society
W 2:30-5:20pm
Moran Stern, Adjunct Instructor
Explores the emergence of Israeli society and its changes over time. It reviews Israel's ideological and political foundations, the centrality of immigration, the emergence of Arab minorities and Jewish ethnic divisions, and assesses political, economic, religious, and family patterns within the broader Jewish and Palestinian communities.
ISR 400-003: Israeli Water Politics
Th 5:30-8:00pm
Jeffrey Sosland, Assistant Professor
This course focuses on the politics of water scarcity in Israel and in the Middle East between 1920-2020. This course explores how water politics may contribute to regional peace and how Israeli water know-how serves as a model for sustainable development in other water- poor countries around the globe.
SISU 319: Arab-Israeli Relations
Tu/F 11:20am-12:35pm
Dan Arbell, Scholar-in-Residence
A survey of Arab-Israeli relations from their origins to the present. Includes an account of Zionism and Palestinian nationalism, the history of the British mandate, the Arab-Israeli wars, the involvement of external powers, and the quest for peace. The emphasis is on conflict resolution.
SISU 419-001: Negotiating Arab-Israeli Peace
W 11:20am-2:10pm
Guy Ziv, Assistant Professor
This senior capstone provides students with a deeper understanding of the problems that have confounded the Israeli-Palestinian peace process, in particular the "final status" issues: borders, Jerusalem, refugees, and security. Students then partake in a simulation in which they attempt to constructively address the final status issues as well as other sticking points, such as settlements and terrorism, in Israeli-Palestinian peacemaking.
JWST 491: Internship in Jewish Studies
JWST 481: Senior Thesis Jewish Studies I
JWST 482: Senior Thesis Jewish Studies II
JWST 490/690: Independent Study
HIST 419/ 619- Holocaust
Traces the history of anti-Semitism and the development of racism that led to the Holocaust. Examines the historical development of the Final Solution. Considers the variety of responses to Jewish persecution by the Nazi perpetrators, the Jews, and the nations of the world.
HIST 344- History of Antisemitism
This course inquires the causes behind the different forms of antisemitism, its spread from early Christianity to present times, and its Jewish and non-Jewish opponents. Discussions are also dedicated to the rise of Zionism as a reaction to modern antisemitism and to the relationship between antisemitism and anti-Zionism.
HIST 443/643- History of Israel
Traces the development of modern political Zionism in nineteenth-century Europe; the historical background leading to the establishment of the State of Israel in 1948; and the history of Israel since then, including patterns of Jewish immigration and its relationship to the Arab world.  
HIST 473/673- American Jewish History
Today American Jewry constitutes the preeminent Diaspora Jewish community. This course traces its historical development by examining the waves of Jewish immigration to the United States and the institutions that American Jews created to sustain their community.
JWST 205- Ancient & Med Jewish Civ
Examines the independent Jewish states that flourished in Palestine, the rise of the most important Jewish communities outside the ancient Jewish homeland, and the foreign influences that shaped not only the political life of the Jews but also their internal organization and their creativity.
JWST 320/ LIT 381- Literature from the Holocaust
This course explores the Holocaust, or Shoah, through the prism of literature written during and after World War II. 
JWST 481- SR Thesis I
JWST 482- SR Thesis II
ISR 396/ GOVT 317- Israeli Politics
This course provides an overview of the geopolitical history of Israel and the Arab-Israeli conflict from the pre-state era until the present as well as an analysis of the principles that guide Israel's political system and the cleavages in Israeli society which greatly affect developments and trends in politics and policy. It is mostly conducted as a lecture/discussion course, but also includes reading academic articles, watching films, listening to guest lectures, holding class debates, and discussing current news and developments.
SISU 330-001 U.S. Israel Relations
This course explores the evolution of U.S. relations with Israel, from pre-1948 American Zionism to President Truman's decision to recognize the Jewish state in 1948 to America's role as Israel's greatest supporter in the world today. Along the way, it examines key milestones in U.S.-Israel relations, including the wartime American airlift in 1973; the U.S. role in Arab-Israeli peacemaking, from Secretary of State Henry Kissinger's shuttle diplomacy to the two Camp David summits and beyond; and American military, economic, and diplomatic aid to the Jewish state. The course analyzes how a combination of sentimental, domestic political, and strategic factors have led to the formation of a wholly unique bilateral relationship characterized at once by both tight bonds and inherent tensions.
HEBR- 116: Elementary Modern Hebrew I
Focuses on the acquisition of basic vocabulary and grammatical structures in culturally authentic contexts through speaking, reading, writing, and listening comprehension. Designed for students with no prior experience with Hebrew.
HEBR- 216 Intermediate Modern Hebrew II
Refinement of basic language skills in a cultural context. Expansion of vocabulary and grammatical structures and development of communicative skills.
 
Student News
Congratulations to our 2020-2021 Estelle Seldowitz scholarship winners!
Ethan Friedland
Maeve O'Brien
Sophia Pearl
Talia Rasiel
News and Events
Pamela Nadell (Jewish Studies Program director) published America's Jewish Women: A History From Colonial Times to Today, which won the Everett Family Foundation Jewish Book of the Year in the 2019 National Jewish Book Awards.
Michael Brenner (History, Israel Studies), published his new book in German on Munich's rise as the capital of antisemitism and the testing ground for Adolf Hitler after World War One. It will be published in English by Princeton University Press in 2020.
Lauren Strauss is a featured speaker in this fall's Texts and Traditions series, along with faculty from the Department of Philosophy and Religion.
Lisa Leff has been appointed Director of the Mandel Center for Advanced Holocaust Studies at the United States Holocaust Memorial Museum.
Geraldine Gudefin's latest publication, "Entre loi juive et loi française : le divorce et le droit de garde des enfants juifs russes au début du XXe siècle", appears in the French journal Archives Juives (2019/2 Vol. 52). 
Sarit Lisogorsky has joined the Jewish Studies program as our new Hebrew instructor.