Jewish Studies
4400 Massachusetts Avenue NW
Washington
,
DC
20016
United States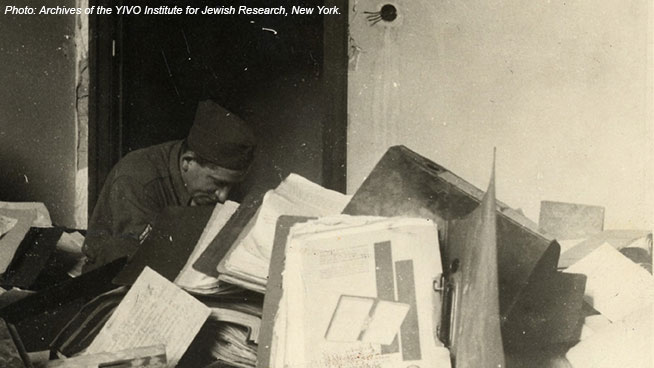 Do you want to know more about antisemitism, the Holocaust and its film and literature, Jewish comedy, Fiddler on the Roof, politics (American, Jewish, and Israeli), the Bible, Jesus, and how to order a falafel in Hebrew? If so, then American University's Jewish Studies Program has courses for you.
Our prize-winning faculty explore these topics and many others in our classrooms. Our students pursue internships at the world-class U.S. Holocaust Memorial Museum, at the many Jewish communal agencies headquartered in the nation's capital, and on the Hill. Our campus hosts outstanding guest scholars and artists to deepen our understanding of Jewish life and culture. Our majors and minors graduate with a deeper understanding of the civilizations of the Jewish people and go on to careers in public service and the for-profit sector.
Why Take a Course in Jewish Studies?
Through the Jewish Studies Program, students may train for a career in the Jewish community or in Jewish education, learn about Jewish issues and opportunities for Jewish public service, and develop a deeper understanding of American and world Jewry. Moreover, since dynamic contact with many other religions and cultures influenced the development of Jewish civilization, students study Jews and Judaism within the broader context of dominant societies and the spectrum of the arts, humanities, and social sciences.
Even after a course ends, students continue to apply their classroom knowledge in a variety of experiential learning settings.
CORE-105-018 Antisemitism: Enduring Hatred
Hatred of the Jewish people and Judaism appeared in antiquity and continues to this very day. The phenomenon puzzles scholars, pundits, politicians, Jews, and people around the world. This course studies this complex problem, focusing on specific episodes of this hatred in the past and present, emphasizing its long history in the United States. Students read different genres of literature--history (secondary and primary sources), fiction, and nonfiction--to grapple with the multifarious dimensions of antisemitism, the world's oldest and longest hatred.
CORE-105-023 Myths, History, Modernity
Central for the three Abrahamic traditions, Jerusalem has been a locus of worship and dispute for over two-thousand years. The course proceeds thematically, beginning with the role of Jerusalem in the mythic imagination of Judaism, Christianity, and Islam. Students then turn to writings reflecting the history of Jerusalem as a physical place and a source of contention for the Assyrians and Babylonians, the Persians, the Romans, the empires of medieval Europe and the Ottomans, the British, the Arabs and the modern State of Israel. Finally, the course turns to the modern era and examines Jerusalem as a modern city and a proxy for disputes over identity, culture, language, and religion. Students visit different places of worship in Washington, DC and invite guest speakers representing a diversity of cultures to class.
HIST-245 Modern Jewish Civilization
Surveys Jewish responses to the challenges of modernity. Examines the creation of new Jewish communities in America and Israel, shifts in Jewish political status, and innovations in Jewish religious and intellectual history such as Zionism and Hasidism.
HIST-418 Nazi Germany
The political, social, and economic conditions that made it possible for Hitler to take power. The nature of Nazi rule. Emphasis on World War II and the Holocaust. 
HIST-473/673 American Jewish History
Today American Jewry constitutes the preeminent Diaspora Jewish community. This course traces its historical development by examining the waves of Jewish immigration to the United States and the institutions that American Jews created to sustain their community. 
JWST-210 Voices of Modern Jewish Literature
Explores a variety of literary works analyzing the historical experience of modern Jewish communities in Europe, as well as the United States and Israel, emphasizing how migration, racism, industrialization, and political change affected these Jews and their Judaism.
JWST-396-001 Jews and Social Justice on the Broadway Stage
Musical theater has provided one of the most colorful platforms for modern Jews to comment on and transform American society. Through films and readings, this course explores the work of American Jewish composers, lyricists, choreographers, and actors who used the Broadway stage to address social issues such as racism, minority rights, and tensions over immigration.
JWST-481 Senior Thesis I
JWST-482 Senior Thesis II
ISR-396-001 Israeli Society
This course explores the emergence of Israeli society and its changes over time. It reviews Israel's ideological and political foundations, the centrality of immigration, the emergence of Arab minorities and Jewish ethnic divisions, and assesses political, economic, religious, and family patterns within the broader Jewish and Palestinian communities.
SISU-319 Arab-Israeli Relations
A survey of Arab-Israeli relations from their origins to the present. Includes an account of Zionism and Palestinian nationalism, the history of the British mandate, the Arab-Israeli wars, the involvement of external powers, and the quest for peace. The emphasis is on conflict resolution. 
GOVT-432 Political Institutions and Processes in Israel
Israel's parliamentary democracy is a mosaic in which ethnic, class, religious; national and migration considerations play a dynamic part in the intricacies of the political system. This course provides an overview of the geopolitical history of Israel and the Arab-Israeli conflict from the pre-state era until the present, and also an introduction to the principles that guide Israel's political system and the cleavages in Israeli society which greatly affect developments and trends in politics and policy.
HEBR-117 Elementary Modern Hebrew II
HEBR-217 Intermediate Modern Hebrew II
HIST- 443/643: History of Israel (Dr. Brenner, M/TH 11:20-12:35)
Traces the development of modern political Zionism in nineteenth-century Europe; the historical background leading to the establishment of the State of Israel in 1948; and the history of Israel since then, including patterns of Jewish immigration and its relationship to the Arab world. 
HIST-500/JWST-596: Jewish Politics in the 20th Century (Dr. Brenner, M 5:30-8:00)
Two decisive events that involved the fate of the Jews left their stamp on the second half of the twentieth century, the Holocaust and the establishment of the State of Israel. This course analyzes Jewish politics before and after these events in Europe, Israel, and the United States, including Zionism, Jewish socialist movements, diaspora nationalism, and the fight against antisemitism.  
JWST- 205: Ancient and Medieval Jewish Civilization (Professor Strauss, M/TH 9:45-11:00)
Examines the independent Jewish states that flourished in Palestine, the rise of the most important Jewish communities outside the ancient Jewish homeland, and the foreign influences that shaped not only the political life of the Jews but also their internal organization and their creativity. 
JWST- 320-001/HIST-344: Jews and American Politics (Professor Strauss, M/TH 12:55-2:10)
The course that is currently listed as "Jews and the American Political Tradition," taught by Professor Strauss, does not indicate that it involves Israel. In fact, the full title is:
"Jews and the American Political Tradition: A Comparative Perspective – American Jews, Israelis, and the Encounter with Democracy"
Course description:
This course explores Jewish participation in the American political system, and compares Jewish political involvement in the U.S. with similar activities in Israel.  American Jewish participation in electoral and advocacy politics far outweighs the relative percentage of Jews in the population, and is often centered around the status of minorities in a democratic society.  In Israel, the intense level of political discourse often highlights similar questions of minority rights and national identity, but does so in a different context, often with different results.  The course begins by exploring the foundations of religious freedom in America, and then explores the formation of Israeli law, focusing mostly on events and issues from the 20th and 21st centuries.  It addresses these issues by examining "case studies" in both societies, which confront questions of minority rights, religious freedom, gender equality and more. 
JWST-320-003: Spanish Jewish Diaspora (Professor Gudefin, W 2:30-5:20)
This course explores the life and migration patterns of the Jews who were expelled from the Iberian peninsula in the late fifteenth century and their descendants. Spanning nearly five centuries, this course introduces students to Sephardic life and culture in North Africa, the Ottoman Empire, Western Europe, and far-flung outposts of the Diaspora, such as India and the Caribbean.
JWST- 481: Senior Thesis in Jewish Studies I
JWST- 482: Senior Thesis in Jewish Studies II
JWST- 491: Internship in Jewish Studies
HEBR- 116: Elementary Modern Hebrew I
HEBR- 216 Intermediate Modern Hebrew II
SISU-330-003: US-Israel Relations (Professor Ziv, T/F 2:30-3:45)
This course explores the evolution of U.S. relations with Israel, from pre-1948 American Zionism to President Truman's decision to recognize the Jewish state in 1948 to America's role as Israel's greatest supporter in the world today. Along the way, it examines key milestones in U.S.-Israel relations, including the wartime American airlift in 1973; the U.S. role in Arab-Israeli peacemaking, from Secretary of State Henry Kissinger's shuttle diplomacy to the two Camp David summits and beyond; and American military, economic, and diplomatic aid to the Jewish state. The course analyzes how a combination of sentimental, domestic political, and strategic factors have led to the formation of a wholly unique bilateral relationship characterized at once by both tight bonds and inherent tensions.
Student News
Congratulations to our 2019-2020 Estelle Seldowitz scholarship winners!
Ethan Friedland
Hannah Gelband
Jamie Gottlieb
Rose Haas 
Maeve O'Brien
Upcoming Events

"America's Jewish Women: A History of Poets, Patriots, Rebels, and Zionists" Book Talk with Pam Nadell and Undergraduate Students
Wednesday, November 6, 7:30-9:00 pm 
Butler Board Room.
"Refugees and Asylum Seekers in Israel" International Conference
Sunday, November 10-Monday, November 11
East Campus Constitution Hall
Faculty News
Pamela Nadell (Jewish Studies Program director) published America's Jewish Women: A History From Colonial Times to Today in March. Upcoming book events include Stanford University, Eastern Michigan University, UCLA, University of California at Santa Barbara, and the University of Michigan.
Michael Brenner (History, Israel Studies), published his new book in German on Munich's rise as the capital of antisemitism and the testing ground for Adolf Hitler after World War One. It will be published in English by Princeton University Press in 2020.
Lauren Strauss is a featured speaker in this fall's Texts and Traditions series, along with faculty from the Department of Philosophy and Religion.
Lisa Leff has been appointed Director of the Mandel Center for Advanced Holocaust Studies at the United States Holocaust Memorial Museum.
Geraldine Gudefin's latest publication, "Entre loi juive et loi française : le divorce et le droit de garde des enfants juifs russes au début du XXe siècle", appears in the French journal Archives Juives (2019/2 Vol. 52). 
Sarit Lisogorsky has joined the Jewish Studies program as our new Hebrew instructor.