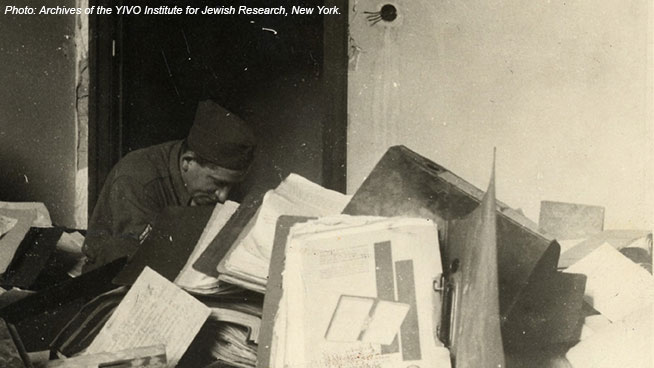 American University's Jewish Studies Program emphasizes the rich tradition of Jewish heritage in Western Civilization. The interdisciplinary Jewish Studies Program encompasses more than a dozen award-winning faculty from a variety of departments across the University. AU's Jewish Studies professors and scholars include prize-winning authors; internationally-renowned experts in the humanities, social sciences, and the arts; and several recipients of the Scholar/Teacher of the Year Award, AU's highest faculty honor. In addition to spending time in the classroom, these faculty make frequent media appearances and work with a wide range of scholarly and cultural institutions in our nation's capital and beyond dedicated to advancing knowledge of Jewish civilization to a wider public. Internships and other opportunities enable AU students to join with the faculty as they reach out to the wider community. A degree in Jewish Studies enables students to analyze the civilizations of the Jewish people and their various cultural and religious expressions from the antiquity to the present. The Jewish Studies Program offers a major in Jewish Studies, and minors in Jewish Studies and in Israel Studies.
Why Take a Course in Jewish Studies?

Through the Jewish Studies Program, students may train for a career in the Jewish community or in Jewish education, learn about Jewish issues and opportunities for Jewish public service, and develop a deeper understanding of American and world Jewry. Moreover, since dynamic contact with many other religions and cultures influenced the development of Jewish civilization, students study Jews and Judaism within the broader context of dominant societies and the spectrum of the arts, humanities, and social sciences.
Even after a course ends, students continue to apply their classroom knowledge in a variety of experiential learning settings:
"Dear Professor [Nadell],
[We] had the chance to visit the Jerusalem exhibit at the Met. Not only was it an absolutely wonderful exhibit, but it was such a treat to have your class as an amazing amount of background knowledge for viewing it."
-Lena Sibony and Amalia Rangel, Fall '16 JWST-205 (Ancient & Medieval Jewish Civilization) students
HIST- 443/643: History of Israel
Traces the development of modern political Zionism in nineteenth-century Europe; the historical background leading to the establishment of the State of Israel in 1948; and the history of Israel since then, including patterns of Jewish immigration and its relationship to the Arab world. 
HIST- 473/673: American Jewish History
Today American Jewry constitutes the preeminent Diaspora Jewish community. This course traces its historical development by examining the waves of Jewish immigration to the United States and the institutions that American Jews created to sustain their community.
JWST- 205: Ancient and Medieval Jewish Civilization
Examines the independent Jewish states that flourished in Palestine, the rise of the most important Jewish communities outside the ancient Jewish homeland, and the foreign influences that shaped not only the political life of the Jews but also their internal organization and their creativity. 
JWST- 320: Israel and American Jews: A Complicated Relationship
This course examines the century-long relationship between America's Jews and the modern State of Israel – from the decades leading up to the State's founding to the present day. We go beyond wars and diplomacy to explore Israel's multifaceted relationship with American Jewry, from political rhetoric to philanthropy, from pop music to hummus, from folk dance, summer camps and tourism to war heroes and Wonder Woman. Is this a love affair, or a "family feud"? And what are the implications for other Americans with countries to which they have cultural ties?
JWST- 481: Senior Thesis in Jewish Studies I
JWST- 482: Senior Thesis in Jewish Studies II
JWST- 491: Internship in Jewish Studies
GOVT- 432: Politics and Public Policy in Israel
Israel's parliamentary democracy is a mosaic in which ethnic, class, religious; national and migration considerations play a dynamic part in the intricacies of the political system. This course provides an overview of the geopolitical history of Israel and the Arab-Israeli conflict from the pre-state era until the present, and also an introduction to the principles that guide Israel's political system and the cleavages in Israeli society which greatly affect developments and trends in politics and policy.
ISR- 396-001: Israeli Society
This course explores the emergence of Israeli society and its changes over time. It reviews Israel's ideological and political foundations, the centrality of immigration, the emergence of Arab minorities and Jewish ethnic divisions, and assesses political, economic, religious, and family patterns within the broader Jewish and Palestinian communities. Meets with SOCY-340 001.
HEBR- 116: Elementary Modern Hebrew I
HEBR- 216 Intermediate Modern Hebrew II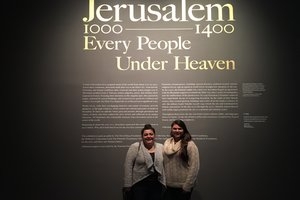 Student News
Congratulations to our 2017-18 scholarship winners!
Summer Boucher-Robinson, Estelle Seldowitz Endowed Scholarship
Jamie Gottlieb, Estelle Seldowitz Endowed Scholarship
Rose Haas, Estelle Seldowitz Endowed Scholarship 
Elysia Martin, Judaic Arts and Studies Scholarship, Estelle Seldowitz Endowed Scholarship
Aaron Torop, Estelle Seldowtiz Endowed Scholarship, Judaic Arts and Studies Scholarship
Faculty News
Pamela Nadell (director of AU's Jewish Studies Program) spoke to WAMU-FM about a new report on the growing Jewish population in Washington D.C. Nadell said, "Jews in Washington, according to this report, are younger on average than Jews in other communities- and that portends excitement for the future."

Michael Brenner (History, Israel Studies), is elected International President of the Leo Baeck Institute, the foremost research institute on the history and culture of German-speaking Jewry with centers in New York, London and Jerusalem, and an office in Berlin.