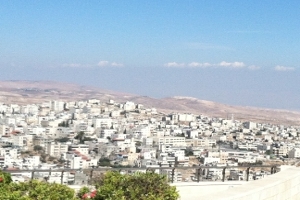 Photo by Shelby Arenson, Hebrew University of Jerusalem
AU offers students the opportunity to study at four Israeli universities or in Prague. Experiencing the rhythms of the Jewish state firsthand, encountering Jewish history on site, and speaking Hebrew with native-speakers greatly enhances our Jewish studies and Israel studies students' academic experience.
Hebrew University of Jerusalem
Experience living and studying in a 3,000-year-old city which is also a thriving modern metropolis—Jerusalem, the capital city of Israel! Jerusalem is like no other city on earth. It is holy to the world's three major monotheistic religions and is incredibly rich in history and culture. Hebrew University of Jerusalem was founded in 1925 and is one of Israel's most prestigious universities. The continuing mission of Hebrew University is to remain a world-renowned institution of higher learning and contribute to the cultural and academic development of Israel. Overseas students have attended the Hebrew University since its earliest days, and now AU students can become part of this diverse, exciting campus community. The program for study abroad students is based at Hebrew University's Rothberg International School.

For more info visit: Hebrew University Program Overview

Tel Aviv University
Studying abroad at Tel Aviv University presents a unique opportunity for accomplished college students. Participants learn Hebrew and take college level courses in English for full academic credit while immersed in Israeli culture. The breadth of expertise - combined with the university's location in Tel Aviv, nerve center of Israeli industry, business, and culture - creates ideal conditions for cross-disciplinary research that touches on all aspects of life. Come study with some of the best professors that Israel has to offer in Tel Aviv's School for Overseas Students. Students can earn a full semester of AU credit by choosing from a rich variety of courses taught in English. Further enhancing the study abroad experience, Tel Aviv University offers exciting extracurricular activities and organized trips across Israel. The campus also houses a wide array of social, cultural, and sports clubs, all of which international students are invited to join.

For more info visit:Tel Aviv Program Overview
University of Haifa
Students from around the world come to Haifa, Israel for a semester or year of academic study. Enrolled students can choose from a wide variety of courses taught in English in the fields of Contemporary Israel, Middle East Studies, Religious and Jewish Studies, Communications, Psychology, Sociology, Political Science, Law, Literature, and Hebrew and Arabic languages. As an interdisciplinary entity in the University of Haifa, the International School invites faculty from all departments in the University to teach courses. The courses of the International school are open to all students in the University of Haifa, and reciprocally, international students who are proficient in Hebrew are welcome to enroll in courses taught in other faculties and departments. Founded in 1962, the University of Haifa has quickly become one of Israel's leading universities, hosting six different faculties: Humanities, Social Sciences, Law, Social Welfare and Health Sciences, Science and Science Education, Education. The university community, consisting of over 16,000 students, is a pluralistic and harmonious blend of Jewish, Christian, Moslem, Druze, and Bedouin students who reflect the diverse ethnic and religious cultures of Israel. Situated at the top of Mount Carmel and adjoining the Carmel National Park, Israel's largest forest, the University of Haifa sits on the edge of the city of Haifa.


For more info visit: Haifa Program Overview
Ben Gurion University of the Negev
Ben Gurion University was established in order to help develop the Negev, the desert area of Israel. At Ben Gurion students have the opportunity to live in Beer Sheva, a smaller city with easy access to Israel's larger cities. Today, Ben-Gurion University is a major center for teaching and research, with over 17,000 students enrolled in the faculties of Engineering Sciences, Health Sciences, Natural Sciences, Humanities and Social Sciences, the School of Management and the Kreitman School of Advanced Graduate Studies. International students are offered the chance to experience first hand why BGU is known to be the number one choice university for Israeli undergraduates. You will have the chance to experience the real Israel, and enjoy a summer, semester or year living like a real Israeli student.
For more info visit:Ben Gurion Program Overview
Jewish Studies Program in Prague (CET Academic Programs)
The Jewish Studies program gives students the opportunity to study the rich history, culture, and literature of Central and Eastern European Jewry through a multidisciplinary curriculum of intensive courses. Prague is one of Europe's most beautiful and enchanting cities, and host to one of the oldest continuous Jewish communities in Europe and one of the richest collections of Judaica in the world. Prague was first settled by Czechs in the late 9th century and has been the capital of Bohemia ever since. Serving twice as the medieval seat of the Holy Roman Empire, Prague continued to strive as a sister city to Vienna into modern times - always standing at the forefront of culture and industry. Prague's grand intellectual and artistic tradition will inspire you in your studies. Living in Prague today, you'll encounter one of the world's fastest growing economies, and witness its people overcome the challenges of democratization.

 For more info visit: Jewish Studies Program in Prague Overview

SIS Abroad - Israel

This summer program consists of two academic components, a 3-credit seminar and a 3-credit internship OR independent study, and allows students to explore a range of issues facing modern Israel. Past program themes have included "Israel - A Mosaic of Cultures, Identities and Landscapes" (2011), "Israel - The Intersection of Domestic and Foreign Policy" (2012), and "Israel - The Prospects for Peace" (2013, 2014).

For more info visit: SIS Abroad Israel

Student Experiences
Our recent study abroad students say:
"Making the decision to study abroad in Israel was very last minute, but up to this point, probably one of the best decisions I have made. I immediately felt at home and a sense of belonging. Being in Israel allowed me to experience the Middle East first-hand and critically begin to understand the difficulties and sometimes inconsistencies regarding events that occur, versus their portrayal. Ultimately, Israel provided me an enriching experience that not only enabled me to grow as a person but also further connect with my Jewish heritage and roots." Shelby Arenson, Law and Society & Sociology double major, Hebrew University of Jerusalem

"Before I left for Israel, my understanding of the political controversies surrounding the country was somewhat clouded, and I felt conflicted about…the Arab-Israeli conflict. But living in the country, and getting the chance to talk to many civilians about it, gave me a clearer understanding of the situation from a native's perception. Israeli citizens are all over the spectrum in terms of politics, and the other American students in the program and I often discussed Israeli politics. It was enlightening." Julie Finkel, Jewish studies major, Tel Aviv
"Beginning to feel at home in Israel, a place that used to seem so foreign to me, is by far the best outcome…It has by far changed my life and my views of those in the Middle East. It has given me firsthand experience in the region that I want to study. It has also taught me to be much more self reliant and to grow as a person." Liz Leibowitz, Israel studies minor, Tel Aviv
For more information or to apply to any of these programs, visit the AU Abroad homepage.