William Dunlap: Look at It — Think About It April 2 - May 29, 2016
William Dunlap, Fog Lift - Lower Valley, 1981.
Polymer paint on canvas.
Courtesy of the artist.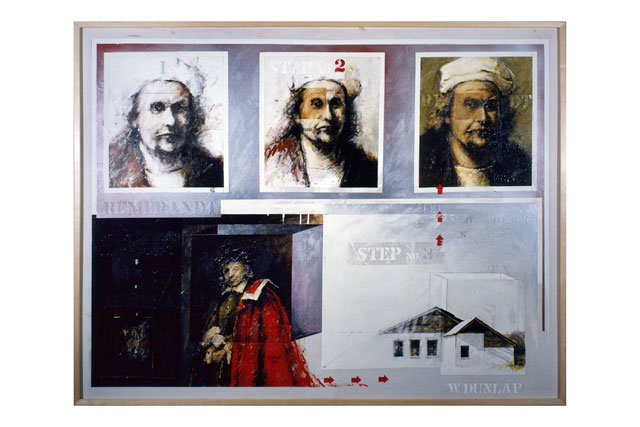 William Dunlap, Learn to Paint Like Rembrandt in Three Easy Steps, 1971.
Polymer paint on canvas.
Private Collection

"Narrative is tricky business. Yet the telling of universal stories through art can bind us together and bring new, enhanced areas of self-understanding. William Dunlap's assemblages of elements taken from his life, our lives, and the world around us reflect his sensuous and infectiously energetic view of life."

- Jack Cowart, Deputy Director/Chief Curator, Corcoran Gallery of Art
Exhibition
Look at It - Think About It is a survey exhibition of select works, dating from the 1970s to the present. Paintings, constructions, and works on paper, found and fashioned objects all reflect the artists interest in the narrative tradition in the visual arts and modernisms concerns with remote association and conceptualism.

Dunlap invites the viewers to willingly suspend their disbelief. In the appropriately titled exhibition, the artist seeks to present a simple lesson about his work and art in general-to look at it and think about it. Dunlap emphasizes the contemplative, meditative effect of standing before an object, letting it affect its viewer as it may.

Review
Watch WETA "Around Town" discuss William Dunlap's solo-exhibition Look At It - Think About It