Media Inquiries:
AU Communications
aumedia@american.edu
202-885-5950
American University Museum
4400 Massachusetts Ave NW
Washington
,
DC
20016-8031
United States
Diane Burko: Seeing Climate Change Curated by Mary D. Garrard and Norma Broude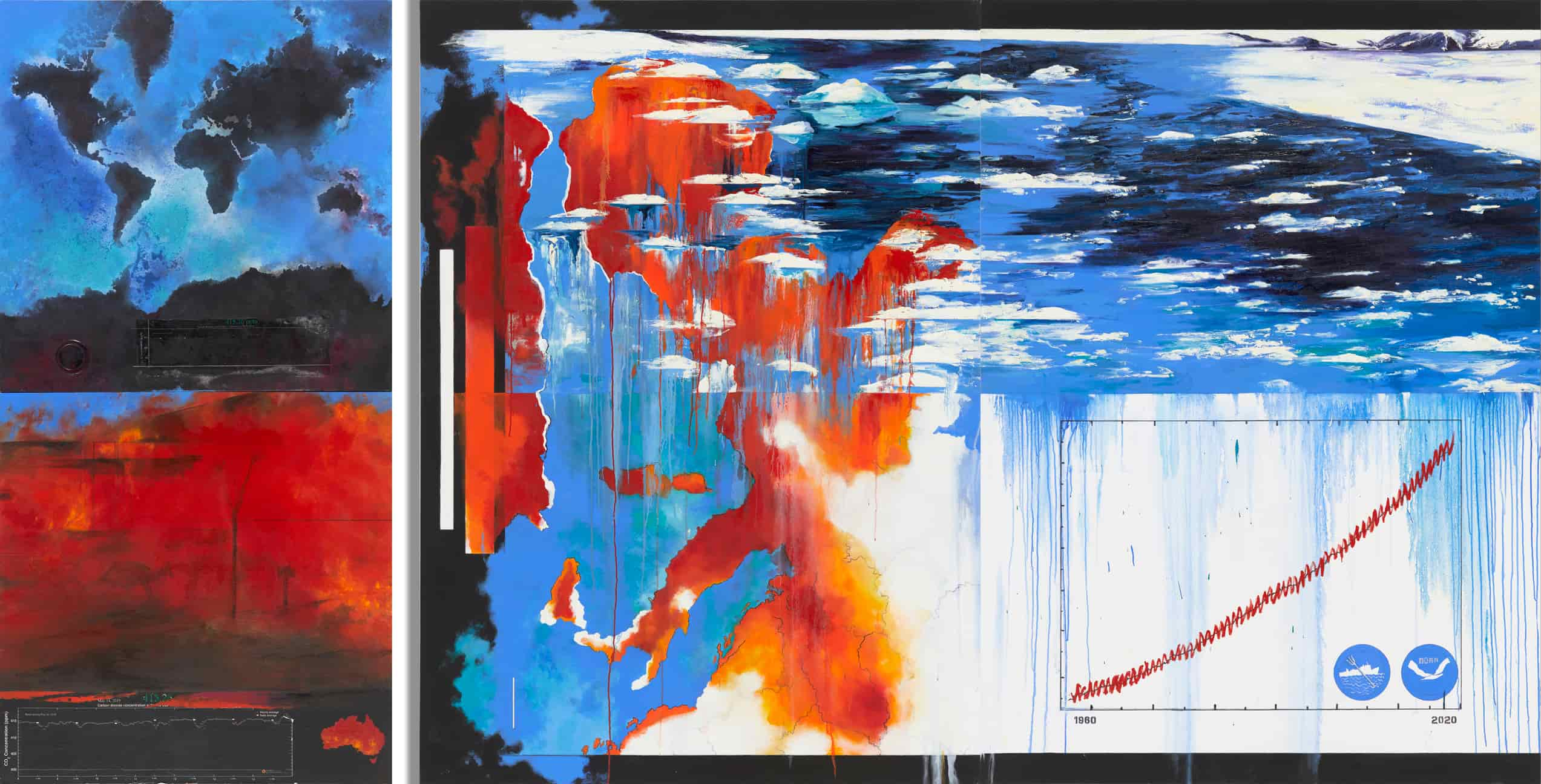 August 28-December 12, 2021

View our hours of operation and review our health and safety terms before your visit.

Read the fully illustrated exhibition catalog online, featuring essays by the curators, distinguished art historians Mary D. Garrard and Norma Broude, and a short essay by the environmental author and activist Bill McKibben. Available for purchase during museum hours and by emailing museum@american.edu. $40 each plus taxes and shipping, if applicable.

Presented in conjunction with AU Climate Action, a year-long interdisciplinary program focused on climate change across American University.

Seeing Climate Change Symposium
November 5-7
Learn more and register
Painter, photographer, and climate activist Diane Burko has long been a prominent advocate for art's role in addressing climate change. Continually traveling to some of the most affected areas around the world—the Arctic Circle, Antarctica, the Great Barrier Reef—she has interacted and collaborated with members of the scientific community, while producing a visually compelling oeuvre that powerfully communicates the threats posed by climate change. Having focused on the monumental wonders of the natural world in her earlier landscape paintings, in 2006 Burko redirected her practice to address environmental damage caused by global warming. While continuing to engage the traditions of landscape painting, her increasingly abstract and large-scale images are layered with visual and scientific information about the urgent challenge posed to the planet, manifested in glacial melting, coral reef bleaching, raging forest fires, and the COVID-19 pandemic. This exhibition will present many of Burko's large-scale paintings and serial groupings, including the 56-foot-long "World Map" series, which addresses glacier and coral reef changes across the globe. Since 2018, Burko has embraced time-based media, with melting and flowing imagery that forcefully underscores her subject of climate degradation over time. The exhibition includes a selection of her "Lenticulars," fluid animations that reference the motion of water, wind, and ice around the planet; and two videos, one on coral reefs and the other on melting ice, which are simultaneously lyrical and foreboding.
Gallery Talk: Diane Burko's "Seeing Climate Change"
Diane Burko and curators Mary D. Garrard and Norma Broude discussed Burko's exhibition "Seeing Climate Change." Moderated by Alana Quinn, Cultural Programs, National Academy of Sciences.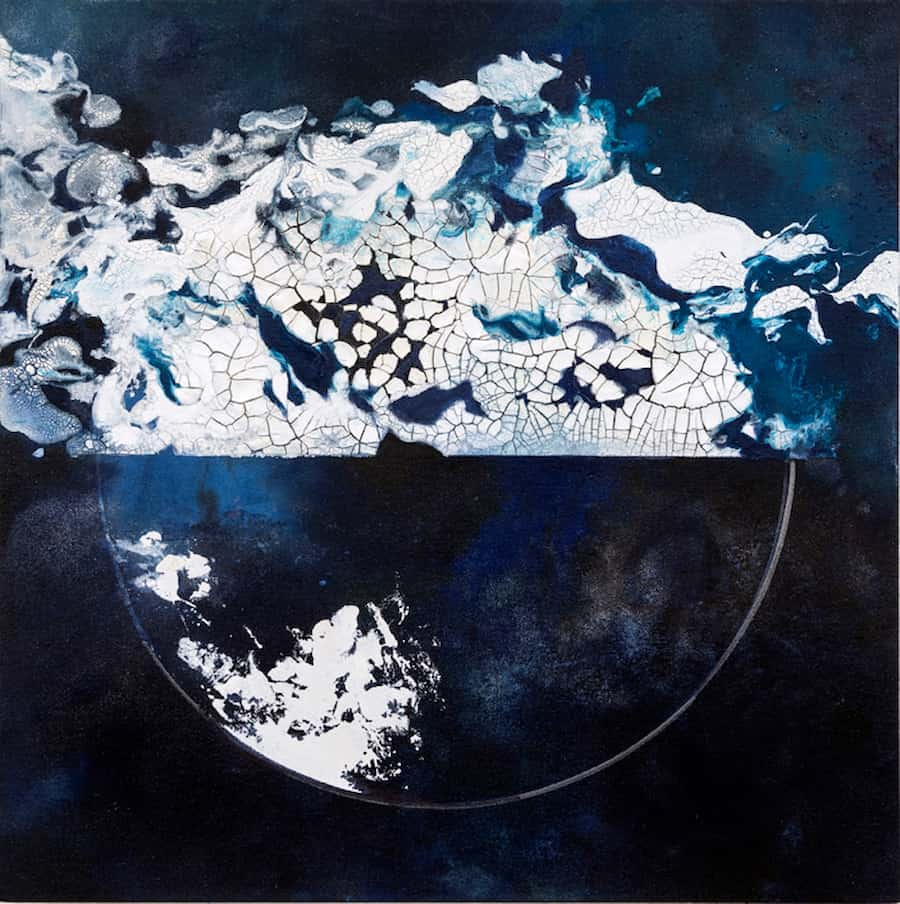 Sphere 4, 2019. Mixed media on canvas, 20 x 20 in. Collection of Ivy Silver, Steven Leshner.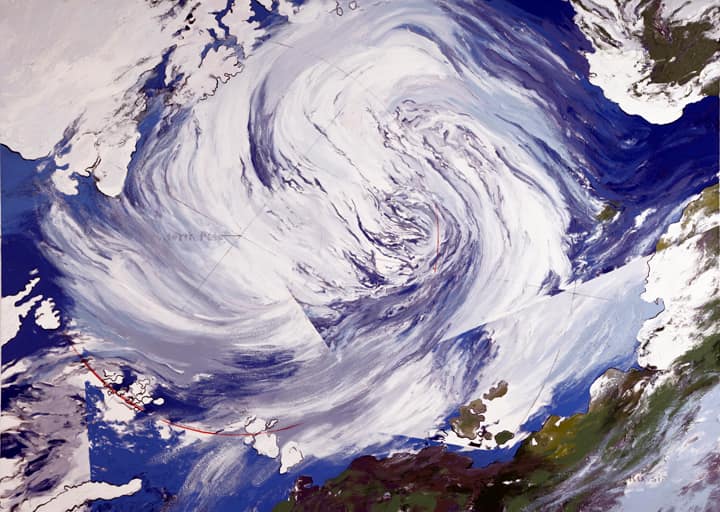 Arctic Cyclone, 2012-13. Oil on canvas, 60 x 84 in.
Diane Burko, Columbia Glacier, Lines of Recession, 1980-2005, 2011. Oil on canvas, 50 3/16 x 60 in. Collection of Minneapolis Institute of Art, Gift of Pamela and Joseph Yohlin, 2019.144. Photo: Minneapolis Institute of Art.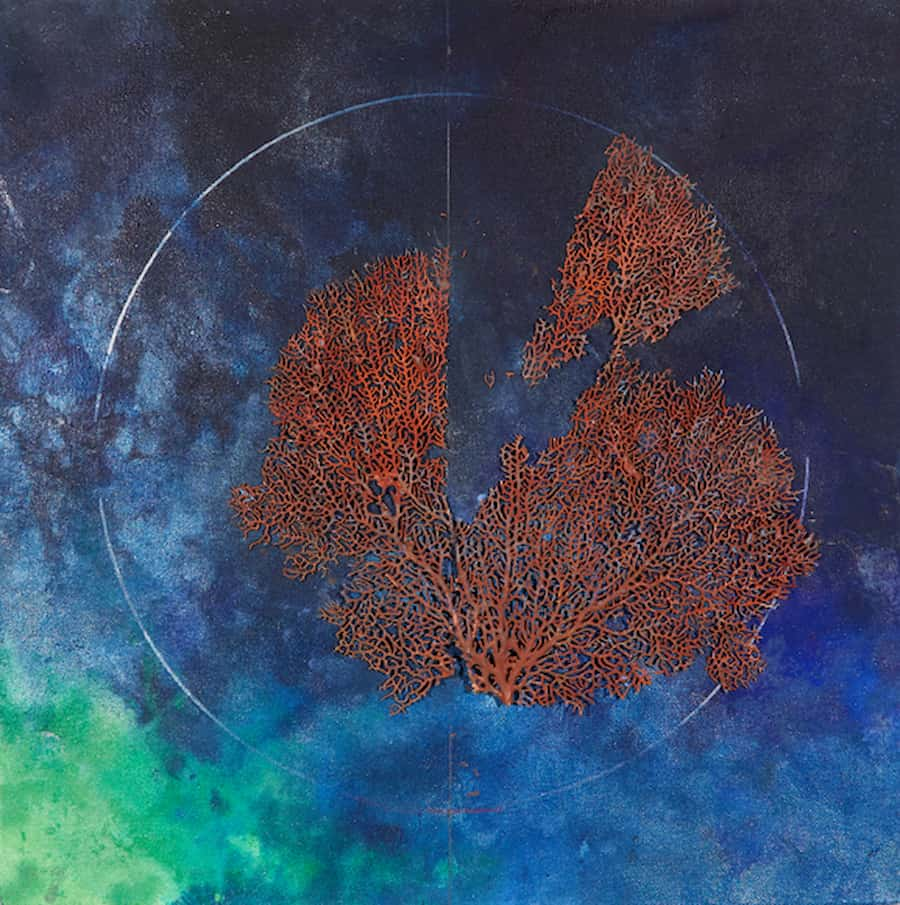 Coral Fan 3, 2020. Mixed media on canvas, 20 x 20 in. Collection of the artist.
Reef Map I, Mixed media on canvas, 50 x 88 in. Collection of the artist.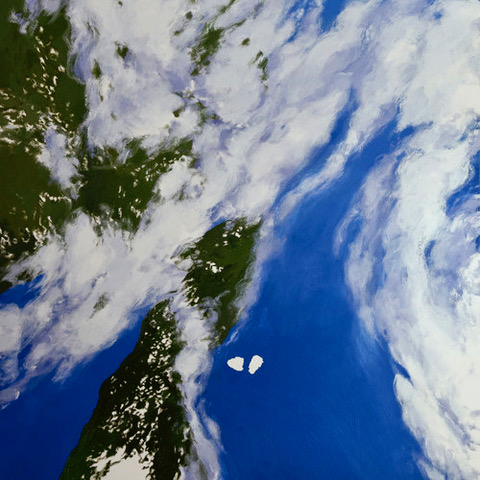 Petermann Heading South (after NASA 2010-2011), (detail) 2012. Oil on canvas, 88 x 50.