AU's Gray Psychotherapy Training Clinic Offers Low-Fee Psychotherapy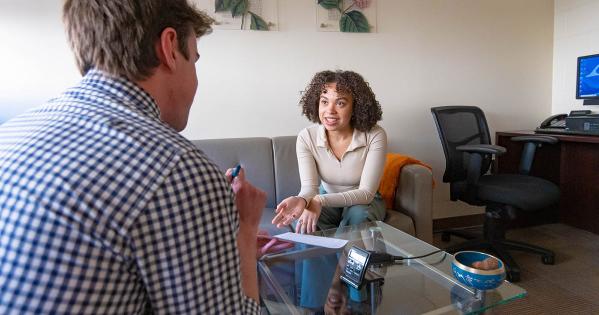 Our nation is facing historically high demand for mental health services and therapy, the latest sign of the US mental health crisis exacerbated by the COVID pandemic. In 2021, more than 23 percent of adults between the ages of 18 and 44 received mental health treatment, according to the Centers for Disease Control and Prevention's National Center for Health Statistics.  
At American University, most students know that they can find mental health services through AU's Center for Well-Being Programs and Psychological Services. But they might not be as familiar with the James J. Gray Psychotherapy Training Clinic, named in honor of Professor Emeritus Gray, who was the founding director of AU's clinical psychology doctoral program.   
For 25 years, the Gray Clinic has offered low-fee psychotherapy for adults from the AU and greater DC communities. The clinic is run by the Department of Psychology, and clinicians include AU psychology faculty members and clinical psychology PhD candidates. Patients consent to being part of ongoing research conducted by the graduate students and faculty.   
"We offer high-quality evidence-based treatment at an affordable sliding scale rate ($10-$50 a session)," says Professorial Lecturer Erica Hart, director of the Gray Clinic. "Therapy in Washington, DC, is expensive, and it can be challenging for prospective clients to feel confident that the clinician they are working with has been trained in the most empirically supported interventions."  
On average, the clinic serves between 50-80 clients each year for individual, group, and couple's therapy. The training program values cultural humility and anti-racist therapy practices, so clients with various identities and from diverse backgrounds can receive tailored, thoughtful treatments that support their growth and healing.  
Empirically Supported Treatments
The clinic serves as a training site for student therapists in AU's highly respected clinical psychology PhD program and as a treatment site for faculty and student research on psychotherapy. The clinic's leadership takes pride in its exceptional group of supervisors who are experts in their fields, and its student clinicians, who care deeply about the work they are doing.      
The training program offers AU graduate students opportunities to grow their clinical skills early in their experience as they see clients at the American University Center for Well-Being Programs and Psychological Services their first year. As the students advance in their studies, they are trained in Cognitive Behavior Therapy (second year), and Dialectical Behavior Therapy and Acceptance-Commitment Therapy (third year) through the Gray Clinic.   
Hart says she enjoys working closely with the clinic's trainees who are passionate about issues of justice and best practices. "We collaborate to find novel ways to provide community outreach and improve the accessibility to our services. Also, students and faculty strive to hold each other accountable when it comes to diversity training and delivery of services. We are lucky in our training program to have people focused on using their talents to make this world a better place."  
How it Works
Three types of research have been completed in the clinic, says Professor of Psychology David Haaga, who directed the clinic from 1997 to 2012. First and simplest, case studies have been reported describing patients whose treatment involved one or more specific features such as cultural tailoring of interventions or favorable responses to treatments.   
Second, randomized clinical trials have been carried out in the clinic setting to test the efficacy of specific therapies for populations such as African American women with panic disorder, depression-prone cigarette smokers, or adults with trichotillomania (compulsive hair pulling).  
Finally, the clinic was an early adopter of the practice of Routine Outcome Monitoring — researchers track progress data on all of clients, which facilitates naturalistic research on a number of issues. Several doctoral students have completed theses or dissertations using this database, including:  
"We believe that this active research environment creates a win-win for clients and clinicians," says Hart. "We can continue to offer high-quality services while helping our clinicians hone their clinical and research skills."  
PhD candidate Meghan Flannery agrees, adding that the clinic has been instrumental in her clinical training. "The onsite training clinic and focus on empirically supported treatments were factors that drew me to AU's clinical program. During my time at the Gray Clinic, I developed a solid foundation of core clinical skills and learned how to utilize these skills to serve clients from diverse cultural, racial, and socio-economic backgrounds. The diverse clientele has helped connect me with the AU and larger DC community and learn about the psychosocial stressors they are facing."  
"The Gray Clinic offers affordable services with clinicians who provide evidence-based care and are dedicated to helping their clients succeed," Flannery says. "This is an invaluable service as we face a historically high demand for mental health services and a severe shortage of providers."  
For More Information and Mental Health Resources  
James J. Gray Psychotherapy Training Clinic  
American University Department of Psychology  
Center for Well-Being Programs and Psychological Services   
For Emergencies  
Therapists in the Gray Clinic are not available on an emergency basis. If you are in crisis, please call:  
1-888-793-4357
DC Crisis Helpline  
988
National Suicide Prevention Lifeline 
1-800-SUICIDE (1-800-784-2433)
USA National Suicide Hotline  
911
(for immediate escort to hospital)