Alumni
Lee Clyne '18 Earns Congressional Award Gold Medal Recognized by US Congress for service and personal development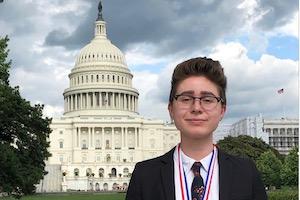 The numbers are impressive. Lee Mariño Clyne logged 800 hours of work to earn a Congressional Gold Medal Award: 400 volunteer hours, 200 personal development hours, 200 physical fitness hours, and five days and four nights of travel and expeditions.
But it's the story behind that numbers that's even more remarkable. Clyne, who is now a premedical graduate student at Johns Hopkins University, completed 500 of these hours in on-campus activism at American University as a fulltime undergrad, while studying community-based research and earning a BA in Psychology and in Women's, Gender, and Sexuality Studies. 
This is just part of what Clyne accomplished during their time at American University. They worked as a biology department research assistant and served as co-executive director of Students Against Sexual Violence, co-president of the Gamma Beta Chapter of Iota Iota Iota Honor Society, peer educator through the Center for Diversity and Inclusion, and an executive board member of AU Student Government's Women's Initiative and AU PRIDE.
Clyne received American University's Kinsman-Hurst Award for their work in sexual assault prevention, LGBTQA+ advocacy, and Title IX awareness. They also received an award from the AU Health Promotion and Advocacy Center for sexual violence prevention work. And they received the Outstanding Latinx in STEM award at the May 2018 Latinx Graduation in recognition of their health research work.
After graduation, Clyne completed their final 150 volunteer hours at George Washington University Hospital before moving to Baltimore to attend Johns Hopkins. 
Congress' Highest Honor
The Congressional Award Gold Medal is the highest honor bestowed upon a civilian by the United States Congress. The Congressional Award Foundation is bipartisan and was established in 1979 to encourage future leaders to stretch themselves into areas of volunteerism, civic duty, physical fitness, and personal development.
Clyne began working towards the medal in high school, but it wasn't until they attended American University that they began to really focus on accruing hours. Their faculty advisor for the program was AU Literature Professorial Lecturer Amanda Choutka.
Choutka says she admires Clyne's determination, drive, and ability to overcome difficult challenges. "The Congressional Award Gold Medal is an honor few college students would pursue, and I believe it speaks to Lee's tenacity that they achieved this milestone," she added. "It's daunting for most college students to pursue a complicated goal on top of their studies and academic pursuits, especially one with as many different elements as the Medal. I'm proud of Lee's determination and ability to reevaluate when challenged."
Healthcare, Disease, and #MeToo Research
Clyne's passion for volunteering has often focused on health and healthcare for underrepresented groups — one of the reasons Clyne plans on attending medical school.
Clyne volunteered as a doula and as an AU peer health educator with Peer Health Exchange, visiting District of Columbia public schools to lead health workshops for students. They were also a member, and later a mentor, in the AU Community-Based Research Scholars. "This introduced me to research methods and the impact that research can have on a community, as we conducted research for various DC non-profits. For example, we collected and analyzed feedback from students of DC's Latin American Youth Center and Career Academy to understand how we could increase school retention," Clyne explains.
For Clyne's capstone in Women's, Gender, and Sexuality Studies, they interviewed people living with endometriosis, with a particular emphasis on trans experiences, and created a documentary based on their experiences of stigma and gendered treatment in health. For Clyne's capstone in Psychology, they focused on the experiences of people living with chronic pain conditions. "I researched the ways that physician-patient communication could affect patients. For example, when a patient is told that their condition is incurable, it has a negative impact on their mental health — another burden on top of their existing physical health issues," they said.
As part of the process of earning honors in Psychology, Clyne completed an independent research project about social media interventions (such as the #MeToo movement) and observational social learning. Clyne recently published that paper, "Relationship Between Familiarity with the #MeToo Movement and Gender of Survivors and Perpetrators on Judgement in Response to Vignettes,"  in a Johns Hopkins public health research journal, Epidemic Proportions. "In my study," Clyne said, "I found that people who were specifically more familiar with the #MeToo movement were also more likely to identify a problematic situation when presented with vignettes, and more likely to recommend a harsher punishment for the perpetrator of sexual misconduct."
The Experience: AU and Beyond
Clyne says they first came to American University after googling the top most LGBTQ-friendly colleges in the United States. Location was also a critical factor for Clyne. "I was excited to live in DC because like many AU students, I am very political. I'm a nerd, but also just a person belonging to marginalized populations who knows the effects elections and legislation can have on my communities," they said. "Social justice issues led me to volunteer, intern, and lobby throughout my time at AU and to attend rallies and marches that have been some of the most empowering and supportive spaces I've experienced."
Clyne says they loved all the work that went into earning the Gold Medal. "I would have done the hours I logged even if I was not working towards earning the award," they said. "For this project I've traveled by bus from DC to Baltimore, to New York City, to Boston, and even to Toronto. I've seen Niagara Falls lit up across the Rainbow Bridge, and visited the widely recognized start of the LGBTQ activist movement at Stonewall."
Clyne acknowledges it wasn't easy to complete the 800 hours and graduate in three years from American University. "But it was empowering to be able to do it," they said. "And I felt like I was able to do it because of the community that surrounded me at AU, where I had support from friends if I needed it. I think it will stick with me that I can accomplish a lot when I apply myself to it, and that it is always important to have networks of support surrounding me."
The Future
Clyne is already on the path to accomplishing their goals. They just finished a year in a graduate premedical program at Johns Hopkins University. This fall, they will be working in a clinic as part of an AmeriCorps program in San Francisco. Clyne plans on completing their AmeriCorps commitment and working for a couple years before applying to medical schools.
Clyne is not planning on taking a break anytime soon. When asked where they see themself in the future, Clyne says, "In 5-10 years I will likely still be studying for another degree."