Visiting Artists and Scholars Series 2023-2024
The Studio Art MFA program at American University presents visiting artists throughout the academic year. Stay tuned for more artists and dates.
Asad RazaSeptember 28, 6:00 pm, Katzen 201
Asad Raza in conversation with Professor Alexandra Silverthorne.
Asad Raza (born Buffalo, USA) creates dialogues and rejects disciplinary boundaries in his work, which conceives of art as a metabolic, active experience. Diversion, first shown at Kunsthalle Portikus in 2022, diverts a river through the gallery space. Absorption, in which cultivators create artificial soil, was the 34th Kaldor Public Art Project in Sydney (2019), later shown at the Gropius Bau, Berlin (2020) and Ruhrtriennale (2021). In Untitled (plot for dialogue) (2017), visitors played tennis in a sixteenth-century church in Milan. Root sequence. Mother tongue, at the 2017 Whitney Biennial, combines twenty-six trees, caretakers and objects. Schema for a school was an experimental school at the 2015 Ljubljana Graphic Art Biennial. Raza premiered the feature film Minor History at the International Film Festival Rotterdam in 2019.
Raza's works often inhabit intimate settings such as The Bedroom at the 2018 Lahore Biennale. For home show (2015), at his apartment in New York, Raza asked artists, friends, and family to intervene in his life, while Life to come (2019) at Metro Pictures featured participatory works and Shaker dance. With Hans Ulrich Obrist, he curates a series of exhibitions inspired by Édouard Glissant, including Mondialité (Villa Empain, Brussels), Trembling Thinking (Americas Society, New York), Where the Oceans Meet (MDC Museum of Art and Design, Miami), and This language which is every stone (IMA, Brisbane). Of Pakistani background, Raza studied literature and filmmaking at Johns Hopkins and NYU, where he helped organize a labor strike.
Asad was the co-director of the Washington Project for the Arts' 2023 symposium: "How can we gather now?"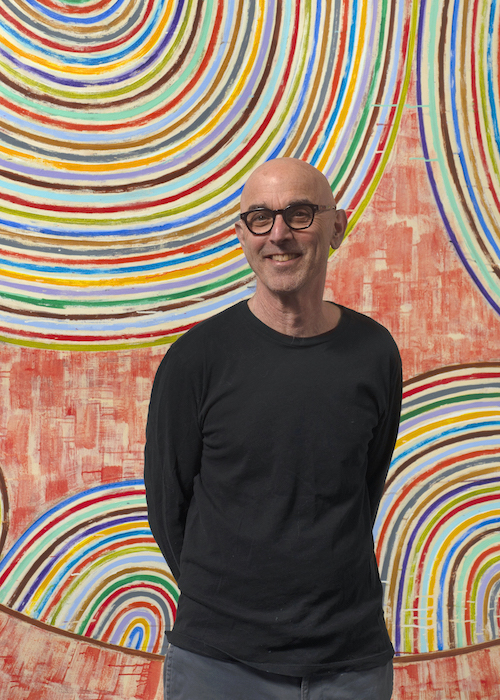 Steven CushnerNovember 14, 6:00 pm, Katzen 201
Steven Cushner in conversation with Stan Klein.
Inspired by the human instinct to identify patterns in daily life, Steven Cushner's (American, born 1954) work is created through the performance of painting as the distillation of gesture into iconography. 
His imagery is derived from the obvious logic of simple functions like the mechanics of a stack of firewood, the weave of a fisherman's net, or the movement of a buoy in the ocean. Each work, varying in scale from enormous to tiny, has a commanding presence that teases out the relationship between what something looks like and how it acts. Spanning three decades, Cushner's pedagogical stream of work has established him as a singularly significant painter.
Steven Cushner is a graduate of the Rhode Island School of Design and received his Master of Fine Arts in painting from the University of Maryland in 1980. His work is included in numerous private and public collections, including the Hirshhorn Museum and Sculpture Garden, Washington DC, and the Corcoran Gallery of Art, Washington DC.
Stan Klein lives in Chicago and exhibits his work under the name Vito DeSalvo. Stan/Vito earned his/their BFA from Carnegie Mellon University. They have exhibited at the Joanne Dobrick Gallery, Chicago, Judith Racht Gallery, Sawyer, Michigan, the Dowling Walsh Gallery, Rockland, Maine, and the Greenkill Gallery, Greenkill, NY. Stan/Vito have work in the collection of the McDonald's Corporation and have completed many private commissions. Stan operates Firecat Projects Gallery in Chicago, and has worked as a studio assistant for Kenneth Noland, Andrew Wyeth, and Tony Fitzpatrick.
Steven and Stan are childhood friends. They studied art together as high school students and went off to art school. Steven has lived in Washington DC for 45 years. After earning his MFA, Steven spent 10 years as an art handler, then began a long teaching career. He has lived and worked in the same house and studio for close to 40 years. Stan has worked as a framer, museum exhibition specialist, studio assistant, gallery owner, and usher at Wrigley Field. Between them, they have 90 years of living and working experience in the art world and have many stories to share.
Presented in conjunction with CUSHNER on view at the American University Museum at the Katzen Arts Center through December 10.