Program Description
Berlin has for many years held a well-deserved reputation as an incubator of contemporary art, even before the two world wars and the wall. As artists from all over the world flocked to the city for it's affordability and flexibility after reunification, they built a community of collective ambition and productivity that benefits as much from the open-mindedness of the Berlin public as from the community of artists themselves. Distinct from the showcase art worlds of New York and London, art making in Berlin is about experimentation, innovation, and conversation.
This program is designed to provide a productive and integrated connection with the unique creative environment of Berlin. Rather than being sequestered away in a university building or a rented warehouse, participants will work alongside active international artists in the studio; live in a neighborhood overflowing with Berlin's mix of cultures; and meet artists and organizers who will share their career trajectories and experiences.
Having a productive studio experience in an altered studio environment is one of the main goals of the program. As with many studio residencies, participants will be encouraged to look closely at the unique resources and influences available to them, and to allow their studio practice to respond appropriately. Work space and furnishings will be provided, though materials, special equipment or resources may need to be brought with or acquired on-site.
Exhibition: Berlin and Back Again
Studio Berlin alums showed at Goethe-Institut.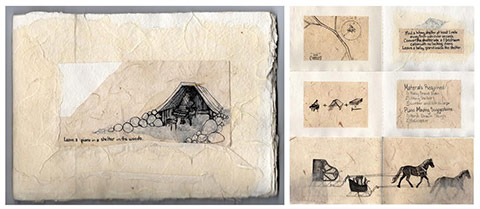 In a Shelter in the Woods, Emily Francisco, 2013.