Athletics
Men's Basketball Hosting 7th Annual Sustainability-Themed Game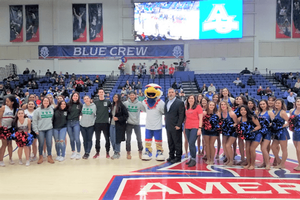 Fans at the annual Sustainability Basketball Game on February 12 will be red, white, and blue – and green. In addition to cheering on the AU Men's Basketball team as they face off against Loyola, MD, fans also will celebrate the environmental accomplishments and goals of AU. The annual matchup at Bender Arena is planned by AU Athletics, Facilities Management's Energy & Engineering team and Grounds, and the Office of Sustainability.
Last year's game celebrated AU reaching carbon neutrality ahead of schedule. This year, the game will focus on AU's history of environmental action and milestones.
The game will tie into the 50th anniversary of the first Earth Day celebration by showcasing the history of environmental work by students and staff during the past century. A video will show historic environmental work by students, campus Earth Day celebrations, and major accomplishments of the past few decades. The jumbotron will present several facts on energy conservation, such as the completion of the Low Temperature Hot Water infrastructure project, highlights of the campus arboretum, and facts about how AU reduces campus waste.
Students also will be able to engage with local vendors and organizations, such as the DC Sustainable Energy Utility (DCSEU). Energy & Engineering works closely with the DCSEU to complete energy reduction projects, which most recently included improving lighting efficiency at Cassell Hall Fitness Center. Coca-Cola will donate a bicycle to be given away to a lucky random student, along with bike accessories provided by the Office of Sustainability.
Also at the game:
Zero Waste students on hand at trash bins to help fans sort their waste into either compost, recycling, or landfill trash.
Rocklands BBQ will offer vegetarian and non-vegetarian food options for students.
A zero waste-themed game on the court for students to compete.
Recognition of AU environmental student clubs.
"As a source of university pride and school spirit, we have seen the annual Sustainability Awareness Basketball game grow in number and meaning," said Robert Sherman, Assistant Athletics Director for Marketing and Corporate Partnerships.
Juan Allen, Energy Conservation and Efficiency Manager, added, "Facilities Management, including the Energy and Engineering team, is proud to collaborate with the Office of Sustainability and AU Athletics once again to bring awareness to the environmental accomplishments that have taken place at AU."
The game is co-sponsored by AU Athletics, Office of Facilities Management, and Office of Sustainability, along with the support of corporate partners Duke Energy Renewables, Mallick Mechanical Contractors, The Whiting-Turner Contracting Company, All State Construction, Inc., Aramark Higher Education, Coca-Cola, DC Sustainable Energy Utility, E.C. Ernst, and Ephesus Sports Lighting.
The game starts at 7 p.m. Admission is free for AU undergraduate, graduate, and WCL students with valid AU ID. Visit AUeagles.com/Tickets and use the coupon code GREEN20 at checkout to receive and save $5 off each adult priced ticket.