Alumni
Two Alumni Honored at 11th Annual Dean's Dinner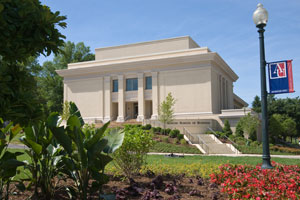 Kogod honored George S. Willie, MBA '74, BS '71, and Elliot M. Schnier, BA '71, at the 11th Annual Dean's Dinner on April 14.
As a tribute to those who have supported the school—both financially and through other service, counsel, or student support—a cocktail reception was held at Kogod, followed by dinner in the Katzen Arts Center Rotunda.
At dinner, Richard Birnbaum, chair of the Kogod Advisory Council, announced that the council has dedicated the stairwell across from the Kogod Center for Career Development to Dean Richard Durand.
This year, a Cuban theme set the mood; Durand spent a portion of his childhood in Cuba. A Cuban guitarist played during the cocktail reception, and traditional fare was served family-style. Guests wore festive attire—many even donned fedoras.
After dinner, Durand presented school benefactor Robert Kogod, BS '62, with a copy of the brand-new The Art of Business. The art book contains photographs of select pieces of the roughly 200 works in the Kogod Collection, all gifted by Robert and his wife Arlene.
Community Leadership Award
Willie received the Kogod Community Leadership Award for his work in the accounting industry, the Washington, DC community, and higher education. The Community Leadership Award honors individuals who have demonstrated exceptional leadership in business and who have made a significant impact on their organization and in their community. The managing partner of Bert Smith & Co., Willie has over 30 years of public accounting experience.
Willie has served on numerous boards and committees, including the US Government Accountability Office's Advisory Council on Government Auditing Standards, and is a former member of the Board of Governors of the Greater Washington Society of CPAs.
In 2009, Willie created a scholarship for Kogod students in the Masters in Accounting program. He has been a member of the Kogod Advisory Council since 2006 and, most recently, he served on the search committee to hire a managing director for the Kogod Tax Center and participated in interviews with candidates for next Kogod dean.
"It's been a great opportunity to be of service to this AU community, especially the hardworking and dedicated members of the Kogod Advisory Council, from whom I've learned so much," Willie said.
Dean's Alumni Award
Schnier was given the Dean's Alumni Award, which honors an alumnus who has distinguished himself in service to the school, the community, or professional field.
While at AU, Schnier was active in greek life, both as a member of Zeta Beta Tau and in various positions on the Inter-Fraternity Council. Schnier was also a member of the track team.
"I'm truly proud to receive this award from a school I am proud of," Schnier said. "My four years at AU were some of the most memorable of my life."
In 1976, Schnier joined Porky Products, Inc. and has been with the company for 36 years, becoming co-president in 1991. Porky is the largest independent supermarket distributor in the northeast and one of the largest meat wholesalers in the country.
Schnier is also involved in many charitable organizations both as a philanthropist and a leader. Part of the executive board of Tikva, an orphanage and school in Odessa, Ukraine, Schnier helps support and raise money to fund programming, education, shelter, and social services for school children who have experienced medical, psychological, and other difficulties.
Schnier has been active member of the Kogod Advisory Council for the past five years. He has contributed to the Kogod building expansion as well as the Katzen Arts Center.
His daughter, Alyson, graduated from AU in 2001; daughter Jodi attended the school for two years.