Business
A Legacy of Giving Back Bill DeLone shares experiences from his thirty-one years at Kogod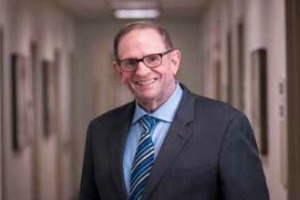 Bill DeLone, Kogod Professor of Information Technology, is a people person. He defines himself not by his accomplishments, but by his work with--and impact on--others.
It's why he's worked for Kogod more than 30 years. "It's always been about my colleagues and my students," DeLone says. "These relationships are the most fulfilling part of my work."
It's also what he's most excited about in his retirement. He wants to collaborate more with faculty, leveraging his relationships to delve more deeply into his research.
"I'm looking forward to using my time on today's big research questions," he says. "It really takes a supportive community of academics and practitioners for this."
For DeLone, who is retiring in August, Kogod provided this community from the beginning. He admits that's why he never left American University. "There are so many people here that are supportive and positive. It's always been a place where I could take risks and explore," he says.
He describes Kogod as having a "spirit of innovation" where people encourage you to "try new things." The school's mid-range size–currently around 60 full-time faculty and 2,500 students–helps cultivate this supportive, yet progressive environment. "It's not too small, but it's also not too big. You have the autonomy to do things that really make an impact," DeLone says.
And Bill DeLone is all about impact. His passion for helping others is why he became a professor, afterall.
Working closely with students means he helps shape their thinking—and, potentially, their futures. It's the most rewarding part of the job for him. "Having a strong connection to students' learning is really meaningful," he says. "You can make a real difference in people's lives."
He also loves the process behind it. Learning new concepts takes time, and DeLone enjoys mentoring people as they figure things out. "I love taking a challenge and crafting it in a way that's accessible," he says. "It's gratifying to know you helped things 'click' for someone."
"What makes Bill unique is that all his work is about helping others. As a teacher, and as a colleague, he works tirelessly to make people successful," says Alberto Espinosa, IT Department Chair. "He's become a great mentor and friend to the Kogod community."
DeLone's proudest mentorship moment is also an act of service. In 2001, he received a call from the University of the Virgin Islands (UVI), where he taught prior to coming to Kogod. The President wanted help launching a technology center, in hopes of creating new IT job opportunities for students.
DeLone, who still felt very connected to the institution, was excited to help—so much so that he took a one year sabbatical from Kogod to work on the project. Nearly two decades later, the center—dubbed UVI's Research and Technology Park—has attracted thirty software, IT systems and communications businesses to the Virgin Islands.
"I was able to not only help students, but improve a country's economy," DeLone says. "It's a great example of how technology connects to business."
…which is exactly the impact DeLone wants to have. He hopes to encourage faculty to view their work not just through an academic lens, but through a practice-based one, as well. "This is what people are expecting more and more—that your research makes a difference in the business world."
That's the key to truly making a difference, according to DeLone. By broadening one's research to include the businessworld and academia, Kogod faculty can affect change on a larger scale. "It's got to be both—academia and practice," he says.
This, and his work with his students, is the legacy DeLone hopes to leave. He wants to be remembered as a dedicated researcher and teacher—one that is driven by his passion for helping others.
Though he'll resign from his professorship at the end of the summer, DeLone won't disappear completely. He'll maintain emeriti status, and will continue working with the Cybersecurity Governance Center, where he is currently the co-executive director.
And it's certain he'll stay engaged in the Kogod community at large, too. He sees his retirement not as an end, but as a beginning—one that offers rich new opportunities to work with the colleagues and students he loves. "My work here is not done," DeLone says. "It's just a new chapter."