Business
Changing an Industry One Straw at a Time Through his venture, Celise, Kogod student Cameron Ross is building a more sustainable future.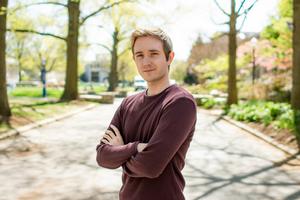 Cameron Ross credits a hike in West Virginia with the seed of his new business venture. "I went to one of my favorite spots, and I spent the entire hike picking up trash. Why would people do this?'" he wondered. "'Wouldn't it be nice if it just went away by itself?'"
Ross, an undergraduate student in Kogod's finance program, has always had an entrepreneurial spirit. For as long as he can remember, he's been dreaming up new business ventures. His hike in West Virginia inspired him to create Celise, a biodegradable and compostable goods company that has been winning pitch competitions across the US.
As a student in the Entrepreneurship Incubator at the American University Center for Innovation, Ross developed Celise with the goal of eliminating single-use plastics in the food and beverage industry and replacing them with biodegradable alternatives. The incubator's hands-on approach attracted him to AU over the lure of a full scholarship to the Rochester Institute of Technology.
Ross researched materials that would degrade naturally, landing on PLA —polylactic acid, a derivative of cornstarch—to make straws. "Straws were the simplest and most effective to start with," Ross says. "When you go out to eat, you don't always get plastic utensils or cups, but you are always given straws. They're all over the place."
Ross submitted his idea to the George Mason University Dean's Business Competition and placed as a runner-up, winning seed funding that would launch his venture into its next phase. He has won over $80,000 from pitch competitions to support his inventory, business expansion, and education.
In September 2018, Ross began selling his straws in Washington, DC. The launch of his company coincided perfectly with the DC straw ban taking effect on January 1, 2019.
Americans use and throw out up to 390 million plastic straws every single day. Prior to the DC straw ban, volunteers who were cleaning the Anacostia river collected over 4,000 of them. "There's a lot of plastic, not only in landfills but also in our oceans and communities," Ross says. "It's just overflowing with trash. It's not sustainable to keep using plastic."
Lawmakers and other activists see straws as a "gateway" plastic—a chance to start a conversation on the overuse of other disposable plastic products. Ross is already on track to sell six million straws this year, and he has over two million cups and lids in the pipeline as well. His straws are in Compass Coffee locations across DC, and he is working with two national franchises to sell straws, cups, and lids.
As Celise grows, Ross wants to expand the types of products the company offers. "I'd like to keep the company growing, not only in terms of market share but in terms of our technology," he says. "I'd like to keep introducing new materials that are biodegradable, not just in the food and drink industry but in other areas."
Ross's work underlines the importance of fostering more sustainable practices. At Kogod, he has been able to work alongside other students at the AU Center for Innovation who share his commitment to promoting sustainability.
"We need to stop climate change. We need to stop plastic waste," Ross explains. "I think it's great that not just me but a couple of other people in the incubator program are doing things to help fight some of these issues in the world today."
As Celise continues to grow, Ross is exploring new biodegradable materials and is actively working to get his products into more businesses, not just in DC but around the country—and, hopefully, the world. His innovation is driven by his passion for a cleaner, more sustainable future.
"I'm focusing on eliminating plastic waste and, hopefully, I'm already making a meaningful change," Ross says.
Learn more about Cameron's experience creating Celise and working with the AU Center for Innovation.