Research
Cybersecurity and Privacy: Bridging Research and Practice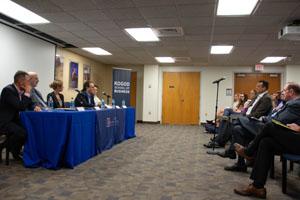 Privacy and cybersecurity leaders from across the nation assembled at American University on Wednesday, September 26, for Cybersecurity and Privacy: Bridging Research and Practice. The forum, held from 3-5:00 p.m. in the Butler Board Room, brought together government officials, academics and practitioners to discuss key privacy issues. Panelists included Patrick Carrick, Department of Homeland Security; Casey Evans, Kogod School of Business; Jules Polonetsky, Future of Privacy Forum; and Anthony Vance, Fox School of Business at Temple University.
Heng Xu, the newly appointed Director of Kogod's Cybersecurity Governance Center, moderated the Forum and introduced keynote speaker Dr. Joseph Valacich. Valacich, Chief Science Officer of his company Neuro-ID and Eller Professor of Management Information Systems at University of Arizona, provided background on his business, which analyzes the online patterns of customers behavior.
Drawing from his research and experiments, Valacich explained the goal of his work is to provide an impactful vetting process. He said one area where his software can make a difference is by preemptively identifying whether an applicant is at high risk to defraud insurance companies. Smartly allocating resources not only saves money for his clients, but creates a safer and more just world.
After the keynote, the event continued with a panel discussion around cybersecurity. Speakers agreed how leaders at the top companies must give cybersecurity the attention and resources it deserves. While issues around security still plague the business community, discussions like these are the first step in initiating change.
"It's not a matter of if, but when," said Professor Casey Evans, Assistant Dean of Undergraduate Programs at Kogod and forum panelist, on the subject of data breaches.
The panel concluded with the consensus that, while more work is to be done, privacy will always be a challenge. In today's technologically evolving world, data breaches and cyber hacks are becoming less of a phenomenon and more of an expectation.
"Perfect cybersecurity is when your device is unplugged," said Patrick Carrick, Chief Scientist at the Department of Homeland Security's Science and Technology Directorate. "You're never going to have perfect privacy."
Read more about the event and learn more about Kogod's Cybersecurity Governance Center.