Business
Empowering Entrepreneurship New venture start-up aims to take students from the traditional classroom to running a business in real time.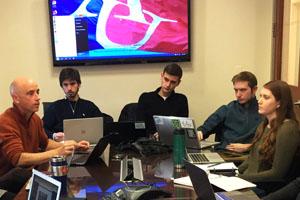 In New Venture Start-up (MGMT-496/696) a small group of undergraduate and graduate students are bringing a real start-up business to life. Professor Tom Kohn, a two-time CEO and new business venture veteran, has partnered with CEO and AU alumnus Caesar Layton to help his students run FoodyTV, a unique video platform "championing the movement to democratize the entire cooking and food media landscape."
Three years ago, Layton and his company, Cultivate Ventures, grew interested in the quickly growing food wellness space. At the time, FoodyTV was a production company that produced movies for PBS. Layton bought FoodyTV and has since been transitioning the venture to his vision of the future for food media.
Layton describes FoodyTV as an ongoing experiment. "We've looked at the media space and we've asked, how do we democratize food media? How do we make a channel accessible so up-and-coming chefs can get their product out beyond YouTube?"
FoodyTV positions itself as a "next-generation food network aiming to revolutionize food media," and Kogod students are at its forefront. Unlike a case study where students learn from the past, the day-to-day decisions students make in the class impact the company in real-time and into the future.
Partnering with Kogod was an opportunity for both students and FoodyTV. "We have very limited resources," says Layton. "So I thought, if I can get a roomful of super smart, young people to pick their brains for ideas,  we can give back a real life case they can learn from."
Layton says, "As we make changes to the company, FoodyTV instantaneously tells you if it works—if more people view it, if you make more money, or get more content. Students get to see if they make a decision that changes the company for the better."
MBA students Garrett Shuster and Kevin Assie find the real-life application an invaluable experience. They are learning how to evaluate FoodyTV's challenges and opportunities, provide actionable recommendations, and watch how their implementation affects the business.
The students are also gaining experience they can bring to their careers. Shuster says, "I see a lot more value in this because I can take this experience and talk about it. I can say, 'I have direct, hands-on experience,' as opposed to, 'I read a case on it.'"
Shuster and Assie benefit not only from Kohn and Layton's mentorship but the additional insight of their classmates, a mix of students of different ages and levels of experience.
 "Being in an environment like this is great because you get so many different ideas. It's a melting pot that allows you to arrive at what might be best for the company at that particular time," says Assie. "I've never taken a class like this one." 
The class empowers students to be creative and take ownership of the projects they're working on. There's no traditional syllabus. Kohn and Layton admit they are making it up as they go, offering students a real view into entrepreneurship.
Says Shuster, "I have an interest in startups and to potentially one day be my own boss. The pace at which the class moves and operates, having the ability to work directly with the executives, giving your input and opinions to help sway and make decisions that affect the business—all of that is of interest to me."
Both Shuster and Assie are looking forward to making a difference in FoodyTV and continuing to gain valuable hands-on experience as the class progresses throughout the semester.
Learn more about New Venture Start-up and other opportunities the Kogod MBA program offers today!