Diversity Initiative
The ACRL Diversity Alliance program - of which American University is a founding member - unites academic libraries who share a commitment to increase the hiring pipeline of qualified, talented individuals from underrepresented racial and ethnic groups. By thinking bigger and broader, across all academic libraries, the Alliance will introduce and welcome to the job market underrepresented racial and ethnic groups with work experiences that advance academic/research libraries. As a member of this Alliance, American University has:
Established a residency program for at least one individual that lasts a minimum of two years (three years preferred).
Committed to designing experiences at the local level to expand the residents' interests and skills, e.g., mentorships, rotation through other library units, etc.
Agreed to serve as a resource, i.e., advisors and guides, to those institutions participating in the ACRL Diversity Alliance.
Provided at a minimum the same level of professional development support provided other library faculty/staff/employees.
Provided a salary for the resident commensurate with the salaries of equivalent entry-level library professionals.
Additional Diversity Initiatives
The Internal Diversity & Inclusion Committee supports and engages personnel in promoting diversity and building an inclusive environment at AU Library, including sharing resources and hosting workshops for Library personnel to develop cultural competencies.
The Exploring Social Justice Series is a lecture series that brings to campus leaders from diverse backgrounds who have advocated for human rights and social justice issues.
For our Reserves collection, the Library has purchased all of the General Education textbooks and many of the most expensive textbooks ($150+) to reduce financial barriers.
The Library works with the Academic Support & Access Center to provide assistive technology, including: two adaptive technology rooms, laptops with assistive technology software installed available to be borrowed, and several wheelchair accessible scanners.
Our Student Success Collection includes resources for undergraduates to learn and build skills on transitioning to academic life.
AU Library hosts one of the lactation rooms available on campus.
Food for Fines Program
For more than twenty years, the Library has partnered with the AU community to provide selected food items for those in need, while giving Library users a break on fines. Learn more about this annual campaign on the Event page.
Green Team Initiative
The AU Library is committed to the University's vision for an eco-conscious campus. Here are some ways we are working to further this goal and how you can help:
Go Green & Recycle E-Waste: Moving old computers and cell phones out of your life, and out of the waste stream.
Eco-Smart Library Tote Bags for Sale!: Help keep the waste-stream free of non-biodegradable plastic. Visit the Information Desk to purchase today!
Help the Library compost: More than half of the trash produced in the library can be composted and reused.
100% recycled paper: All printing in the Library is on 100% post-consumer paper.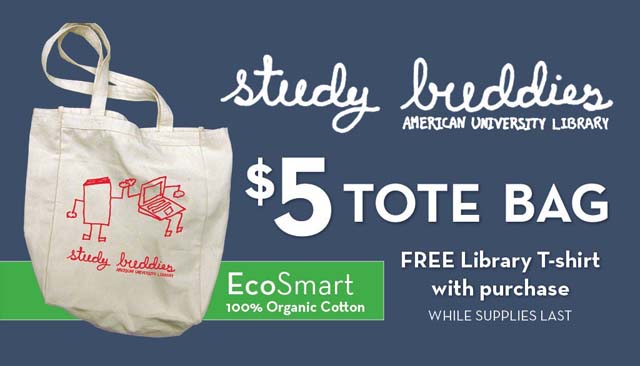 Help keep the waste-stream free of non-biodegradable plastic. Visit the Information Desk to purchase today!
The Library uses 100 percent post-consumer paper
The Library has a Environmental Science subject guide that provides lists of databases, web sites, books, CD-ROMs, videos and DVDs on the study of the environment.
Check out or stream a film from the Library's Environmental Studies collection. Available exclusively to AU students, staff and faculty.