On Campus
Emerging From Tragedy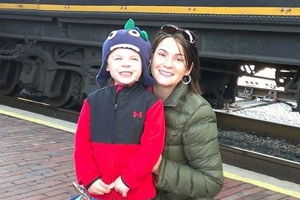 After finishing up her master's degree in public communication, Sarah Gray is set to participate in this month's commencement festivities as a flag bearer. But that's only part of the story. During her time at American University, Gray endured horrific family tragedy: the death of one of her twin sons. But her experience is also life-affirming, as Gray responded to calamity by helping other people and advancing the cause of scientific research.
Diagnosis and Loss
In September 2009, Gray found out she was pregnant with twins. Four weeks later, Gray and her husband Ross learned that while one twin was healthy, the other twin had a fatal birth defect called anencephaly. "They were identical twins. And it was very confusing to think, 'How can twins be genetically identical on one hand, yet be so different?'" Gray recalls.
The doctor pointed out on the sonogram that the healthy baby's head was round, while the sick baby's head was bumpy and did not form properly at the early stages of development. In addition, the sick child's amniotic sac fluid was cloudy because his brain matter had disintegrated.
They were presented with two viable options. They could terminate the pregnancy, or carry them both to term—with the understanding that one of the twins would die shortly after being born. They carried to term, naming their sons Callum and Thomas. Five days later, Thomas died.
Organ Donations
Yet during her pregnancy, Gray was already planning to salvage something positive from a tragic situation. She did research on organ donation. Thomas was too small to use organs for a direct transplant, but some of his parts could be useful for scientific studies. So they donated his liver, eyes, and cord blood.
Gray then took an interest in the whereabouts of Thomas's organs, and she followed up by visiting the recipient research centers. She learned that his eyes went to the Schepens Eye Research Institute, an affiliate of Harvard Medical School. While on a business trip in Boston, she called the front desk for a tour.
"Most of these places had never ever had a family visit before," she says. "I was really wondering, 'Who is opening up an envelope with my son's eyes in it? And is that weird? Do they talk about that at cocktail parties?'" Upon meeting the researchers, she discovered they were just as curious about the donating families.
His Brother's Memory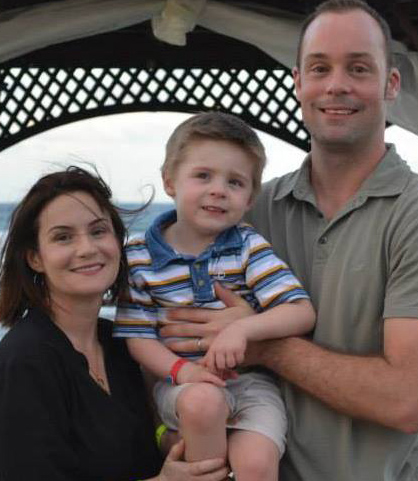 Gray has pictures of Callum together with his twin brother, Thomas, soon after they were born. She hasn't shied away from discussing this issue with her four-year-old son. "There's no shame in what happened. That happens in life. So we tell him he had a brother. But his brother had a really big boo-boo on his head, and he's dead now," Gray explains.  
Along with his family, Callum has visited his brother's gravesite. He's also reminded of his sibling's contribution every year at a Washington Regional Transplant Community gathering for donor families. "They show the pictures of the donors on the screen. And Callum always says, 'That's my brother, that's my brother!'" Gray recounts.
There have been other sad, unexpected moments. "He blew out his candles this year when he turned four. I said, 'What did you wish for?' He said, 'I wish Thomas could walk and play with me.' I'm like, 'Where did that come from?'"
Telling Her Story
Gray grew up in nearby Falls Church, Va. and she earned her undergraduate degree from Marquette University in Milwaukee. She came to AU in 2007, working full-time while taking classes at night. Gray ended up doing her Capstone project on organ donation, interviewing 10 people who chose to donate a kidney to a stranger.
With assistance from School of Communication professor Joseph Graf, she's currently working on a book proposal about this experience. "She knows the field, and she has this emotional connection to people who make donations or who accept donations. And she can speak their language. To these people, she has this credibility because she's been there," Graf says.
Gray's story has been told by multiple news outlets, such as WAMU and NBCNews.com.
A Dream Job
Despite living with personal anguish, Gray maintains a generous spirit. She responds to questions about her own suffering with solutions for an entire network of people in need. "People will tell me I'm brave. I'm not brave. Brave is when you know something bad is going to happen and you choose it. If I had known this was going to happen, I would not choose this. But I did learn to respect science more, and be more interested in science. And I learned about how many people's lives are saved by transplants," she says.
Gray eventually parlayed this experience into the next stage of her career. She had previously worked at NISH (the National Industries for the Severely Handicapped), an organization that helps people with disabilities find jobs. Gray says she was perfectly happy in that position. Yet in a class at AU, she was asked to identify her dream job. "I wrote that I'd love to do something in the field of organ donation, because I was already doing it in my free time, and I had been doing media interviews. And then a couple weeks later this job came open," she recalls.  
She's currently director of marketing and public affairs for the McLean, Va.-based American Association of Tissue Banks, representing more than 100 accredited tissue banks and 1,000 individual members. Now she's preaching the gospel about organ donation to a much larger audience.
"People make these decisions to donate at the worst time in their lives. You know, your child was just shot and killed. And someone says, 'Do you want to donate his organs?' And you're all stressed out and you're like, 'Okay, fine.' That decision saves like eight people's lives," she says. "That gives me an appreciation for the nice things that people can do for each other."