Research
Kogod School of Business Awarded $1 Million Research Grant from the National Science Foundation and Amazon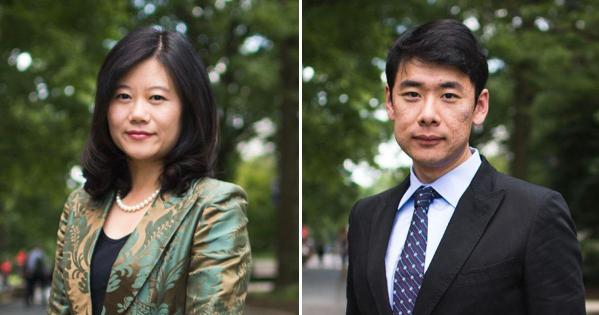 Researchers from American University's Kogod School of Business were awarded a nearly $1 million research grant for their project to address structural bias in artificial intelligence (AI) hiring systems titled, "Using Machine Learning to Address Structural Bias in Personnel Selection." The grant is part of the National Science Foundation (NSF)'s Program on Fairness in Artificial Intelligence (FAI) in Collaboration with Amazon. The three-year project will integrate statistical machine learning methods with theories based on legal, social, behavioral, and economic sciences in hiring practices.
"We are excited about this opportunity to grow Kogod and American University's research portfolio in Responsible AI and Machine Learning," said Nan Zhang, Kogod Professor of Information Technology and Analytics and principal investigator of the project. 
This award is part of the second cohort of the NSF and Amazon partnership on fairness in AI. Among all 11 lead institutions of 2021 awardees, Kogod School of Business is the only business school on the list. The project is led by Professor Zhang, with co-principal investigators, Heng Xu, Professor of Information Technology and Analytics and Director of the Kogod Cyber Governance Center, and Mo Wang from the University of Florida's Warrington College of Business.
The goal of the project is to establish machine learning as an important pillar for the design of personnel selection systems in human resource management. Recognizing the gap between the existing technical research in machine learning and the empirical research in personnel selection, the team of researchers will connect the empirical findings with the technical design of machine learning algorithms to better integrate the two fields in future practices. The research is expected to be completed by January 2024.
"I believe that our work will not only lead to theoretical insights, but also contribute to solving real-world problems," said Professor Xu.
"We are incredibly proud to see Kogod Professors Zhang's and Xu's research into machine learning's role in fairness in hiring practices be supported by the National Science Foundation and Amazon," said John Delaney, Dean of the Kogod School of Business. "Such pioneering research is a key tenet of our mission at Kogod to solve complex real-world problems and use business as a force for meaningful change."
"NSF is partnering with Amazon to support this year's cohort of fairness in AI projects," said Henry Kautz, director of NSF's Division of Information and Intelligent Systems, in a press release from NSF. "Understanding how AI systems can be designed on principles of fairness, transparency and trustworthiness will advance the boundaries of AI applications. And it will help us build a more equitable society in which all citizens can be designers of these technologies as well as benefit from them."
The NSF's FAI program supports computational research focused on fairness in AI, aiming to build trustworthy AI systems that can be deployed to tackle grand challenges facing society.
"We are excited to see NSF select an incredibly talented group of researchers whose research efforts are informed by a multiplicity of perspectives," said Prem Natarajan, vice president in Amazon's Alexa unit in the NSF press release. "As AI technologies become more prevalent in our daily lives, AI fairness is an increasingly important area of scientific endeavor. And we are delighted to collaborate with NSF to accelerate progress in this area by supporting the work of the top research teams in the world."