Education Resources to Help Teachers and Students Navigate the Impact of COVID-19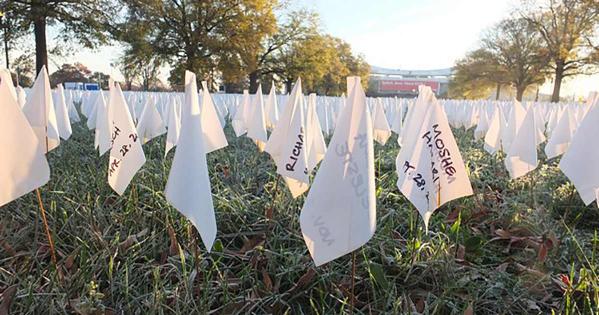 American University and In America: Remember Artist Suzanne Brennan Firstenberg today announced the release of critical new online educational resources designed to help teachers and students around the country to understand, process and express the magnitude of the pandemic and its impact on them, their communities, the nation and the world. The curriculum, available for download, is built around Firstenberg's art exhibition In America: Remember, which will honor and personalize our collective loss due to the COVID-19 pandemic.
Over 660,000 white flags, each symbolizing a life lost due to COVID-19, will appear on 20 acres of the National Mall this fall. The first flag will be planted on Sept.14, 2021, and the exhibition will open to the public on Sept.17, remaining in place until Oct. 3, 2021. For those who cannot visit in September, the exhibition will be accessible in the digital sphere. At InAmericaFlags.org, those who have lost a loved one to COVID-19 can submit a dedication. Volunteers will inscribe and plant their flag on the National Mall when flag planting begins in September.
With support from the Ganek Family Mini Grant for Innovation in Education, American University's School of Education partnered with Lynne Brenner Ganek, an educator, author, television producer and former head writer with WNET/Thirteen. Brenner Ganek innovated some of the nation's first Media Literacy curriculum. The team aims to make the art exhibition more meaningful and impactful to K-12 students.
"We are excited and honored to bring this exhibition into classrooms. For so many, returning to school this fall won't feel 'normal' at all. We want children to know we haven't forgotten their loved ones. In these lessons we strive to build empathy," said Jody Hagen-Smith, an undergraduate advisor at AU and co-creator of the educational materials for In America: Remember.
In the educational resources provided on the InAmericaflags.org website, teachers will find lesson plans that include interactive discussion questions, engaging visuals, links to resources that build students' background knowledge, connections to content areas, and an invitation to participate in a uniquely American project that showcases student art from around the country. Children will be encouraged to express their emotions through their art, supporting the processing of individual and collective grief, and the art of those who choose to submit it, can be viewed later this fall on the InAmericaFlags.org website. The project and the map of youth art will be called "The Pandemic Through Young Eyes: Art From the Next Generation."
"Suzanne's exhibition has the potential to reach many young lives. We wrote our educational materials with the mindset that children and their teachers can engage, experience, and participate in the art to express and understand the emotions we've felt during the pandemic," said American University Professorial Lecturer and materials co-creator Dr. Lauren M. Shea.
"It is heartbreaking an estimated 120,000 young children are returning to school grieving the loss of a primary caregiver due to COVID-19," notes artist Suzanne Brennan Firstenberg. "This pandemic has disproportionately affected children of color. Now, more than ever, children need an opportunity to understand their feelings, express them and be heard. My art is an expression of our communal loss--I thank and applaud American University for recognizing the underlying opportunity this art offers for healing through our school communities."
"American University's School of Education is proud to support teachers as they return to their classrooms and help students work through their feelings about the pandemic," said AU School of Education Dean Cheryl Holcomb-McCoy. "Thanks to a generous donation from Lynne Brenner Ganek, the In America: Remember educational resources will help students discuss how the pandemic has affected them, their communities, the nation and the world."