Main Office (Anderson Hall): Mon-Fri: 9 AM-5 PM; Sat-Sun: Closed;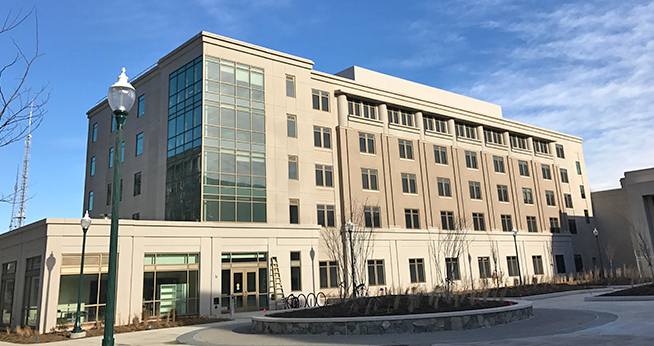 Constitution, Duber, and Federal halls are home to sophomore students, housing approximately 590 residents, on the University's newest addition to the campus.
These buildings, located on East Campus, have mostly double rooms with private bathrooms. Each floor community has a central lounge space with a kitchen, lounge furniture, and television for students to study or socialize with their community. Each floor also has a laundry room. Steps away are Bleeker St. Café, a grab-and-go style food market; and the Don Meyers Technology & Innovation Building, a state-of-the-art facility for scientific research, collaboration, and learning.
In-hall staff include Resident Assistants (RAs), an Assistant Community Director (ACD), and a Community Director (CD). East Campus' RAs live in the buildings, acting as peer educators and helping residents connect to their community. The East Campus community has one CD, a professional staff member who works with RAs to foster a living-learning environment to bridge the academic and residential experience.
Built with sustainability in mind, East Campus aims for LEED Certification with efforts taken to limit the amount of greenhouse gases emitted, produce less waste, and increase energy efficiency.
Interested in getting involved in event planning and making a difference in your community? Get in touch with the East Campus Hall Council.
Approximate Dimensions
Room sizes and dimensions provided are approximate. Layouts or room configurations may vary due to the uniqueness of all residence hall accommodations. Single layout is similar to double rooms but with a slightly smaller footprint, one set of furniture, and private restroom.
East Campus

| Description | Approximate Dimensions |
| --- | --- |
| Room | 10' x 14', not including restroom and entry |
| Bed frame | 80" (W) x 36" (H) x 36" (L) |
| Mattress | Standard twin |
| Desk | 36" (W) x 30" (H) x 24" (D) |
| Chair | 21" (W) x 30" (H) x 25" (D) |
| Stackable drawers (2) | 26" (W) x 20" (H) x 20" (D) |
| Bookcase | 24" (W) x 30" (H) x 15" (D) |
| Armoire | 36" (W) x 72" (H) x 24" (D) |
| Side table | 16" (W) x 30" (H) x 24" (D) |
Images
Get involved in your Residence Hall Association or Hall Council.

Check out the history plaque in the front lobby!