Main Office (Anderson Hall): Mon-Fri: 9 AM-5 PM; Sat-Sun: Closed;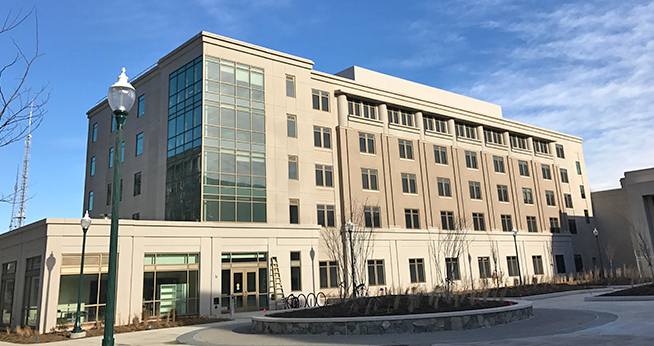 At the core of Housing & Residence Life's mission is providing residential environments that exceed the expectations of the university community by promoting personal success, social engagement, and global responsibility. Several years in the making, American University's Strategic Plan named the expansion of student housing a priority and East Campus was imagined.
East Campus will consist of a pair of connected academic buildings; the Don Myers Technology & Innovation Building, housing both instructional and administrative space; and three residence halls. Built with sustainability in mind, East Campus aims for LEED Certification with great efforts taken to limit the number of greenhouse gases, produce less waste, and ensure energy efficiency.
For an overview of the project from a construction standpoint, as well as updates throughout the building process, visit the Building AU website.
Congressional, Constitution, and Federal Halls
The three residence halls on East Campus take their names; Congressional, Constitution, and Federal; from three buildings that once stood on American University's Tenley Campus. Tenley Campus is now the home of the University's Washington College of Law. Today's Constitution, Congressional, and Federal Halls are located on the corner of Nebraska and New Mexico Avenues, steps from Bender Library and the Quad.
East Campus will be home to 590 sophomore students residing in mostly double-rooms, each with ample storage space and bathroom. To see a sample floor layout or 3D rendering of a residential room on East Campus, visit our Residence Hall Room Specifications page.
Student lounges on each residential floor are furnished with flat-screen TVs, comfortable furniture, and kitchens. These spaces will offer students a place to relax after class and meet with others to study. Other amenities, such as a 24-hour front desk and laundry rooms on each floor, allow students to pick up packages and plan around their own schedules.
A grab-and-go style food venue, and special event meeting spaces, are also in the plans for East Campus.
Explore. Engage. Transform.
The East Campus sophomore residential experience is centered around the themes of exploration, engagement, and transformation: exploring one's self and all that AU and D.C. have to offer, engaging with a multitude of faculty/staff, peers, and subject matters, and transforming one's campus experience and community.
East Campus is meant to be a hub for students to live and learn. There will be opportunities to connect with faculty in an informal setting, connect with peers in the community at both small- and large-scale programs and study breaks held by Resident Advisors throughout the year, and participate in events held by Hall Council.
How to Get Involved
The East Campus Advisory Board was created to ensure student voice continues to be part of the East Campus planning process, especially when it comes to the areas of move-in/out, communication, community building, and programming.
If you are interested in participating in building community on East Campus, send an e-mail to Victor Lopez, Community Director, at vlopez@american.edu.
Have Questions?
Questions regarding living in Constitution, Congressional, or Federal Halls can be directed to Victor Lopez, Community Director, by calling our main office at 202-885-3370 or sending an email to vlopez@american.edu.