Main Office (Anderson Hall): Mon-Fri: 9 AM-5 PM; Sat-Sun: Closed;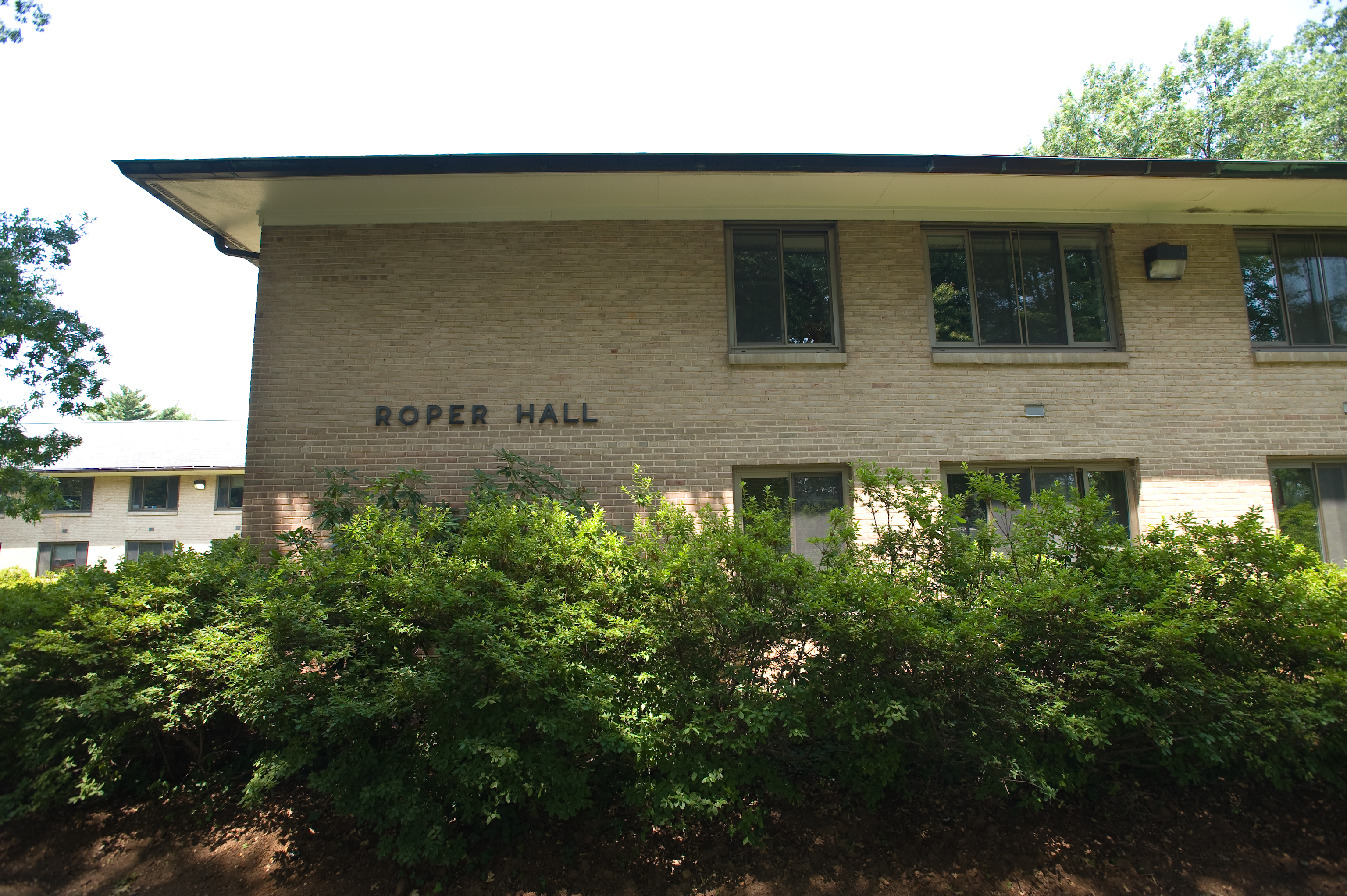 Roper Hall is a small, tightly knit building housing approximately 50 residents. This community provides an intentional space dedicated to celebrating, exploring, and affirming Black student experiences at AU and beyond.
About the Hall
Roper Hall has a traditional residence hall design with fully furnished double and triple occupancy rooms and shared bathrooms. The building has a central lounge space with a kitchen, lounge furniture, and television for students to study or socialize with their community. The building also has a laundry room.
Personalize Your Room
Decorative and additional items can be purchased from the HRL coordinated vendors through our Personalize Your Room webpage.  Each room will include the furniture noted on this webpage.
In-Hall Staff
In-hall staff include resident assistants (RAs) and community directors (CDs). Roper's RAs live on each floor, acting as peer educators and helping residents transition to university life and connect to their community. The Roper community has one CD, a professional staff member who supervises RAs to foster a living-learning environment to bridge the academic and residential experience.
Wi-Fi throughout building
Cable-ready TV with HDMI cord in lounge area
Laundry room on first floor 
Community kitchen

Microwave 

Stove cooktop 

Oven  

Sink with garage disposal  

Dining room table and chairs

Vending machines
Social area
Double and triple fully furnished rooms with twin sized adjustable beds
Windows with rollershade blinds 

Wardrobe closets

Additional dresser drawers  

Desk, hutch, chair, and bookshelf
Carpeted floors  
In room Wi-Fi and Ethernet connections
Cable-ready outlet
FYRE
The First Year Residential Experience, known as FYRE, is the umbrella community for all students that live on campus during their first-year (Anderson, Centennial, Letts & Roper Halls). Throughout the year, there are a ton of out-of-the classroom programs & opportunities for residents to learn, make connections, engage with campus partners, and have fun.
Black Affinity Housing provides an intentional residential community dedicated to celebrating, exploring, and affirming Black student experiences at American University and beyond. The live-in experience provides an educational foundation that encourages dialogue and community building that is mindful of the diverse social, cultural, and academic needs of Black students. Black Affinity Housing will support a stronger sense of community identity and belonging for participating students
Read more from our FAQ. 
Get involved in your Residence Hall Association or Hall Council.

Check out the history plaque in the front lobby!