Monday - Friday 9:00 a.m. - 5:00 p.m.
Center for Community Engagement and Service
4400 Massachusetts Avenue NW
Washington
,
DC
20016
United States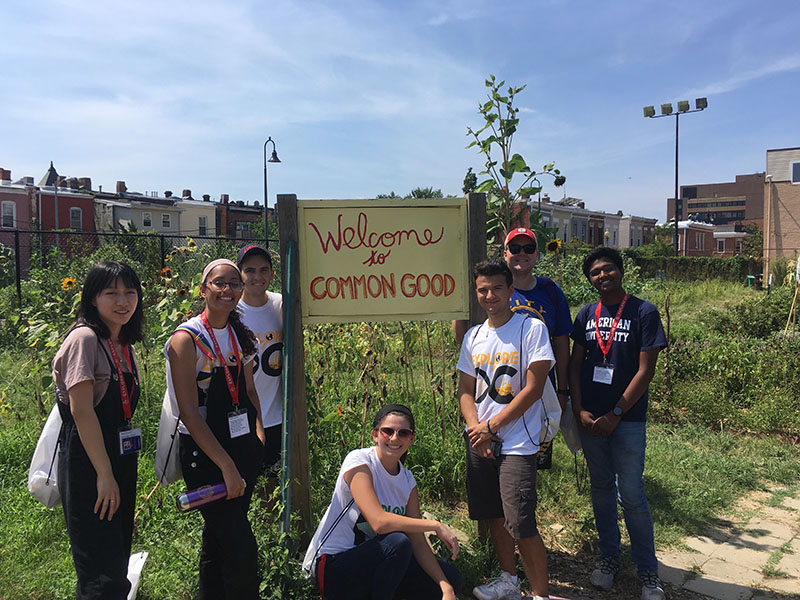 Explore DC (EDC) is a two-day program for incoming first-year and transfer students at American University. It is part of AU All American Welcome, sponsored by the Center for Community Engagement and Service. Explore DC gives new students a chance to acclimate to their new home through logistical issues like transportation and food, and to learn about how the city works by exploring the burning issues faced by community members, and to be exposed to some of the cultural and historical resources that exist.
Students will engage in one day of service and one day of immersive learning through visiting various sites in the city. Students can choose from five issue areas, depending on their interests, for the day of service.
The 2019-2020 freshman class participated in Explore DC and partnered with over 80 community partners and completed almost 1,300 hours of service! There is no better way to start the school year than by making an impact in the community. Due to COVID-19, we unfortunately will not be running the Explore DC program Fall of 2020. Although we are saddened by this cancelation, CCES is planning for a great webinar/workshop introducing new students to DC, including the elemnts that EDC would typically include. 
Be on the lookout for more information coming soon, stay healthy!
2020 Social Justice Issue Areas
3:55
Explore DC is a two day program for incoming first year students at American University. This year the program celebrated it 29th year of service and dedication to the D.C. community. Please directly contact Explore DC Coordinators at ejfinger@american.edu or at 202.885.7378 with any questions!