Monday - Friday 9:00 a.m. - 5:00 p.m.
Center for Community Engagement and Service
4400 Massachusetts Avenue NW
Washington
,
DC
20016
United States
Sovereignty as a Verb: Legal Institutions and Conservation in the Navajo Nation Navajo Nation: Tsaile, Window Rock, & Michaels, USA
Historically, federal policies promoted by the United States have sought to disenfranchise, denegrate, and wholly remove Indigenous communities. Terrorism, acts of assimilation, and systemic oppression are uncomfortable realities which continue to face Indigenous societies across the United States. Yet, Indigenous peoples have never stood idly by and allowed these acts to be committed without sought after recompense. This program explores the ways in which the Navajo have sought to decolonize their institutions, while still working with colonial structures.
Dates of Engagement: March 6 - 13, 2021
Estimated Cost: $1,600* 
*Program cost includes all expenses, meals, accomodation, and travel costs. The figure listed above represents a conservative, high estimate. Full program cost per student will not exceed this amount. Final cost to student is subject to change based on available travel grants, the finalized itinerary, and program fundraising efforts.
Aleut, Navajo, and Winnemem Wintu, Samuel Hiratsuka has always carried his culture with him proudly. Born and raised in Anchorage, Alaska, Samuel is currently a 3rd Year Policy, Politics, and Law Scholar majoring in Communications, Legal Institutions, Economics, and Government (CLEG) with a focus on Federal Indian Law and Native Affairs. The First Alaskans Institute's Al Adams Young Political Leader Fellow, Samuel also works in the D.C. office of Alaskan Senator Dan Sullivan. Samuel also serves as the Founder and President of the Student Advocates for Native Communities (SANC) at AU, the President of the Roosevelt Policy Network at American University, as well as a board member on AU's American Studies Society.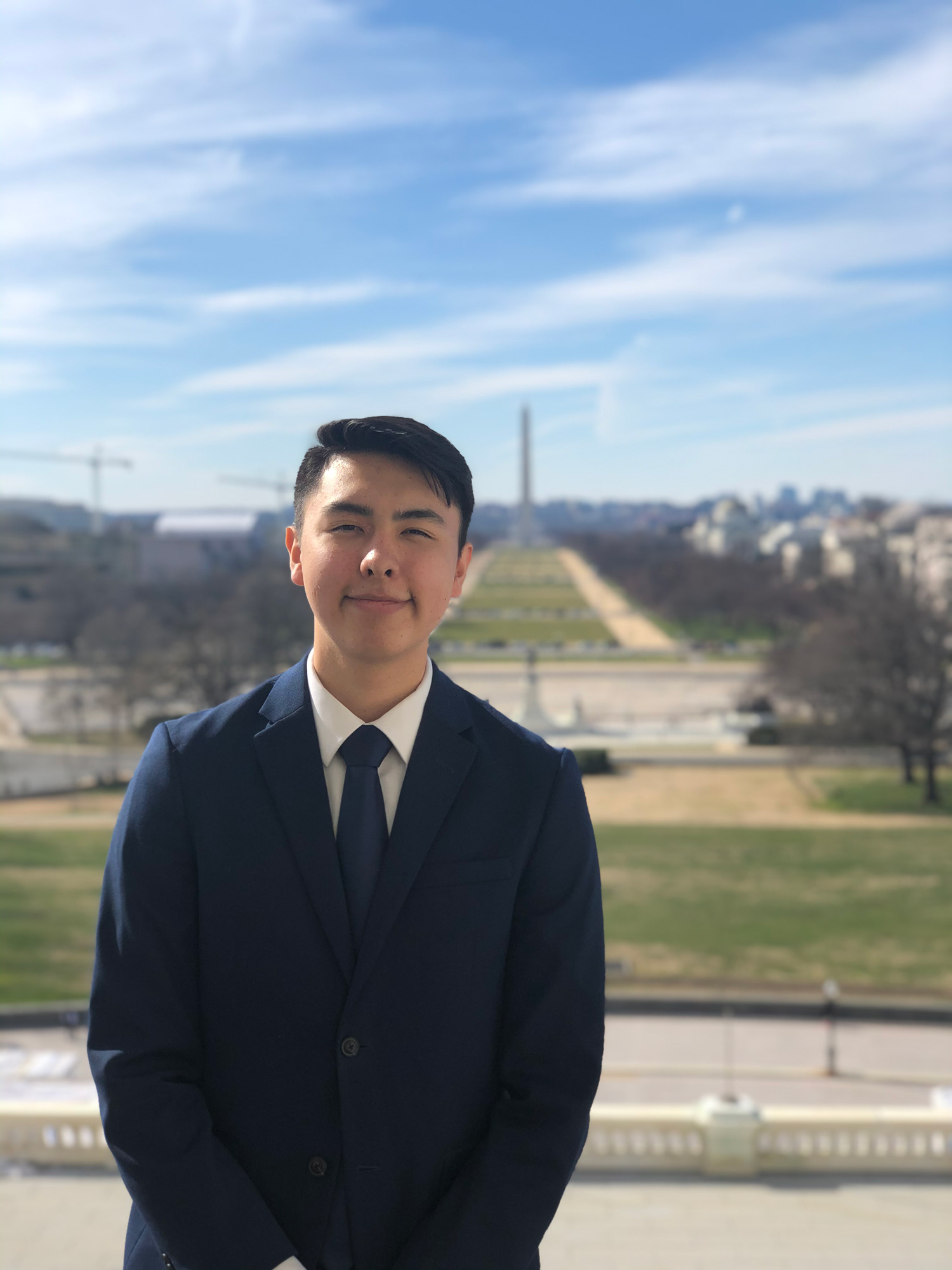 Emily Bass is a sophomore here at American University. She grew up in Washington State and Ontario and as a result, is an avid nature lover who takes whatever chance she gets to get out and go explore the wilderness whether that be by foot, canoe, or car. She is currently double majoring in political science and film and media arts, a pairing that her friends affectionately call the "propaganda" degree, though she likes to think of it more as the "how to get things done and make it so people understand what you're doing" degree. To that extent, she is also a photographer and film nerd who carries a minimum of one camera wherever she goes. But when all is said and all is done, she is just someone who loves to learn and is constantly striving to understand the world around her.
Day One: Arrive in Albuquerque, NM. Purchase needed grocery supplies. Check-in at the Navajo Land Inn in Michaels, AZ.
Day Two:  Visit the Ned A. Hatathli Cultural Center and Museum. Participate in a discussion with Dr. Lawrence Issac Jr., Dean of Diné Studies at the Diné College in Tsaile, AZ, about intergovernmental relations between the Navajo Nation and the U.S. federal government.
Day Three:  Learn about the unique Peacemaking Program of the Navajo Nation, including curriculum training of the program's application within Diné schools and homes.
Day Four:  Participate in a conversation with members of the Commission on Navajo Government Development - receive a firsthand look at the creation of a sovereign Indigenous government within the United States. Visit with a representative of the Navajo Nation's Attorney General's office in Window Rock, AZ.
Day Five:   Tour the Navajo Nation zoo, spending time at the zoo volunteering. Later, talking with a representative of the Navajo Nation's Wildlife Law Enforcement branch within their Department of Fish and Wildlife.
Day Six: Meet with a representative of the Navajo Nation's Water Rights Unit. Meet with a representative from the Dig Deep: Navajo Nation Water Project.
Day Seven: Meet with a representative from the Navajo Nation's Commission on Human Rights to talk about their recent report on sacred sites. Talk with park rangers about the history of Monument Valley Tribal Park, as well as the process of land preservation in Navajo Nation tribal lands.
Day Eight:   Explore the vastness of the Navajo Nation. Returning to Albuquerque, and flying back home.
Apply to the Navajo Nation Program