It's hard to believe it's already been more than a month since graduation!
At my first spring graduation, there are plenty of special moments that I'll remember. But perhaps my favorite is how I had the chance to shake the hand of every single graduating student. (Note to self: more arm days at Jacobs Fitness Center next spring. . . .)
As the graduates all took those final steps off the commencement stage, turned their tassels, and officially became Eagle alumni, I was able to look around the room and see all the smiling faces of the faculty who helped teach them and inspire them, the family members who could barely contain their pride, and our hardworking staff who strive every day - often without fanfare - to make their years on this campus safe, pleasant, and memorable ones.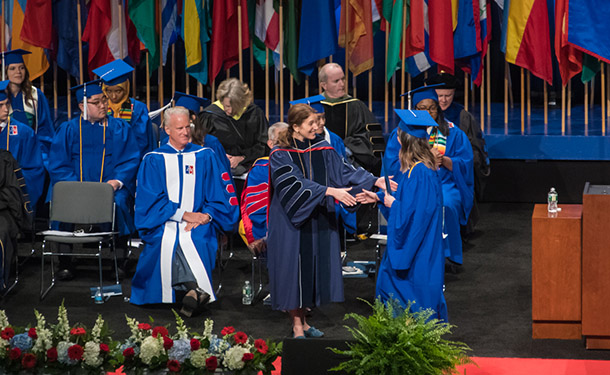 To our staff, while I had the chance to say thank you as part of AU's Staff Appreciation Week a couple of weeks ago, I wanted say it again: You are the continuity of this university and the backbone of our culture. You keep our campus's lights on, you keep the paths and gardens in our arboretum looking beautiful, you work around the clock to keep us safe, you make sure our website content is accessible to all members of our community, and you even help your fellow staff members on their career paths with top-notch professional development programs. Many of you are here every day for years or even decades, helping to make our community thrive.
This year, I've been lucky to see us thrive through Patriot League Championships, NCAA Tournaments, and a first-place win of our own with carbon neutrality. I've also seen us thrive by diving in to the big challenges our university faces - working to develop a new, five-year strategic plan, and making sure that our entire community puts inclusive excellence at the center of our work so that every member of this community feels that they belong.
I was proud to see our faculty accomplish so much this year, like SIS Professor Sharon Weiner as she was awarded a fellowship from the Carnegie Endowment, WCL Professor Angela Davis for receiving the Thurgood Marshall Award, and SOC Professor Laura DeNardis, who was awarded AU's own Scholar-Teacher of the Year Award.
And of course, one of the greatest aspects of this community is how we always strive to make our impact as powerful and as broad as possible. I saw an example of this recently when Professor Derrick Cogburn at SIS, who also serves as executive director of the Institute on Disability and Public Policy, sent me an update that he and his team at IDPP were at the United Nations Headquarters in New York City. They were there to bring insights from big data and text miningto ensure that people with disabilities are included and accounted for in international development. To make sure that as we lift each other up, we're including everyone. What a proud part of our AU family.
If the past year has taught me anything, it's that AU is poised to reach for the future - a future where everyone is included, and AU excels. To all of you, thank you again for your work and your commitment to what we do. And to our AU faculty and students who are away from campus until the fall, I look forward to welcoming you back in August!
Best wishes,