Dear AU Family,
There will be lots of firsts for me this year and I just enjoyed another one—All-American Weekend.
Some of the highlights included our President's Circle Celebration for donors, the annual Alumni Awards Dinner, the presentation of Gabrielle Union by the Kennedy Political Union (KPU), and a very successful Multicultural Alumni Reunion. It was a terrific opportunity to welcome our alumni back to campus and to meet so many parents and families. Thanks to the hundreds of volunteers who planned and hosted dozens of events.
But it's not just All-American Weekend. Since the last time I wrote, a lot has happened! All our students have arrived, the faculty is back in full force, and we enjoyed Welcome Week. Stephen and I even brought Helene and Matthew, our children, to see the Capitol Steps—an AU tradition. Though I hope they didn't understand all the jokes. . .
We kept up another great AU tradition—convocation—as our community welcomed in the Class of 2021 and new transfer students.
In addition, I've had the chance to meet with groups of student leaders, faculty, staff, and leadership. These meetings have been everywhere from the Bridge, to my office, to TDR. (Please keep me away from the chocolate chip cookies!) I continue to learn more about my new campus community and Eagleology.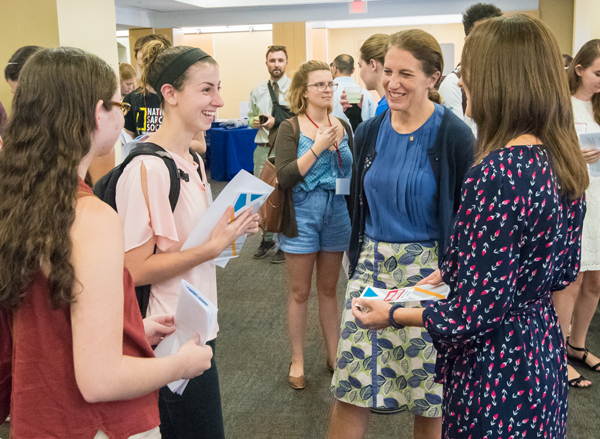 And we've had a chance to celebrate some proud AU achievements.
We got to use the words "American University," "Albert Einstein," and "Nobel Prize" together, which is always a good sign. This year's Nobel Prize in Physics went to the LIGO project—a research effort across the globe that seeks to prove Albert Einstein's theory of gravitational waves, and uncover some of the mysteries of the fabric of our universe. In their announcement, the Royal Swedish Academy of Sciences described the work as "the discovery that shook the world." The LIGO team includes scientists from more than 80 universities, and the only one in the Washington area is our own team, led by Professor Greg Harry and AU senior Maya Kinley-Hanlon.
We were thrilled to see AU alumna Carmen Maria Machado, class of 2007, named a finalist for the National Book Award for her book Her Body and Other Parties: Stories.
We had the chance to come together as a community for the opening of the new Antiracist Research and Policy Center, created and led by Professor Ibram Kendi. The Center will bring together researchers and students here at AU and abroad to break new scholarly and practical ground, and help us understand the structural and policy barriers between us and a more diverse and inclusive society.
And finally, I want to send congratulations again to our new vice president for campus life, Dr. Fanta Aw. Fanta brings with her 25 years at AU, three AU degrees, and a boundless love for the Eagle community. We couldn't be luckier to have her in this role.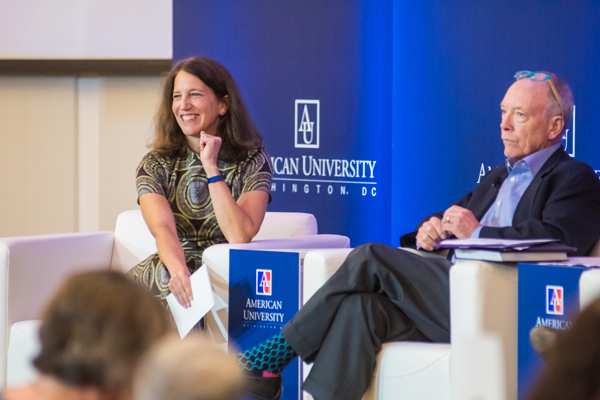 Shaping Strategy
We're celebrating the great things our campus community has accomplished just in the past few months, but our university leadership is always looking ahead. Just last week, we concluded an insightful and productive day at our beautiful Washington College of Law, where we hosted the 2017 AU Leadership Retreat.
Faculty, staff, and administrators, who are program chairs and academic and administrative leaders, gathered on our fall break to begin conversations about AU's mission, vision, values, and strategy. We were lucky to have the insights of national higher education leaders Danette Howard from Lumina, Ted Mitchell from the American Council on Education, and Josh Wyner from the Aspen Institute.
We also shared insights from one another—in small group conversations. We considered what makes AU distinctive and identified our current strengths and future aspirations. We laid out how AU's recent trajectory and opportunities can address challenges for higher education, and how they can position us well in the future. I was heartened to see such alignment on AU's strong identity, and appreciative to hear so much enthusiasm for pursuing innovation and cutting-edge research.
This retreat follows on the heels of similar discussions I had with many of you in my earliest meetings, as well as with the Board of Trustees and the President's Council. We will continue these conversations in the community throughout the fall. Given that AU is in the final year of its current strategic plan, the insights and input from these conversations will go into the process of developing our new strategy. I'll provide more information on that in a future letter.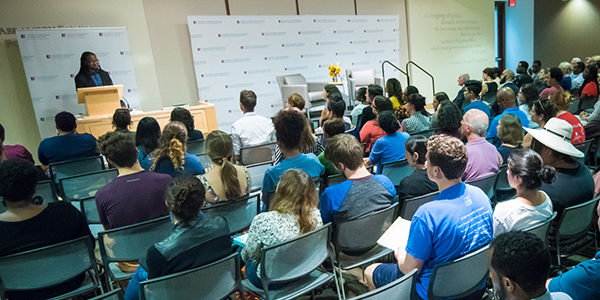 Diversity and Inclusion
As most of you know, on September 26, we found 10 confederate flag posters with cotton stalks in Battelle-Tompkins, McKinley, Mary Graydon Center, and the Kogod School of Business. Our Department of Public Safety immediately launched an investigation.
We take racist acts against our community seriously. To live out our values of equality, diversity, justice, human rights, and public service, we must respond to hate in all its forms. And our campus community responded overwhelmingly. Fanta Aw and I both put out swift condemnations of the act, and Professor Ibram Kendi denounced it as well. Our communications team continues to provide information to the public and the media. But perhaps the most powerful thing I witnessed, though, was seeing our campus community come together as one. The next day, the Kay Spiritual Life Center was filled with students, faculty, and staff eager to learn how they can support one another and be part of a solution to these acts of hatred.
The incident from May 1st remains an active investigation. We continue to move forward with interviews and evidence review. On the September 26th incident, we immediately shared information and pictures of the suspect with the community, as well as with the metropolitan area law enforcement agencies via the Washington Regional Threat Assessment Center, and local media outlets.
Beyond responding to the immediate incidents—we are looking ahead. Based on input that has been gathered from members of the AU campus community, we are developing a new diversity and inclusion strategy, which will focus on training, climate, and policy. In November, the draft inclusion plan will be shared with key campus stakeholders (e.g., faculty, staff, students, and alumni) to gather feedback before it is adopted by the university. If you'd like more information on the plan, please reach out to members of the President's Council at DICouncil@american.edu.
In the meantime, we're not waiting for the plan to be complete to act. For example, the Office of Human Resources announced a slate of new training programs for staff, and Dean of Academic Affairs and Senior Vice Provost Mary Clark is launching a train-the-trainers program—called the "Faculty Development Leadership Cohort on Diversity and Inclusion"—that will expand our capacity to foster more inclusive classrooms. Our discrimination policy has been revised, and we are opening new spaces for students to interact and support each other.
New Spaces to Enhance the Student Experience
Working closely with Student Government, the Office of Campus Life has opened a new space for multicultural organizations to meet, called the Multicultural Student Club Collective. Modeled after spaces for student media and Greek organizations, this will be a place for multicultural organizations to meet and interact, located on the third floor of Mary Graydon Center.
In addition, we unveiled a new Center for the Undergraduate Experience, located on the first floor of Anderson Hall. This center brings together the offices for the Dean of Undergraduate Education and Vice Provost for Academic Student Services, the Academic Learning Communities, Housing and Residence Life, and the Office of Orientation, Transition, and Retention. Starting now, those offices are co-located on the first floor of Anderson Hall, establishing a new collaborative community—for students to feel at home, and to easily coordinate outreach to AU parents and families.
Also, over the summer, we added new study space to the library-desks overlooking the Quad on the first and third floors and many more collaborative study rooms. We've enhanced the Makerspace, the media viewing room, and offices for library faculty—so our students can meet for additional advice on their research.
We launched the Bridge, which formally opened with musical performances and a poetry slam. (Fortunately for everyone involved, I held off on my verses.) Open to all students, and located on the elevated space over the entrance to the tunnel between Butler Pavilion and Bender Arena, the Bridge offers refreshments, coffee, Wi-Fi, comfortable chairs and—most importantly for when you're crashing on that paper assignment—plenty of power outlets. I've heard it's the cool place now for students to hang out and study, although if the president hears about it, does it still count as cool? I hope so.
And finally, we opened our new food pantry. "The Market" is designed to help students who might experience food insecurity. A December 2016 survey, led by Emily Dalgo, '17, an AU graduate and former student leader, demonstrated that 18 percent of our students have an inadequate food supply three or four times per semester. Forty-four percent—nearly half—said that at some point, they did not have enough food themselves. Students can register to use the Market themselves, or volunteer to assist. Special thanks to Emily and Tony Hollinger for working with Fanta Aw to make this valuable resource a reality.
Event
Moving Forward Together | 2017 Leadership Retreat>
2:01
Moving Forward Together | 2017 Leadership Retreat
Learning from Leaders
Our students have had special opportunities to learn from some notable guests in the last month.
Our AU community enjoyed hearing insights from Malala Yousafzai, the youngest person to receive a Nobel Peace Prize, and now a first-year college student in her own right. Our university joined with the KPU and the Women's Initiative and the Muslim Student Association to present her with the AU 2017 Wonk of the Year Award.
Our students' questions were insightful and thought-provoking, and their response to her was warm and enthusiastic. After her long week of meetings at the United Nations, and completing the last leg of her trip to North America before heading back to the UK to start college at Oxford, she told me, "It just feels so good, the energy from the students!"
We were also joined by Mark Emmert, president of the NCAA, as he met with our student athletes. Mark had not been on AU's campus since the days when he was doing research here for his PhD. He left our student athletes inspired-and their coaches, too.
Event
Wonk of the Year 2017>
1:15
Highlights from the 2017 Wonk of the Year event honoring activist Malala Yousafzai.
Support for Those Affected by Disasters
We also reached out beyond our campus to all of those affected by the hurricanes in Texas, Georgia, Florida, the Caribbean, and Puerto Rico, by the wildfires in California, or by the earthquake in Mexico. We offered our support to everyone trying to cope with the deadly mass shooting in Las Vegas. The impact of these tragedies will be long-lasting, but together, as a campus community, we can do our part to help and support those communities.
AU staff reached out to those affected by these disasters, and students who expressed concern have been referred to the appropriate resources. Please don't forget to support each other-each or any of these incidents could affect our fellow Eagles in ways that aren't always vocalized or visible. Take care of one another.
Don't hesitate to connect with our campus counseling services if you think you could use some caring, supportive, and confidential help.
Title IX
As a university, we're committed to fighting sexual assault and protecting our students. The Secretary of Education recently announced that the Department of Education's Office of Civil Rights would rescind the 2011 guidance to universities about how to prevent and respond to sexual assault. In response, AU affirmed our commitment to fair and equitable processes, in which we have invested over the last several years. Please see Dr. Aw's statement for more details.
Army Corps of Engineers Upcoming Work at Former Public Safety Building
If you are new, like me, you will appreciate the history and update provided on the current work of the Army Corps of Engineers.
Over the past 25 years, the Army Corps has been assessing and, as necessary, remediating properties in the Spring Valley area, including on AU's campus. This follows the discovery in the early 1990s of materials left behind after World War I, when the Army used this region to develop weapons. When our Department of Public Safety moved to East Campus this summer, and we planned the demolition of the old building after the move, the Army Corps of Engineers decided to conduct assessment and remediation activities in that area.
The Army Corps' work plans are subject to review and approval by the federal Environmental Protection Agency, the DC Department of the Environment, and us, American University. The current schedule calls for the Corps of Engineers to move to the site in the middle of next February, with work commencing in mid-March. They estimate this project will be completed by June.
If you missed it, more detail and information is provided in David Taylor's September 19 memo.
We're off to an exciting start for the 2017–2018 academic year. I look forward to seeing you all on campus!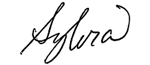 Sylvia M. Burwell
President, American University