Dear AU Community,
Shanah tovah to Eagles celebrating Rosh Hashanah this week. I know today is not one of our regular biweekly messages, but I wanted to take an opportunity to thank you for your commitment to the health and safety of our community and update you on our latest COVID resources. Alongside the excitement and energy of the new semester, we all need to continue doing our part to support our community by following our protocols. While there are many steps we all have to take–from vaccines to masks–our community of care is working together to keep us safe. Zuzu wanted to help as well, so she put on her cape to support our superhero AU Health Ambassadors!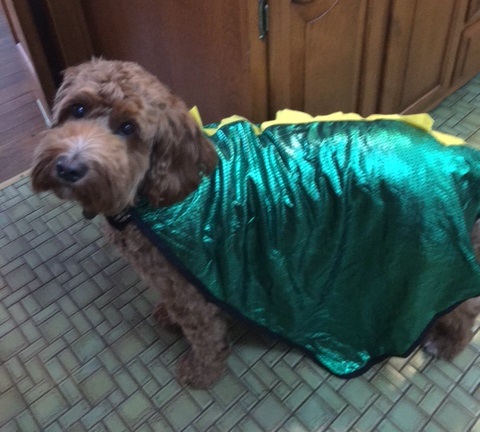 As part of our comprehensive approach to health and safety, today we are launching the fall 2021 edition of our COVID-19 dashboard. This helpful resource provides up-to-date information on confirmed cases, hospitalizations, testing, and vaccination rates in our community, as well as data from the broader Washington, DC, region. The dashboard will be updated every Tuesday during the semester.
I want to take a moment to talk about confirmed cases of COVID-19. All communities have cases, including highly vaccinated ones like ours. Since we are conducting extensive testing as part of our layered approach to safety and risk mitigation, we will be able to identify and support these confirmed cases. As of today, we have 22 total cases, out of more than 17,000 members of the AU community (inclusive of both main campus and WCL, and including residential students, students living off campus, faculty, staff, and contractors). We have no reported hospitalizations
We expected and are prepared for COVID cases, and the existence of cases is not cause for alarm. The data indicates that most breakthrough cases are not severe, and if we continue to follow our health and safety measures, we can limit the spread and support our friends and colleagues who do test positive. With the conclusion of the Labor Day holiday and increases in travel, a growth in cases is expected over the next few weeks. It is particularly important to wear your mask indoors and when you are in groups or gatherings outdoors and follow our COVID-19 testing procedures. Also, make sure you are wearing your mask properly, covering both your nose and mouth. With our vaccination, masking, testing, tracing, and education efforts, we can safely navigate the pandemic.
If you did not participate in last week's community webinar on contact tracing, you can watch it online. This discussion summarized our extensive engagement to support community members who test positive for COVID-19 and the preventative measures to inform those who may have been in close contact with confirmed cases and limit the spread. This work also includes proximity notification, where individuals who do not necessarily meet the threshold of a close contact but are known to share a physical setting for a prolonged period with someone who has tested positive are notified and instructed to get tested. This additional health measure not only helps to identify potential COVID-19 cases, but it also provides individuals with important information to manage their own health and activities.
I also want to address the question of vaccine boosters, as we regularly hear from our community about this topic. The FDA and CDC are currently evaluating the data about vaccine boosters and no final determinations have been made for the broader population (some immunocompromised individuals are eligible for a third dose). When approvals and guidance are issued by the health agencies, we will review them and implement the appropriate steps for our community. We will provide updates when there is new information.
Every member of our community has a responsibility to our health and safety, and we are taking that seriously. When I see people on quad, in classes, and in the residence halls coming together to learn and build community in a safe way, it is clear that we are each doing our part. As you immerse yourself in your classes, work, and adventures in our wonderful Washington, DC, home, please continue to follow the health and safety measures and enjoy the opportunities that are at the heart of the AU experience.
Be safe and be well.
Sylvia