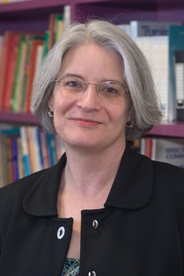 AU's small, mainstream program affords Nancy Sydnor-Greenberg the time to focus on each student's transition into the university. With the help of the program's writing mentor and the peer mentors, Nancy takes great joy in helping the incoming group of students get acclimated to the Academic Support and Access Center, the university and its resources, and even to the greater DC area. "It's a great day for me when I am able to help a student gain some skills or provide some resources so that they can move forward in their life here at AU."

Nancy's confidential weekly meetings with her students vary in content. One week Nancy may work on study skills and time management; the next week writing may the focus. Some meetings, however, may focus on other topics: working on a resume for an internship, course planning, understanding housing for the following year, referrals for help with assistive technology or for meetings with the Career Center. The agenda for a meeting changes week-to-week because it is dictated by the current needs of each student.

As a former writing mentor for the program and counselor in the ASAC's Writing Lab, Nancy is intimately aware of the university's resources and its expectations when it comes to writing. In addition, Nancy herself is a freelance writer who focuses on national policy related to mental health, learning disabilities, and developmental disabilities. She brings her understanding of the university and the student population to her weekly meetings, giving each student the skills and information he or she needs to be successful at American University.