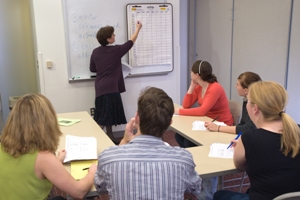 Schedule a one-on-one appointment with a professional Academic Coach at auacademiccoaching.youcanbook.me. Academic coaches support students in their development of academic skills and strategies. Academic Coaching services are located in Clark Hall rooms 106 and 113. Reach out with any questions at academiccoaching@american.edu.
Top Ten Tips for Academic Success
Keep your syllabus handy for each class. It is your guide for the entire semester. Note exams, papers, and projects on a semester calendar.
Talk with your professors and your academic advisor.
Familiarize yourself with the campus and its resources.
Set priorities in your life and get control of your time.
Arrange a regular study area - comfortable, but not TOO comfortable - where you are most effective.
Develop successful study strategies for reading textbooks, taking notes, and studying for exams.
Continually improve your writing skills . For instance, visit the Writing Lab or Writing Center.
Take academic integrity seriously . Consult a writer's handbook, a faculty member, a reference librarian, or seek writing assistance if you're not sure how to cite sources or what constitutes plagiarism.
Stay healthy and reduce stress . Sleep 6 to 8 hours every night, eat well, exercise regularly, and have fun.
Ask for help when you need it, before there is a problem.