Izzi Rose Stern, Ed.D. Candidate Director, AUx Program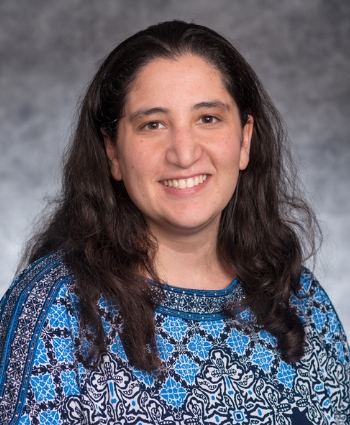 Izzi Rose Stern (she/her/hers) began her role as the Director of the AUx Program in September 2021. Izzi previously served as the AUx Program Coordinator from June 2016 to May 2018 and as the AUx Program Manager from June 2018 to August 2021. As the Director, Izzi leads the academic, programmatic, and day-to-day operations of the AUx Program. Her responsibilities include overseeing the planning, coordination, and implementation of all AUx related courses, activities, and programs. Izzi also supervises all full-time and part-time staff, and leads the recruitment, selection, and training efforts for AUx Peer Facilitators. Izzi is also responsible for recruiting, hiring, and on-boarding adjunct instructors. In addition, Izzi co-chairs the AUx Working Group, who are charged with revising the curricula and supporting the AUx Instructor development.
Prior to joining the AUx team, Izzi served as a Case Manager in Housing & Residence Life at AU. As a Case Manager, her responsibilities included maintaining a caseload of residential students with conduct, socialization, transitional, academic, and behavioral needs. In this role, Izzi was also a member of the CARE Team and maintained open office hours each week in the Office of the Dean of Students. Before working at American University, Izzi worked in the Office of Student Rights & Responsibilities at the George Washington University for two years, serving as a Conference Officer.
Izzi received her MA in Higher Education Administration from the Graduate School of Education & Human Development at George Washington University and is a proud alumna of the College of Arts & Sciences at American University with a BA in Sociology. She is currently a doctoral candidate studying Leadership and Learning in Organizations at Vanderbilt University.
E-mail: istern@american.edu
Olivia Schwalm AUx Program Assistant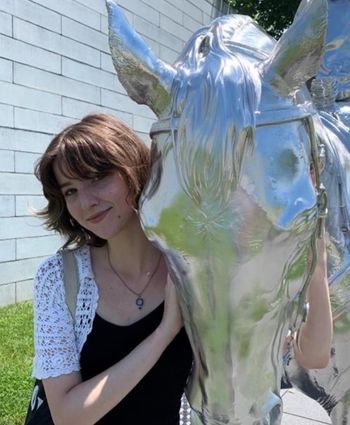 Olivia Schwalm (she/her/hers) joined the AUx team as the Program Assistant in January 2023. As Program Assistant for AUx, Olivia is responsible for assisting with the planning and development of events within the program, correspondence with instructors and peer facilitators regarding information about the program and classroom maintenance, and providing other general administrative, logistical, and financial operations support to the team. Olivia graduated from American University in May 2022, with a Bachelor's Degree in Film and Media Arts and minors in Graphic Design and Marketing. Olivia's interests and hobbies outside of the workplace include going to concerts, cooking, and film photography.
Angela Chen Part-time AUx Program Assistant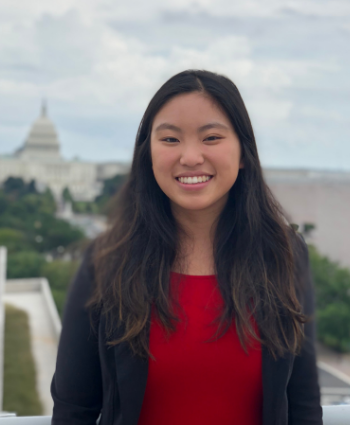 Angela Chen (she/her/hers) joined the AUx team as the Program Assistant in June 2021. As the Program Assistant, Angela provides administrative and logistical support to the AUx Program. Her responsibilities include planning and implementing programmatic events and activities, as well as utilizes social media to communicate and promote AUx updates and events. She also assists in the scheduling of AUx courses and managing the operations for AUx. Angela plays a vital role in the recruitment, hiring, training, and supervising of Peer Facilitators. Angela is an alumna of American University, having graduated in May of 2021 with a degree in CLEG (Communications, Legal Institutions, Economics, and Government) and Justice and Law. Outside of her work at AU, Angela enjoys cheering on her favorite basketball team, the Golden State Warriors. Angela is currently a law student at the Washington College of Law and has since moved into a part-time staff role with the AUx Program.
Ashley Roccamo, PhD AUx Instructional Designer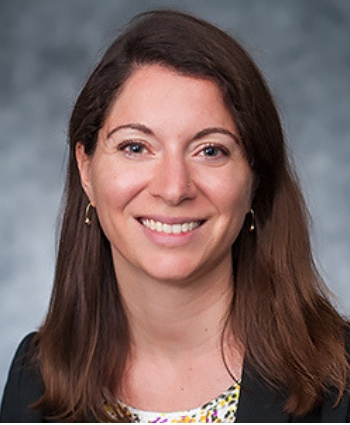 Ashley Roccamo (she/her/hers) joined AU as an Instructional Designer with the e-Learning Support Team in the Bender Library in May of 2018. As an Instructional Designer, she helps AU faculty and staff design and build materials, activities and assessments for online and hybrid courses for a variety of departments. She also serves as the Instructional Designer for the AUx program. In this role, Ashley provides advice on aligning course materials, activities and assessments and edits the online environment for the course. Before working at American University, Ashley spent a year developing and evaluating training programs for Project Officers who monitor the National Health Center program with the Health Resources and Services Administration, and worked with faculty at the University of Southern California to develop and implement a system for measuring student learning and achievement in eleven foreign languages. She earned a dual-title PhD in German Applied Linguistics and Language Science from Penn State University and a BA in German from Millersville University. Outside of working for AU, Ashley also teaches German courses and tutoring sessions online. Her hobbies include learning languages, reading, and traveling.