Communications
Climate Justice Through the Camera Lens Leah Mahan Joins Center for Environmental Filmmaking as Research Fellow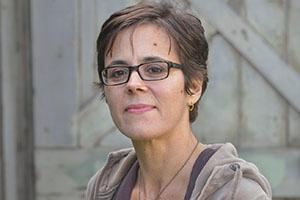 Leah Mahan, the 2019 Center for Environmental Filmmaking Research Fellow, is an award-winning independent documentary filmmaker. She will be at American University School of Communication (AU SOC) as part of the DC Environmental Film Festival Friday, March 22 for a series of Diversity and Impact events held by Center for Environmental Filmmaking.
She discussed some of her work and goals for her fellowship in a Q&A with SOC.
1. What brought you to the Center for Environmental Filmmaking?
The Center provides a wonderful gathering point for dialogue about the future of environmental filmmaking. For my part, I have been eager to reflect on experiences I have had in the field and to engage with students and filmmakers around new ideas.
I first learned about the Center through colleagues. I was a panelist at the Media That Matters conference in 2010 when I was making my film Come Hell or High Water: The Battle for Turkey Creek, and I reconnected with Larry Kirkman, who I met when he was at the Benton Foundation and I was making my first film. I was on a panel about collaboration because I had helped create a project called Bridge the Gulf, a community journalism project about people working toward a just and sustainable future on the Gulf Coast after Katrina and the BP disaster. In 2014, Come Hell or High Water screened at the Environmental Film Festival in the Nation's Capital, and Larry took part in a discussion with Gulf Coast community leaders about how the film and the Bridge the Gulf project could spark broader conversations around climate change and environmental justice. When the Center was looking for a research fellow for this year, he suggested I talk with Maggie Burnett Stogner (Executive Director, CEF).
2. Your films deal with social issues and underserved communities and groups. What draws you to these issues as a filmmaker?
I grew up in Oakland, California in the 1970s, and as the decades pass, I realize how important that early setting was. I attended an art-centered public elementary school that drew children from across the city, and being surrounded by that diversity of creative people felt natural – I have probably been seeking that ideal community ever since. My parents were teachers, and they were not activists but were politically aware, and we talked about the things going on around us. This was the time and place of the Black Panthers and student protests over the Vietnam War. Later, I had the good fortune to get an internship working for filmmaker Henry Hampton on the Eyes on the Prize series, and I was able to observe and play a tiny part in that sweeping series about the civil rights movement. Henry was dedicated to telling the story of the movement from the perspective of the everyday people, the foot soldiers – and that influenced my filmmaking. I had studied anthropology in college, but I did not aim to tell stories of other cultures. My interest has been in American culture, and I have gravitated toward stories about people creating and sustaining community in the face of great obstacles.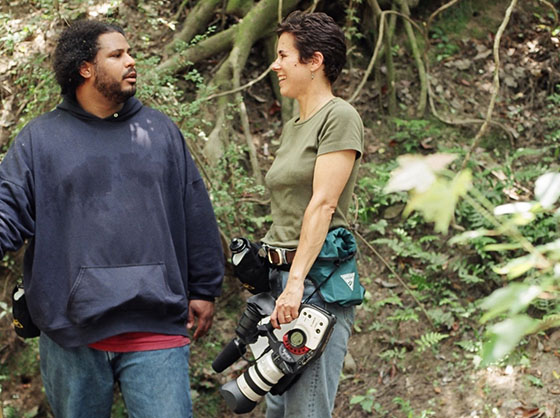 Derrick Evans and Leah Mahan on the banks of Turkey Creek.
3. Environmental damage and climate change is a huge issue currently facing humanity. What do you think makes film a good medium to try to create change around this issue? What challenges does it bring?
Books that fueled revolutions did so because they were part of a wave of ideas that people were ready for. In the same way, films become powerful when they tap into a broader conversation. I find some of the conversation around "outreach," "engagement," and "impact" in the documentary film world is frustrating. There is a lot of talk of film "campaigns" and too much emphasis on films as isolated vehicles. I think our films become powerful when we find ways that they can work in concert with one another and contribute to a conversation across mediums.
In the years since I started making Come Hell or High Water, the conversations around climate change and environmental justice have become much more of a public dialogue. I remember the first time I heard the term "climate justice," when I was talking with a Gulf Coast activist after Katrina. I had to stop and think about what that term might mean. The communities I was working with were a decade ahead of where our national conversation is now, and I think often about the failure to hear what they were clearly witnessing and warning about. The environmental disasters on the Gulf Coast spawned a lot of nonfiction filmmaking, and the communities whose stories were told were too often left feeling used and dissatisfied. Nonfiction storytellers have great power and responsibility to shape the conversation about the future, and I think the field needs to engage in genuine listening and self-critique if we hope to make the most of that potential.