Communications
We Have a Responsibility to Speak for Those Who Cannot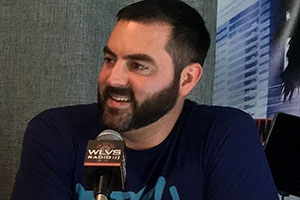 Matt Cipollone will receive his MFA in Film and Electronic Media from American University School of Communication on May 12. This piece is a message to his fellow SOC graduates.
I applied to graduate school to change my life. Self-taught in photography, I began taking pictures for nonprofits, but it was never full-time work - just the occasional media side project - and I would always get the follow-up question, "Can we do a video next?". I desperately wanted to say "absolutely" but the truth was that I wasn't even close to being able to pull that off in a manner in which I could sustain the career I was realizing I so desperately wanted. So, at the age of 33 I decided to apply to a career-changing program as a full-time student to study documentary filmmaking. With only a photography portfolio. Logical, right?
But when you have great people in your corner, you find yourself willing to take bigger risks. Knowing I was still worried about what I'd be leaving behind, my Dad said to me "Don't forget, this could be one of your last chances to really dream big."
He also reminded me of something that each and every one of us who graduates from SOC this year knows as truth - "The most important things in life should also be scary."
When I saw the type of hands-on classes offered by American University coupled with the caliber of the faculty and the majority of professors in our MFA program who are still active filmmakers, I knew this was where I needed to be. What I couldn't have ever anticipated was just how much I would get out of it.
During a campus visit prior to my first semester, I walked unannounced into the office of Emmy Award-winning documentary filmmaker Professor Bill Gentile and blurted out "I'm coming here in the fall, and my goal is to work for you." I remember him being polite, but not necessarily convinced.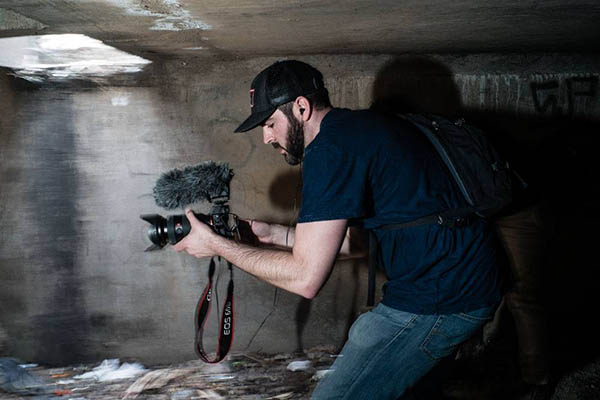 Cipollone worked with professor Bill Gentile on the pilot of "Freelancers."
Less than two years later, I traveled with Professor Gentile to Mexico as his Graduate Assistant to film the pilot episode of his new international documentary series FREELANCERS with Bill Gentile -about the freelance journalists across the world who give us our information. I am also his editor and associate producer, and the finished pilot episode is my graduate thesis. I can proudly say we are actively seeking network distribution for an extended series with the guidance and wisdom of our executive producer and AU Professor Larry Kirkman. I still can't believe I could have ever been so fortunate as a student. There aren't words to properly thank professor Gentile for the trust he put in me. I'm incredibly grateful for his mentorship and unwavering professionalism.
I have also had the good fortune to help shoot two feature films being produced by my professors. In the Executioner's Shadow by Professor Maggie Stogner about capital punishment and MIXED by professors Leena Jayaswal and Caty Borum Chattoo about the experiences of mixed-race families in today's America. Media that truly matters. The incredible part about these real-life opportunities is the significant professional risk involved for my professors if I were to have failed. And yet they brought me on anyway.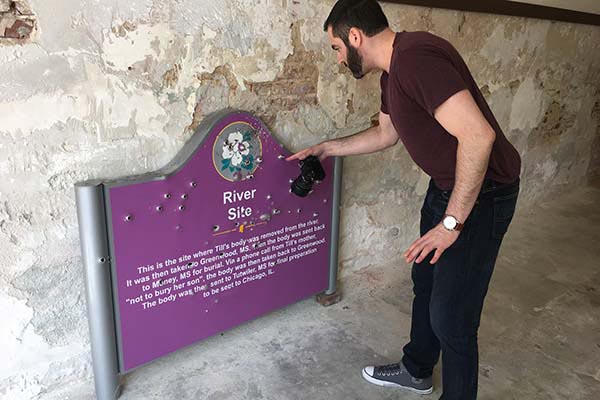 Cipollone examines a vandalized memorial to Emmet Till for his project with Lens Collective.
In addition, SOC has allowed me to twice participate in its invaluable Alumni Mentor Program. I've been a Community Voice Project Fellow under Professors Maher and Shapiro-Perl, helping DC community members voice their own digital narrative about gentrification. I was a Dean's Intern at Interface Media Group, which still frequently hires me as a freelancer. I was encouraged and supported by professor Larry Engel to take advantage of a film opportunity in rural Nicaragua where I traveled alone to make a documentary about healthcare workshops for villages with no access to hospitals. With the help of professor Stogner, I turned a 5-minute homework assignment for her class into a 25-minute independent film for a Baltimore youth foundation that screened at Baltimore's Senator Theatre and the DC Shorts Film Festival. ( Watch Dear Baltimore trailer) Most recently I traveled with professor Jayaswal and other media students from across the country to Mississippi (April 2018) as part of the Lens Collective program run by a Pulitzer Prize-winning photographer, and along the way I've even managed to turn in a little homework.
I truly admire our classmates who are also parents supporting families. Any time I felt overwhelmed, I thought of them for inspiration.
For every single one of those field experiences, I never felt like I was fully qualified. And that's how I always knew they were all too important to pass up. And somewhere along the way I began to realize how much I loved that feeling.
None of this could have been possible without faculty who encourage us to seek their guidance outside of the classroom and take advantage of everything they have to offer. They've been scared before too, and they did it anyway. And that's why they've had the careers we dream of. They've taught us the language of media and storytelling so that we can literally show people how we see the world, and that is incredibly empowering.
This is what we all must take from our collective experience at American. Continue to seek out quality people who know the power of encouragement and who won't shy away from the important. We owe that to ourselves and to each other in today's world. There is a lot to say, and we have been given the tools and responsibility to speak for those who cannot.
Matt Cipollone is a documentary film cinematographer, editor and producer. In addition to collaborating on numerous independent documentary features, he specializes in helping socially-minded foundations and organizations tell their stories and showcase their important work through documentary film and media. He also creates branded content for businesses, artists and musicians. His work has taken him throughout the US and abroad.