Communications
Game Design MA 16th in World Says Princeton Review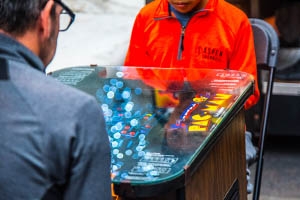 American University's game design master's program soared six spots to rank #16 in the world according to the just-released 2017 International Rankings by Princeton Review. The program, which is just three years old and rose from #22 in the previous ranking, has racked up major accomplishments over the course of the year.
AU Game Lab collaborated with the Smithsonian American Art Museum on a pop-up arcade event attracting more than 11,000 visitors, making it the fourth largest event in its history.
Three Game Lab students and Director Lindsay Grace presented findings from the JoLT initiative in game design and disruptive media leadership on a panel at SXSW earlier this month, in 2016 they were at GDC presenting initial findings. 
Seven AU Game Lab students attended the White House Competitive Gaming held by Twitch, the world's largest platform for streaming video games, and HealthCare.gov in December.

More than 120 professionals from federal agencies, non-profits, healthcare, technology joined educators and students for Game Lab's Games+ Summit in January. Attendees explored how games intersect in sectors of museums, health, cities, education, journalism and storytelling.

Faculty published more than 20 articles, including two best paper nominations.

Faculty participated in more than 40 presentations, including talks, keynotes and panels around the world.

The Game Lab Studio has signed over $600,000 in contracts with National Institute for Mental Health, Educational Testing Service and other partners since 2014.
AU's program offers a unique blend of industry-standard skills underpinned by a focus on persuasive play.
Among those skills are Unity 3D programming and level design, Construct 2 game making, 3D Studio Max and Blender 3D Modeling and Animation. Students also develop independent game making skills, game design ideation, rapid prototyping, and project management.
During the second year of the degree program, students can intern at the AU Game Lab Studio and build a professional portfolio by working on real-world projects for external clients.
Game Lab drives students to stretch their capacities as designers, developers, consumers, and game administrators and apply that to their unique field of interest, such as politics, science, art, health, to develop games that transform players' interests, activities, or opinions into meaningful action. 
A few examples:
Game Lab collaborated with WAMU 88.5, NPR's Washington DC affiliate, to create Commuter Challenge, a narrative-driven game about the Washington Metropolitan Area Transit Authority's multi-year SafeTrack initiative. The player helps guide a character  through their commute with constraints like time and money that must be budgeted throughout the week. The player becomes not only the audience for WAMU's reporting but an empathetic and engaged participant in the story.
Game Lab students, in partnership with the Vox Storytelling Studio, created Square Off, a game to engage the Vox audience with Polygon's Final Fantasy 7 oral history 

Two Game Lab students have created games that help treat health issues; one encourages people with Parkinson's to exercise at a recommended level on a stationary bike by displaying obstacles you must clear with a helicopter by increasing pedaling speed, another teaches deep breathing skills through manipulating a space ship to catch flowers based on breathing rate.  
Game Lab has also established itself as an innovative and inclusive community. When Al Jazeera was doing a story on the rise in female professional gamers, they came to Game Lab professors Ben Stokes and Chris Totten and student Kelli Dunlap. Compared to an industry that is 89 percent male, the AU cohort has one of the best gender ratios in the country – it's 58 percent female. Students come from across the United States, and Africa and South America and have an array of educational backgrounds including PsyD, PhD, MA, BA, BS. Game Lab has hosted two diversity summits focused on joining the industry to impel a change so that the demographics of game designers and developers better reflect the diversity of the players.
AU's location in the nation's capital allows for unique partnerships and collaborations with cultural institutions and governmental agencies that have national impact.
The program is offered through a partnership between AU's School of Communication and the College of Arts and Sciences.
Click here to read the Princeton Review.