Communications
Live from the District: SOC Election Coverage Recap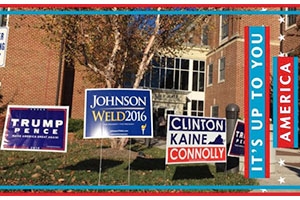 In what was an exceptionally tumultuous election cycle for journalists, strategists, pollsters and other media experts around the country, School of Communication (SOC) students and faculty at American University had the opportunity to play a role in the coverage, the meta-coverage and the resulting discourse.
A class of students drawn from across several AU schools and colleges met once a week with a camera crew from the local CBS affiliate and public communication professor Lenny Steinhorn to weigh in on the important issues and analyze the twists and turns of the presidential election. Presidential Campaign 2016: Inside the War Room and the Newsroom, gave students a chance to act as pundits, with several members of the class appearing on WUSA-9's evening news show to discuss the election. Stay tuned for more from this class as they react to Trump's victory then dissect the next steps for both parties, mass media and the American people.
Jane Hall: professor, political pundit
Journalism and media studies professor Jane Hall has an extensive background reporting for The Los Angeles Times and Fox News. She has leveraged her experience to help student journalists immerse themselves in election coverage. During this election cycle, Hall appeared on CNN's "Reliable Sources," wrote an op-ed for The New York Times on Roger Ailes, and was quoted in articles from The Washington Post and PBS News Hour.
On the scene and in the newsroom

SOC was represented at The Washington Post, NBC-4, USA Today and WTOP among other publications on election day. Professors Andrew Lih, Jeremiah Patterson, Amy Eisman, Jill Omsted and Lynne Perri were involved in running a newsroom of journalism students at SOC.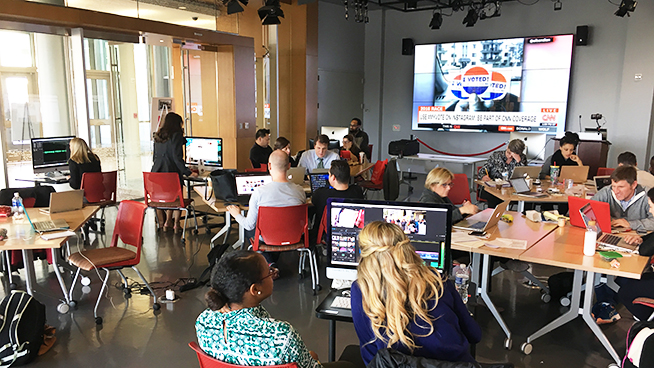 The day before the election, graduate journalism students launched Beltway News, an online blog/publication that posted a frenzy of election stories before, during and after Nov. 8. Undergraduate students reported back to the newsroom in SOC's Media Innovation Lab with interviews and short vignettes from polling places in Virginia, Maryland and D.C. Several professors were on hand to oversee the process as Beltway News editors published stories on the future of election coverage, Trump's surprise win, Millennials' reaction/protests and the effect race had on the results.
Check out the students, faculty and alumni from around the country that were involved in the election. Whether their contribution was large or small or came from D.C., North Dakota, San Francisco or Vermont, it put them on the map.
Other than his Campaign2016U class, professor Steinhorn contributed to election coverage as a frequent political expert for CBS News on WUSA-9 and was quoted in many articles throughout the election, including stories by the BBC and The Washington Post. Steinhorn also held a faculty forum called, "President Trump?"
On campus events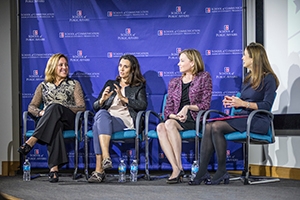 Podcasters, CNN contributors and distinguished journalists were all welcomed on campus this semester to offer insight into the election from a variety of perspectives.
Two CNN political contributors and presidential strategists sat down with professor Hall, to discuss the 2016 presidential campaign with AU student. Ana Navarro, a GOP strategist strongly against Trump, and Patti Solis Doyle, a former Clinton campaign manager, spoke candidly about Trump, Hillary, the hispanic vote and political advertising.
Kristen Soltis Anderson and Margie Omero, hosts of the popular political podcast, "The Pollsters" came to AU a week before the election to meet with students and discuss the Millennial factor.
Students were invited to see former executive editor of The Washington Post, Leonard Downie Jr. and professor Charles Lewis break down the evolution of journalism, "from Cronkite to Trump."
Dean Rutenbeck sat down with students for an informal, "Coffee and Conversation," discussing the evolving role of media in this election and the future of SOC within this realm.
Debate watch parties were held on campus for all four debates leading up to the election. Students also witnessed the results come in on Nov. 8 from multiple events around campus that were covered by AU Student Media as well as international news organizations.