Communications
How the Next Generation is Tackling the #MeToo Movement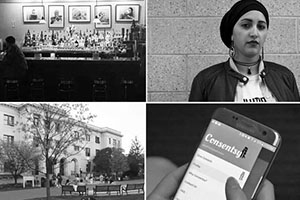 "[The New Boundaries] was the hardest yet most rewarding project I have ever been a part of," said Brianna Crummy, a student in Professor Amy Eisman's Writing and Editing for Convergent Media class at American University School of Communication (AU SOC). 
Crummy was the Production Coordinator & Social Media Chief of The New Boundaries project, a semester-long, multi-media reporting assignment focused on the #MeToo movement. The New Boundaries project is intended to share the stories of women that were not being reported on or experiences that were not shared. The students conducted research and interviews and created a website to house the project. "There were so many different aspects that needed to be considered throughout the process. However, what was most inspiring was the fact that our sources trusted each us to tell their stories," added Crummy. 
The class partnered with NBCWashington, which gave them an outlet to receive professional feedback and mentoring – and visibility. Based on the quality of the work, NBC4 is now featuring the project on its website.

The class focused on an array of stories that included sexual consent apps, how the #MeToo movement is affecting Hollywood, and how bartenders are learning how to step in when a woman feels uncomfortable by unwanted advances. 
Aubrey Gelpieryn, the Managing Editor of The New Boundaries project, said that she originally pitched the idea of the #MeToo movement to NBCWashington because it was current, interesting and had room for different stories to be shared. "It gave my team a lot of freedom about what direction the stories would go," said Gelpieryn, "we all liked the idea that it was a topic that could appeal to a variety of people and that there were still so many stories regarding the movement that hadn't been told yet."

Each student in Eisman's class had a different role in creating the project. As future reporters, social media experts, broadcasters, and editors, their goal was to cover their topic as truthfully, openly, and objectively as possible. Each member of the team played a vital role in creating their project and helping women from all over the world tell their stories about sexual assault. 
Each year, this course covers a socially relevant topic; past projects have focused on mental health, free speech on college campuses, immigrant student experiences, youth voting turning, and more. Crummy says that this class pushed her to be a better journalist. "I've grown in my reporting skills, editing skills, digital journalism skills, but I think most importantly I've grown as a leader." 
Learn more about journalism at AU School of Communication.