Water Two Days in Two Ways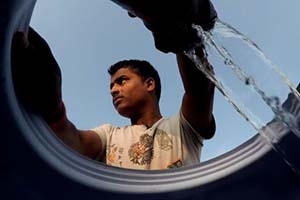 Next week, American University School of Communication (AU SOC) will aim its lens towards water. No, not the Potomac, but rather two different events recognizing the crucial role water plays in daily life, why it is at risk and what is being done to protect it.  
On March 23, Professor Bill Gentile will host an event centered around a recent Pulitzer Center-supported project on the crisis of vanishing groundwater across the globe.  Steve Elfers of USA Today and Ian James of The Desert Sun in Palm Springs, California, will present on their joint investigation, Pumped Dry: The Global Crisis of Vanishing Groundwater. The international project includes multimedia reporting from India, Moroccan, Peru and the U.S. on Wednesday 23 March in Ward 2 at 5:30 PM. 
The event is one of the benefits of AU's partnership with the Pulitzer Center and its Campus Consortium network. The Campus Consortium initiative is a core component of the Pulitzer Center's effort to create awareness campaigns around the global systemic issues that affect us all. Two Fellowships to fund international investigative reporting projects in line with the Consortium's mission are another key benefit.
The evening before, on March 22, discussion of water issues comes with a side of laughter, as the contest winner for the EcoComedy Video Competition is announced. The 2016 contest theme is Clean Water and contestants are required to submit a short, humorous video that has a message of environmental conservation. Full contest guidelines
The award presentation will be made as part of the Student Short Environmental Film Festival, one of several DC Environmental Film Festival events hosted at AU in March.