Leadership Institute in Secondary Special Education For DC Teachers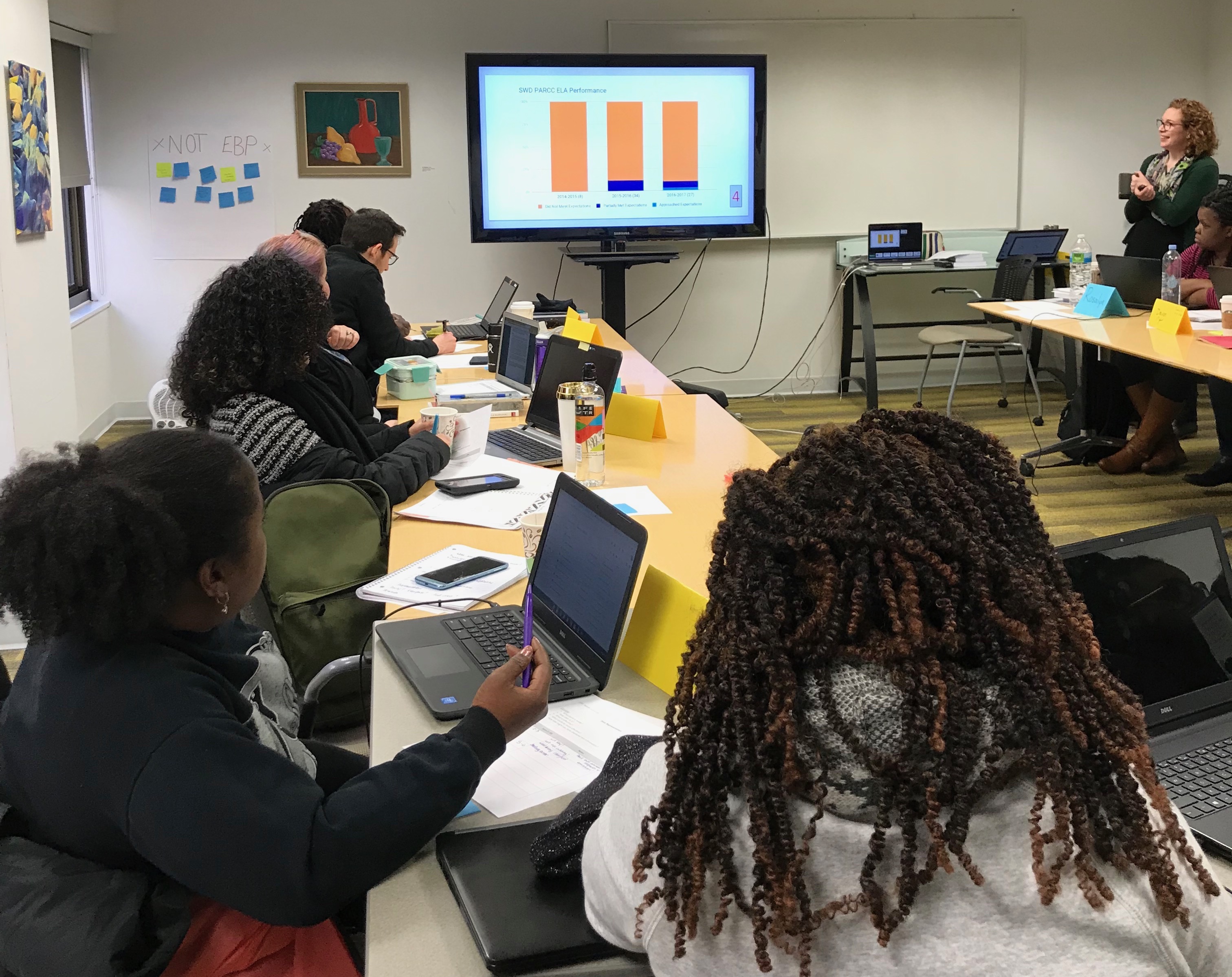 The 2019 Leadership Institute in Secondary Special Education (LISSE) program provides a cohort of DC teachers with the resources and supports to develop leadership skills through participation in an intensive professional development program aimed at supporting the use of evidence-based practices to integrate the College and Career Ready, Common Core State Standards, and Individualized Education Program goals within the curriculum for secondary students with disabilities. LISSE is an annual program in its third year serving more than 36 DC special education teachers.
On Saturday, May 4, 2019, the Insitute for Innovation in Education at American University will host a day-long professional development conference, where the LISSE teachers will share their research findings and actions plans for their schools. During these interactive presentations, the audience will be invited to provide feedback that the teachers will use to further refine their presentations. In the fall, the teachers will be facilitating a more comprehensive version of these presentation as professional development for their school-based colleagues.
Program Agenda
8:15 – 8:45 – Registration and Coffee
8:45 – 9:00 – Opening Remarks

9:00 – 10:10 – Reading
Erica Rambus – Look at me now: Choral Reading @ A Glance
Fatoumata Magassa – Teaching Vocabulary Through Morphemes
Patrick Moore – Fluent and Free: Evidence-Based Reading Intervention in an Incarcerated Setting

10:20 – 11:10 – Writing
Alison Wollack – The CDO Strategy: Making Revision Explicit
Devon Wade – "The Write Fit" 11:10 – 11:25 – Coffee Break

11:25 – 12:15 – Math & Student Data Management
Olivia Shipley – CBM for Progress Monitoring
Danielle Frazier – Using Assessment Data to Improve Co-Planning

12:15 – 12:45 – Lunch
12:45 – 1:15 – Keynote
Kim Graves, Principal, Drew Model Elementary School

1:15 – 2:50 – Math
Daniel Orcullo – RISE Math
Alana Cato – "Thinking about Thinking:" Meta-cognitive strategies for word problem solving
Ariel Kramer – Concrete Mathematics in Middle School
Rosalyn Parson – Improving Math Instruction in the Science Classroom

3:00 – 4:15 – Habits, Skills & Behavior
Clara Epps – Routines and Mnemonic Devices
Kimberly Reddick – Cooperative Learning @ Paul PCS
Monica Green – Changing Attitudes Towards Math as a Behavior Intervention

4:15 – 4:30 – Closing Remarks
General educators, special educators, and school staff serving students grades 6-12, as well as pre-service teacher candidates, and education faculty in local universities are invited to attend. Participants will qualify for eight OSSE professional learning units (PLUs).
The DC Office of the State Superintendent of Education provides funding for this project.
Register for the May 4th Institute
Please join us for professional development presentations by the LISSE teacher participants at American University in the the Spring Valley Building, 4801 Massachusetts Avenue, NW, in room 602. Parking is free of charge below the building. Please register (no fee).
For questions, please contact the American University Institute for Innovation In Education at iie@american.edu.