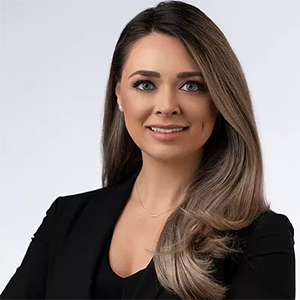 Jordan Colvin, Jesse Colvin for Congress

Jordan Colvin has expansive experience in government, legislative, and advocacy. She is currently the founder and Executive Director of the Association of Service Dog Providers for Military Veterans- a national of veterans service organizations. Additionally she represents several private and public companies in the technology and manufacturing industries, and advises several candidates for Congress, including her husband, Jesse, who is running in Maryland's 1st Congressional District. 
 
Jordan previously served as the Legislative Director for Congressman Ron DeSantis (FL-06), where she managed an extensive policy portfolio, legislative staff, and achieved the most productive and successful legislative period for the Congressman during his run for the Senate. Previously, Jordan served as a policy advisor and investigator for the Senate Homeland Security and Governmental Affairs Committee focusing on government agency oversight and efficiency. Previously, she held the role of Director of Outreach and Policy for FAIR Girls, a D.C.-based anti-human trafficking organization which provides direct services to victims of trafficking. In addition, Jordan served in the Metropolitan Police Department of Washington D.C., where she was selected to the Human Traffic Unit within the Narcotics and Special Investigations Division. In that role, Jordan worked directly with the FBI's task force on human trafficking, Project Innocence Lost. Jordan holds a JD from the David A. Clarke school of law at the University of the District of Columbia and a BA from the George Washington University. She lives in Baltimore County, Maryland her husband, Jesse, a former Army Ranger, son Coleman, and two rescue dogs, Colonel (Ret.) Darby and Spanky.
Jordan spoke at the October 2018 Fundraising training session.