Communications
Meet AU SOC's New Comedian in Residence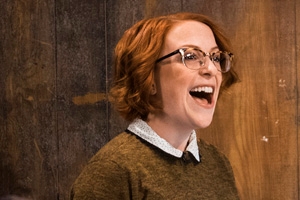 Bethany Hall has worked in philanthropy, and she can tell a joke. She was inclined to merge the two-comedy with a social conscience-but the idea remained dormant for a while. Then, while working at the Atlantic Philanthropies, Hall saw American University professor Caty Borum Chattoo speak at the Frank conference for public interest communications in Florida. Suddenly, Hall's hunches were confirmed.
"I would find myself in communications meetings always pressing to do comedy, trying to make something funny, but I didn't have any of the research," Hall says. "Little did I know that someone was actually working on this."
As director of AU's Center for Media & Social Impact (CMSI), Borum Chattoo launched "The Laughter Effect," a creative and research initiative that focuses on how comedy can play a role in social change. This semester, Hall will contribute work with CMSI as a comedian in residence for the School of Communication, a position funded by an external fellowship from the Atlantic Philanthropies.
Rethinking Your Role
Hall says many comedians are rethinking the impact of their work. But, she says, it's generally not a comedian's nature to translate these thoughts into action. In such politically-charged times, Hall says the itch to make a difference isn't limited to humorists. "I think because of the world we're living in today, no matter who you are, you're really analyzing yourself and your role in society."
Though CMSI is also conducting and collating research as part of its focus on the role of comedy in social change, Hall's role will be creating content. Whether it be sketches, music videos, or mockumentaries, the goal is to produce comedy with a social justice component-hopefully with contributions from talent outside AU.
"We're going to use our resources to get some of the best comedians we can, to make the best content we can, because we need really great content to prove that it works," Hall says.
CMSI's Borum Chattoo says Hall's perspective is invaluable.
"We've spent a few years studying the role of comedy in social justice, and the creative process of comedians absolutely needs to be a centerpiece of this effort. Bethany Hall is a really special professional in this intersection," says Borum Chattoo, who leads the efforts.
Shower Jokes, Stages, and Studios
Hall was raised in Libertyville, Illinois, a suburb north of Chicago. She always had a knack for making people laugh, and with five brothers, she was accustomed to good-natured family banter. Sexist assumptions about comedy-where the class clown role is reserved for boys-never fazed her. Still, she wanted to see more women doing stand-up.
"I was obsessed with Chris Rock. And I used to spend so much time in my shower, practicing my stand- up set. But it was always as a man," she recalls. "All of my jokes were about my wife and her lasagna or whatever."
She lived near The Second City, the Chicago improv organization that proved a talent tributary for Saturday Night Live and other comedic television. She took classes there in high school, and during her college years she was accepted into Second City's Conservatory. She started college at University of Nebraska, but a study abroad trip to England led her to finish her bachelor's degree at Middlesex University London.
Hall eventually interned at Late Night with Conan O'Brien in New York City. She had small tasks there but did no heavy lifting, giving her the opportunity to soak up the environment.
"I could see how ideas are pitched and how flexible people are with their ideas. It just made me very comfortable in the television world," she notes.
A Fish Called Fey
While building acting credits, she scored a spot on 30 Rock. It wasn't just any episode, but the series finale of the critically-acclaimed NBC show. Hall was a longtime admirer of series creator Tina Fey, even naming her fish "Fey" as a little tribute. So, when it came time to meet her, she was a bit tongue-tied.
"She was like, 'Oh, you must be Bethany, I'm Tina.' And I can't remember what else she said, but I just responded to her, 'Thank you!' And I could not form a sentence. I was just, like, paralyzed," she explains. Hall remembers her friend Anthony Atamanuik (now star of Comedy Central's The President Show) giving a facetious thumbs up, as a "You blew that one!" jest.
Hall describes the 30 Rock atmosphere as warm and welcoming. "That was just an amazing time in my life."
Finding Her Voice
Hall had an idea for a show based on her upbringing. While working a 9-5 job at Atlantic Philanthropies, she committed herself to writing every night. The concept became Thanksgiving, a limited series picked up by go90. It's set in Libertyville and riffs on her own family's divergent views and experiences.
The cast included talented comedians Amy Sedaris and Chris Elliott. "It was crazy to have a line that I knew that I wrote at, like, 2:00 in the morning on my couch, and then hear it come out of the lips of some comedian I admire," says Hall. "The whole experience was great."
Hall is currently a regular on The Chris Gethard Show, which is broadcast live on truTV. As the internet liaison, she's on stage interacting with people at home and frequently incorporating their input into the program. On the show, she met her husband, executive producer Keith Haskel (who also plays "Bananaman" on the show), and they now have an infant son.
Nothing Unusual
Among socio-political issues, Hall describes an underlying belief in inclusivity. In comedy, she's been taught to look for what's unusual and highlight that. Yet in other aspects of life, difference can be isolating. "I'm passionate about individuals not feeling like they are the unusual thing, or that they don't belong. And that goes for everything from immigration to gay rights to people of special needs to older people," she notes.
There's no specific reason she loves comedy, but she mentions the adrenaline rush of connecting with audiences. If it's breezy humor, social justice-or both-it's finding something that resonates.
"I prefer to be the bartender, rather than a person at the bar. So maybe that's a way of saying I like being the center of attention. But I think it's almost liberating to be up there and to be heard."