Achievements
Sunshine State Standout: Journalism Student Wins Scholarship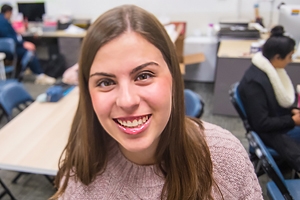 As the old saying goes: If at first you don't succeed, try, try again. That's what Courtney Rozen did for a Barbara L. Frye Scholarship from the Capitol Press Club of Florida. Rozen first applied four years ago—when she was still a senior in high school—and she wasn't recognized. She subsequently applied during her first year at American University and missed the cut again. Yet in 2016 she won $2,000 in scholarship funds that go toward her American University education, and—keeping her winning streak alive—she was recently honored with another $2,000 for her work.
That persistence has served her well as editor-in-chief of The Eagle, a position she's held since last April. It's a bit like having a full-time job while taking a regular course load. To navigate a hectic schedule with demanding deadlines, she credits the dedication of her staff.
"When you hire people, or you have people around you, who are really smart, then it makes the job easier. That, and a whole lot of Diet Coke."
Writing to Obama
Rozen grew up near Fort Lauderdale, in the suburb of Weston, Florida. With a graduating class of roughly 1,200 students, she attended one of the largest high schools in the nation. To avoid getting lost in the shuffle, she learned how to advocate for herself. It's been both a helpful reporting skill and a valuable life attribute.
"Sometimes you've got to stand up for yourself, and sometimes you've got to be able to find the right person and get what you need done," she says. "And when there's a lot of people, and you're 14 years old and you need your class changed, you've got to speak up. So that was a positive thing for me."
During her early years, she was active in ballet, tap, and jazz dance. She eventually narrowed her focus to ballet, but it threatened to become an all-consuming commitment. "I had friends who were getting homeschooled, and I wasn't willing to do that," she explains. "I love it, but I just didn't want to go that far with it."
As a high school sophomore, she entered a Rand McNally essay contest and wrote a letter to President Barack Obama. The best essays selected secured a trip to Washington, DC. She didn't meet Obama—and she has no idea if he ever read the essay—but the excursion changed her life, anyway. By chance of being in the neighborhood, Rozen's parents suggested they visit AU.
"I fell in love, and that was it. And I knew I wanted to come here," she recalls.
Full Coverage
Rozen hit the ground running at AU, covering student government for The Eagle during her first year. She later served as student life editor and news editor before becoming editor-in-chief.
Looking back on her time with The Eagle, she remembers a frenzied January 2017. For the events surrounding President Donald Trump's inauguration, she anchored stories from The Eagle offices and personally covered the Women's March. The following week, she prepared for and interviewed incoming AU president Sylvia Burwell on short notice, and The Eagle covered her launch event.
"January of last year was quite a month," she says. "But that was very cool. I've had so many moments like that."
There were tough stories about AU student deaths, which required care and sensitivity. "Those are the hardest ones for sure, because you're calling friends and you're calling family. And you're just trying to not be too pushy and to be respectful."
"Everybody Wanted to Work with Her"
Rozen has had numerous mentors at AU, including her two Eagle EIC predecessors, Shannon Scovel and Kate Magill. AU School of Communication assistant professor Amy Eisman taught Rozen in her Writing and Editing for Convergent Media course.
"Courtney is one of the more extraordinary students I've seen," Eisman says. "Every time you talk to her, you think you're talking to a peer. She can go as deep on any journalism issue topic as any of my friends."
For Eisman's class, Rozen worked on the Uncertain U journalism project about challenges facing international and immigrant students. They partnered with NBC4 Washington, which helped Rozen land an internship there. Later, during a class tour of NBC4 Washington, one of Rozen's supervisors approached Eisman. "She said, 'We just got an email about Courtney and what a great job she's doing,'" Eisman recalls.
"Everybody wanted to work with her," notes Eisman. "She loves to learn. She wants to get better. She never shies from difficult decisions."
Career Plans
This May, Rozen will earn her bachelor's degree in journalism, with a Spanish minor and a Spanish translation certificate. Rozen will stay on at AU to get her master's in journalism and public affairs, and she wants to remain in Washington for the foreseeable future.
Though her journalism degree concentration is in broadcasting, she'd rather write for a newspaper or the digital side of a TV/radio operation. As much as she respects video work, Rozen says writing is more her native language.
"I feel like when I'm telling a story with broadcast, a lot of times you're glazing and you're not giving a lot of detail. And to me, the detail is what makes the story."