Social Sciences
Dr. Paul Farmer Speaks at NIH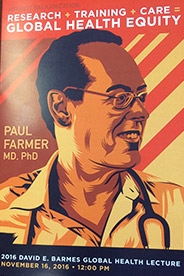 Dr. Paul Farmer spoke to a standing room only crowd at the National Institutes of Health's annual David E. Barmes Lecture on Global Health on November 16, 2016. During his lecture, "Against Balkanization: Research + Training + Care = Global Health Equity," Dr. Farmer spoke about the power of collaboration and the need for a Global Equity Plan to connect health care with those it aims to serve. He charged public health professionals with "adding the word equity" to their agendas. 
An MD and PhD in Medical Anthropology, Dr. Farmer has been influential in public health interventions regarding tuberculosis, HIV/AIDS, and Ebola with a particular focus on human rights and the consequences of social inequality. His most recent book is In the Company of the Poor: Conversations with Dr. Paul Farmer. He is a recognized expert for the global health movement and co-founded Partners in Health, which operates in 10 countries. Previously, he served as Professor and chair of the Department of Global Health and Social Medicine at Harvard Medical School. 
Many Public Health Scholars were fortunate to be in attendance, sit among NIH researchers and physicians, and listen to opening remarks from NIH Director Dr. Francis Collins. "Having the opportunity to hear the visionary Dr. Paul Farmer speak at the prestigious NIH solidified the DC college experience for me," said Kendell Lincoln, Public Health Scholar. "A personal hero and inspiration, I was beyond excited when I heard that Dr. Farmer would be at the NIH. This is an example of what DC has to offer students, no matter their passions." Additionally, AU Public Health Scholar alumni Wyatt Bensken offered a tour of the Clinical Center on NIH's beautiful Bethesda campus.