Arts
AU's Fall Arts Calendar is Filled with Must-See Events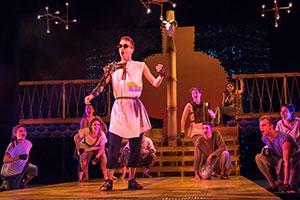 This season's AU Arts calendar features new takes on classic works, events that showcase creative visions unique to the AU community, and engaging workshops and talks. Whether you prefer jazz solos, thought-provoking theatre, or learning new dance techniques, you'll find an event that suits your interests below.
Classics with a Twist
With concerts that take on Bach, Borodin, Beethoven, and more, classical music canon is resoundingly present in fall music events. In  "B" List Composers, the AU Chamber Orchestra will perform timeless selections from these iconic composers. AU Musician-in-Residence Yuliya Gorenman will also pay homage to Bach with renditions of his keyboard works in her Gorenman Bach Project, which will include his masterpiece The Well-Tempered Clavier, Book II. Jazz lovers who prefer Count Basie to Bach can hear the AU Jazz Orchestra perform his album The Atomic Mr. Basie, which disrupted the jazz music genre when it was first released in 1958.
The Theatre and Musical Theatre Programs will also take on a '50s-era classic this season. The Crucible, Arthur Miller's 1953 allegory of McCarthyism set in Salem in the 1600s, will show four times at the Katzen Studio Theatre in October. Since it opened on Broadway, the story has been performed countless times and adapted into an opera, a movie, and a TV series — a testament to its continued cultural relevance and its enduring societal critique. Pippin, another Broadway favorite, is an irreverent complement to Miller's thematically dark story. The play will show seven times this November at the Greenberg Theatre. 
American University Originals
The creative voices of students, bold artistic visions of faculty, and visual artworks of AU alumni are focal in several fall events. First up is Overture, a theatre medley by incoming freshman, who will bare their hopes, anxieties, and passions in monologues, scenes, and musical vignettes. Then, from freshman to seniors, theatre and musical theatre students will show how they've refined their craft over four short years with Theatre and Musical Theatre Senior Capstone performances in December. In step with the Dance Program's commitment to process-focused and genre-inclusive dance education is Choreolab 2018, an annual performance that presents choreography straight from the minds and bodies of AU's talented dance students. 
Creative collaboration is central to music events, too. AU Workshop's Shared Space will examine the idea of co-existing musically within different settings. The faculty music collective Interference will present a concert at the intersection of various art forms — visual, musical, digital, and analog — in the American University Museum at the Katzen Arts Center. The exhibit D'Arista Legacy, a celebration of AU alumni who were taught by the late painter Robert D'Arista, is also on the museum's schedule this fall. D'Arista was eccentric, often dropping cigar ash on these alumni's canvases during critiques in the '70s and '80s, but his methodology continues to influence their work today. 
Class Participation
It wouldn't be AU without some teachable (and learnable) moments in our fall arts events. In Fall Master Classes, which take place in the Katzen Dance Studio for two days this October, anyone in the AU community can learn to dance for free. Visiting artist Gesel Mason will teach participants some fundamental dance techniques in an encouraging environment. You can come out for both days or drop in for just one, but this workshop is first come, first served. 
The museum also has a stable of seasonal events that encourage patrons to participate, either by discussing art with artists or simply enjoying the aesthetic beauty of the museum environment in a group. Sign up for Yoga in the Galleries every Wednesday morning, or hear from featured artists during this season's artist receptions. For Finding a Path Emilie Brzezinski and Dalya Luttwak: A Conversation, the sculptors will speak about Finding a Path, their site-specific installation for the museum's sculpture garden.

Browse our full list of AU Arts events for more theatre, dance performances, concerts, or visual arts events.