Contact:
Britta Peterson
Director, Dance
4400 Massachusetts Avenue NW
Washington
,
DC
20016
United States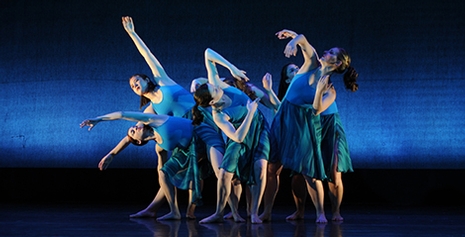 The Dance Program provides an opportunity for concentrated study in dance within a liberal arts curriculum. The program is grounded in the development of students as articulate movers, thinkers, writers, speakers, and creators of dance, providing a balance between artistic expression, technical proficiency, and scholarly inquiry. Students are instructed by experienced, professional faculty, comprised of seasoned educators and working artists, most recently the 2017 Spring Visiting Artists series with Michel Kouakou and Zoe Scofield.
PROGRAM OBJECTIVES
To be an integral part of the general education curriculum and liberal arts studies at the university.
To provide technically sound, varied course offerings in dance.
To offer courses that develop an understanding of the aesthetic, historical, and kinesiological values of dance.
To provide a student-centered curriculum, demonstrated in course instruction, performance opportunities, support of student initiated activities, provision of student leadership opportunities, and the promotion of performance as integral to dance education.
To encourage and develop creative individual expression within each student.
To provide students with rich experiences in the studio, classroom, and through performance that enhance skill and knowledge of the field.
To encourage students to reflect critically, communicate effectively, and conduct themselves professionally through the study of dance.
General Dance FAQ

Do I need to audition or be a dance minor to participate in the Dance Program?
For intermediate and advanced level dance classes, placement auditions are required prior to registration: see Dance Level Placement registration form. No audition is needed for beginning level classes. Performance opportunities are open to all students enrolled at AU
Placement auditions take place in:
April (for fall registration)
August (prior to the start of classes for fall registration)
November (for spring registration)
How many students are in dance technique courses?
Though enrollment will vary each semester, dance technique courses are capped at 18 students for safety and effective instruction.
What dance forms are offered?
There are multiple levels of ballet, jazz, modern, and tap. Additionally, there are courses in social and world dance forms including African dance.
How many dance courses can I take per semester?
You can take as many courses as will fit in your schedule.
Are there performance opportunities?
Yes. The Dance Program produces one mainstage concert on campus at the Harold and Sylvia Greenberg Theatre, a formal concert off campus at a local theatre, a choreographer's workshop/performance, and two informal showcases each academic year. Each spring students perform at the American College Dance Festival. Additionally, there are multiple student-run organizations that perform on and off campus.

How many dance studios are there?
The primary dance studio, in the Katzen Arts Center, is equipped with a sprung, marley-covered floor, portable barres, multifunction stereo, audio-visual system for multimedia presentations and wireless internet connection. Additionally, dance classes and rehearsals occur in the Katzen Studio Theatre and Cassell Hall.

How many dance faculty members are there?
The Dance Program is comprised of two full-time faculty members, an Artist-In-Residence, and multiple adjunct faculty members who bring their expertise from the professional world to AU's classrooms.
What is AU's connection to the professional dance community, locally, nationally and internationally?
In addition to a professionally active faculty, the Dance Program has a long history of hosting nationally and internationally recognized guest artists who teach master classes, stage choreography, present lecture-demonstrations, adjudicate student choreography, and serve as creative advisors and professional mentors to students. Past guest artists include John Bessant III, Sean Curran, Peter DiMuro, Kimberly Karpanty, Amir Kolben, Joan Meggitt, Francisca Morand, Leanne Schmidt, Sara Skaggs, and Christian von Howard. Also, many AU alumni are active members of the dance field and maintain close ties with the university.
Washington has a vibrant dance community with numerous venues for performance and classes, as well as being home to many seasoned and burgeoning dance companies. Local performances, auditions, and information are posted on the call board in the Katzen dance studio. In addition, with AU's close proximity to many leading arts organizations, students have the opportunity to create internships and independent studies in dance education, management and performance.
May I observe a dance class?
Yes. Contact bjp@american.edu for further information.
Can I take a tour of the Katzen Arts Center?
Yes, please visit AU's Tour & Information Sessions for further information.
2017-18 Auditions
All auditions are in the
Katzen Dance Studio (152).

Level Placement Dates
August 22, 2 p.m.
December 2, 10 a.m.
April 7, 2018, 10 a.m.
Register for the Dance Level Placement. If you have previously auditioned, you do not need to audition again, unless you wish to be considered for a higher level than the placement you received in your last audition.
AU/DC Company Casting
December 2
Dance Performance Opportunities
Informal Showcase (Fall and Spring Semesters)
End of semester recital for dance and musical theatre students. Open to all students registered for dance technique courses.
Choreolab (Fall Semester)
Workshop/Showcase for student choreographers. Student work is adjudicated by local professional dance artists. Student choreographers must apply to participate. By audition only
Spring Dance Concert (Spring Semester)
Annual concert of faculty, student, and guest artist works performed by AU students. By audition only.
American University Dance Company (Fall and Spring Semesters) By audition only.
American College Dance Festival (Spring Semester)
Faculty and/or student choreographed works are performed in formal and informal concerts.
Student Organizations and AU Athletics
AU has multiple student-run dance groups who perform on and off campus each semester. Information about student groups is available from the AU Student Activities office at 202-885-3390. For information about the AU Dance Team, contact the American University Athletics Department at 202-885-3000.