The American University Chorus and the American University Chamber Singers welcome members from the entire American University community: undergraduate and graduate students, music majors and non-majors, students from every college across the campus, Washington Semester students, alumni, campus faculty and staff, and the Washington area.

Please see also: Performance Auditions (with upcoming dates for music, dance, theatre, and cast auditions) and instrumental ensembles.
All students who are members of the choral ensembles at American University are eligible and encouraged to enroll for private lessons with one of the outstanding members of our vocal faculty. Ensemble members who wish to do do should see Applied Music Registration.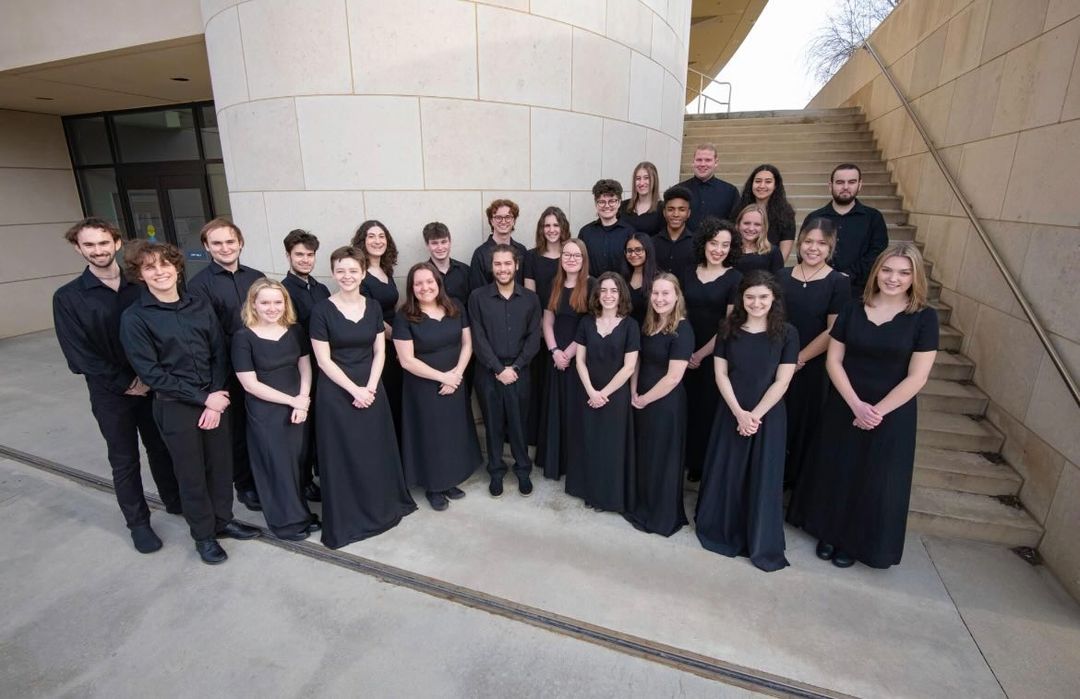 AU Chamber Singers
Directed by Daniel Abraham
Course:

American University Chamber Singers

(PERF-143 section 001)
Rehearsals: Mondays & Thursdays from 2:30 to 5 p.m.
Office: Katzen Arts Center - Choral Office, Room 146 (phone: 202-885-3425)
Participants: AU Chamber Singers is open to all, but usually consists of undergraduate and graduate student members. The ensemble is highly select and generally limited to between 26 and 32 members. Repertoire includes works drawn from all periods of music and varies greatly from early music masterworks with ensemble, to contemporary a cappella literature.
The American University Chamber Singers is a select student ensemble open to music majors as well as other students studying music within American University's tradition of outstanding liberal arts education. The organization was rekindled by the current director, Daniel Abraham, in spring 2000 as an auxiliary ensemble to the AU Chorus, at first rehearsing separately during the final fifteen minutes of Tuesday evening rehearsals, eventually moving to Sunday evening rehearsals, and now as a dedicated, thriving ensemble. Membership in the Chamber Singers usually ranges from 24-28 members admitted by auditions held at the beginning of each semester. Over the past seven years, the AU Chamber Singers have sung a variety of outreach programs including a May 2009 tour of Romania and Hungary. Other recent invitations have included programs for the 25th Anniversary of Mothers Against Drunk Driving at the Ronald Reagan Center, concerts at Christ Church in Winchester, Virginia, and programs with the National Philharmonic Orchestra. The American University Chamber Singers also provides rehearsal and performance opportunities for choral conducting student in the Department of Performing Arts.
Recently performed repertoire has included early music such as Bach's motets Jesu, meine Freude and Lobet den Herrn, Cantatas Christlag in Todes banden and Gottes Zeit ist die allerbeste Zeit (Actus tragicus), Handel's Dixit Dominus, Georg Philipp Telemann's Du aber, Daniel, gehe, ihn, and Vivaldi's Magnificat, plus works by Buxtehude, Byrd, Gesualdo, Josquin des Prez, Lotti, Monteverdi, Schütz, Sweelinck, Tallis, and Victoria.
Classical, Romantic, and Contemporary works recently performed by the American University Chamber Singers included the world premiere of The Tree by Greg Bartholomew, Brahms' Liebeslieder, Op. 52, Britten's Rejoice in the Lamb and Ceremony of Carols, Cary John Franklin's With a Poet's Eye, Haig Mardirosian's Fair Weather Carols, Jerzy Sapieyevski's Songs of the Rose, William Schumann's Carols of Death and Prelude for Voices, Vaughan Williams' Serenade to Music and Flos Campi, Schubert's Mass in G Major, Kim Sherman's Graveside, and works by Ysaye Barnwell, Margaret Bonds, Stephen Chatman, Rene Clausen, Matthew Harris, Sarah Hopkins, Robert Pearsall, Daniel Pinkham, R. Murray Schafer, Peter Schickele, Bruce Sled, Eric Whitacre, and Robert Young, plus many American spirituals and folk arrangements.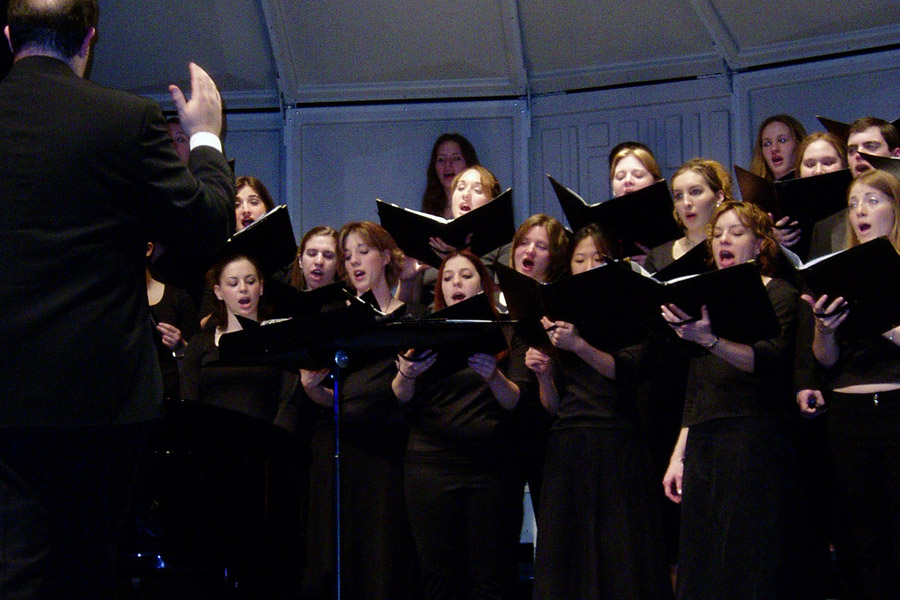 AU Chorus
Directed by Casey Cook
Course:

American University Chorus

(PERF-142 section 001)
Rehearsals: Tuesday evenings (7:30 to 10:15 pm) and select Monday evenings* (8:00 to 10:15 pm)*Note: not all singers will be required to attend every Monday rehearsal, but it is mandatory that members are available for both evenings. A complete and detailed schedule for the semester will be available at the time of the auditions. Students with class conflicts on either Monday or Tuesday (including classes that meet until 8:00 pm) should discuss their situation with the choral manager.
Office: Katzen Arts Center - Choral Office, Room 146 (phone: 202-885-3425)
Participants: AU Chorus is open to undergraduate and graduate students, faculty, staff, alumni, and community members. Membership usually ranges between 70 and 90 singers. Repertoire for the ensemble varies from suitable small-scale literature to large-scale choral-orchestral literature.
Membership in the American University Chorus has ranged over the years from 30 to its current level of about 80 singers. All singers must audition to become members in the AU Chorus and each year about 100 singers audition for 20 to 40 open slots. Auditions take place during the first week of classes each semester. The AU Chorus holds its rehearsals on Tuesday evenings, with additional sectional and added rehearsals on Monday evenings. The chorus has a tradition of performing a wide range of choral repertoire ranging from masterworks of choral literature, to small octavos, to newly composed choral works.
Recent performances have included Beethoven's Symphony No. 9, Brahms' Ein Deutsches Requiem and Schicksalsied, Bach's Magnificat, Bernstein's Chichester Psalms, John Cameron's Missa Celtica, Robert Convery's Songs of Children, Duke Ellington's Come Sunday, Handel's Solomon, Messiah, and Coronation Anthems, Haydn's Creation and Te Deum, Mendelssohn's Symphony No. 2 "Lobgesang," Mozart's Requiem and Vesperae Solennes de Confessore, Orff's Carmina Burana, and Vaughan Williams' Five Mystical Songs. AU Symphony Orchestra frequently collaborates with the American University Chorus in performances of major works for chorus, vocal soloists, and orchestra.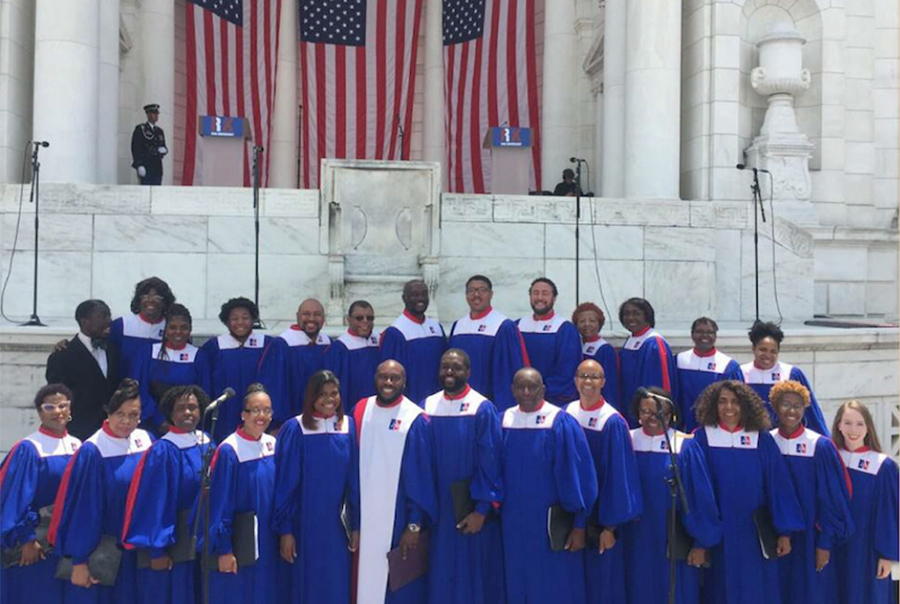 Gospel Choir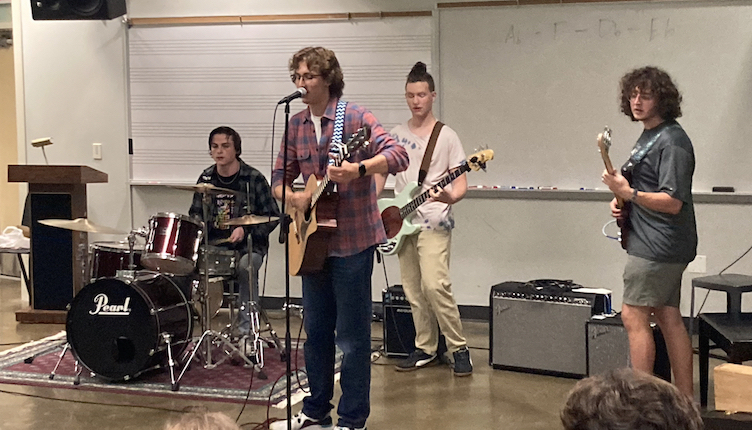 Singer-Songwriters' Hub
Contact: Matthew Brown
PERF-145-004: Singer Songwriters' Hub
Thursdays, 8:20-10:20 p.m., Katzen 151
Singer Songwriters' Hub is an ensemble devoted to improving, rehearsing, recording, performing and promoting original music written by student members. You'll meet and work with like-minded musicians and gain access to instruments and equipment. The Hub enables opportunities for rehearsing, recording and performing in various spaces in the Katzen Arts Center and beyond.
The group is open to any student interested in collaborating on original music, including songwriters, singers, instrumentalists, lyricists, recording engineers, or those interested in marketing and promotion. Regular attendance is required for those enrolled in the course.
Student-Run Vocal Ensembles
History of Choral Ensembles
Formed by James McLain in 1934, the Choral Ensembles of American University have flourished under the outstanding leadership of many of the region's most celebrated directors including Paul Calloway, Norman Scribner, Vito Mason, Paul Hill, Sondra Proctor, and Elise Eisenhower. Under the direction of Daniel Abraham since spring 2000, the AU Choral Ensembles continue to prosper and sustain their tradition of excellence in music performance and education. The ensembles have a history of touring both nationally and internationally.
Over the past three quarters of a century, the AU Choral Ensembles have maintained many choral groups ranging from Concert Choir to Repertory Choir, Madrigal Singers and Women's Choir. Currently, the American University Choral Ensembles are comprised of two major performing groups: the American University Chorus and the American University Chamber Singers. AU Choral Ensemble not only represents the Music Program and the Department of Performing Arts, but is a major artistic organization of, and ambassador for, American University.