Mathias Student Research Conference
Saturday, April 10, 2021 | 9:15 a.m.–5:00 p.m. | Virtual Convening
The College of Arts & Sciences (CAS) is pleased to announce the 31st Anniversary of the Annual Robyn Rafferty Mathias Student Research Conference, a forum for CAS students to present original scholarly and creative works before colleagues, faculty, and friends.
This event is sponsored in part by a generous grant from AU trustee and alumna Robyn Rafferty Mathias as well as by the NASA District of Columbia Space Grant Consortium.
Schedule of Virtual Events (EST)
9:15–11:00 a.m. | Conference Welcome and Session I: Presentation of Original Student Works
Concurrent Sessions Include:
Theme: Materials or Commercial & Industrial Products
Theme: Genomics and Medicine
Theme: Racial Representations in Pop Culture
Theme: Politics, Economic Recovery and Social Inclusion
11:15 a.m.–12:30 p.m. | CAS Faculty Discussion on Research
Featured presenters Katie Holton (Public Health), Phil Johnson (Physics), Tim Doud (Studio Art), Zoë Charlton (Studio Art)and moderated by Kim Blankenship(Sociology)
12:45–2:15 p.m. | Session 2: Presentation of Original Student Works
Concurrent Sessions Include:
Theme: Human and Nature Interaction
Theme: Monuments, Icons and Cultural Changes
Theme: Women as Creators and Consumers
2:30–4:00 p.m. | Session 3: Presentation of Original Student Work
Concurrent Sessions Include:
Theme: Human Brain, Mind and Behavior
Theme: Discrimination and Body Politics
Theme: The Arts and Humanities in Times of Crisis
Theme: Language and Learning
4:00–5:00 p.m. | Research is the Common Thread
American University welcomes Craig Hinkley from WhiteHat Security, a 2021 Mathias Conference Sponsor, to discuss how research is the common thread in
the 21st century workforce, guiding us in our day-to-day lives as students,
employees, and leaders. It plays a critical role in decision making for our career
paths, the success of a business, and more. In this session, we will look at how
research is applied in these areas.
Accessibility
If you would like to request disability-related accommodation or accessibility information, please contact the chelseya@american.edu. Accessibility needs can also be articulated in each of the registration forms.
Info for Student Presenters
Eligibility
Students from all disciplines of CAS are encouraged to participate. Students in other AU schools may submit work that was completed in a CAS course.
Awards
Each presentation will be juried by a group of AU Community Judges. Top presenters will be awarded a Certificate signed by the CAS Dean, as well as the a credited opportunity to showcase their work
Student Resources and Conference Guidelines
Student Presentation Guidelines
The 2021 convening will take place virtually. All presentations will follow the general format of a slideshow. It is estimated that you will be allotted 10-15 minutes to present your work, followed by a 3-5 minute audience Q&A facilitated by a faculty/staff moderator. You will meet with your session's moderator in the weeks leading up to the conference to ensure they get a sense of how best to curate your session.
Your presentation should follow the format laid out in your abstract or project description. If your presentation requires discipline-specific delivery systems (i.e. performance, slideshow presentation, etc.) then please make sure to communicate specific needs to your moderator in advance. Regardless of your discipline, you need to be able to clearly discuss the objectives and importance of your work to an interdisciplinary group of judges and audience members.
Your presentation will be judged on its intellectual and/or creative ambition and the strength of your arguments, examples and conclusions. Judges will evaluate whether your project is engaging and how successful you were in achieving your goals. Also considering the diverse and interdisciplinary nature of the attendees, you will be judged on your ability to make your work accessible to a general audience, to explain unfamiliar terms, and avoid jargon.
Presenting Finished/Final Research vs. Unfinished/Work-in-Progress
When submitting to the Call for Abstracts, students will be asked to designate their work as either "finished research" or a presentation of "work that is in progress". The purpose of this designation is to frame how your audience and judges can best support the current state of your work.
Finished Research/Presentation of Final Work: the student is expecting to defend their work as a presentation of new research/material that is in contribution to a larger conversation within their discipline.
Workshop/Presentation of Work-in-Progress: the student is expecting to present the current state of their work in order to enter a dialogue with their audience, receive feedback and questions that will help move the work forward.
Suggested Presentation Format
The first several minutes of your presentation should provide an analytical overview in which you describe what makes your project/performance unique or how your work addresses matters of social, intellectual, or artistic significance. Your analytical overview will be judged on intellectual and creative ambition, placement of your work in the context of your field, and your ability to qualify claims and address likely objections.
The second part of your presentation should be a strong example, sample of work or actual performance. The content of your examples and/or performance will be judged for whether it is engaging, formally interesting, and delivers on the claims made in the analytical overview.
The presentation itself will be judged on your ability to explain unfamiliar terms, your ability to ensure audience comprehension and to generate audience interest.
Questions?
Contact the 2021 organizing committee:
Chelsey Anderson chelseya@American.edu
Kathryn Walters-Conte kwalt@american.edu
Madeline Cloud mc9423a@student.american.edu
Helen Jackson hj1737a@student.american.edu
Joo Hyun Lee joolee@american.edu
Register to Attend 2021 Conference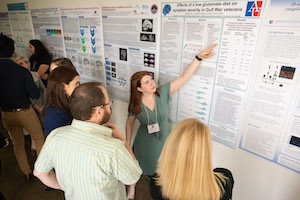 CAS Robyn Rafferty Mathias Student Research Winners Announced
View a summary of the research presented at last year's virtually presented Robyn Rafferty Mathias Student Research Conference