Facilities Management
4400 Massachusetts Avenue NW
Washington
,
DC
20016-8057
United States
Ranked number 4 Most Beautiful Urban Campus by Best Choice Schools
The Arboretum has over 3,000 Trees on Campus!
The Arboretum displays 385 different species & varieties of woody plants
Interesting Tree Species on Campus
The campus tree collection includes species from around the globe. Below are a few of the interesting tree species found in our Arboretum.
Shrubs, Perrennials, and Grasses
The campus is filled with many shrubs, perennials, and ornamental grasses of all shapes and sizes. Here is a sampling of some of our favorites that have performed well on our campus.
Shrubs
Callicarpa dichotoma (Beauty Berry)
Clethra alnifolia (Summersweet)
Edgeworthia chrysantha (Paperbush)
Fothergilla gardenii (Dwarf Fothergilla)
Hydrangea paniculata ' Limelight ' (Panicle Hydrangea)
Hydrangea quesrcifolia ' Alice' (Oakleaf Hydrangea)
Ilex glabra (Inkberry)
Itea virginica (Virginia Sweetspire)
Syringa pubescens ' Miss Kim' (Manchurian Lilac)
Viburnum carlesi (Fragrant Viburnum)
Perennials & Ornamental Grasses
Calamagrostis acutiflora 'Karl Foerster' Feather Reed Grass
Nepeta faassenii 'Walker's Low' Catmint
Perovskia atriplicifolia 'Russian Sage'
Hibiscus moscheutos 'Lord Baltimore' Hardy Hibiscus
Echinacea purpurea 'Magnus' Purple Coneflower
Hakonechola macra Japanese Forest Grass
Senecio aureus Golden Ragwort
Acanthus mollis Bear's Breeches
Hemerocallis 'Cherry Cheeks' Daylily
From time to time there are employment opportunities for students in Facilities Management.
If interested in working with the Campus Arboretum please contact:
Stephanie DeStefano
202-885-2544
destefan@american.edu
Each summer the Arboretum hires one or more internships to work in the grounds management division. These are hands on learning opportunities.
If interested please contact:
Stephanie DeStefano
202-885-2544
destefan@american.edu
Opportunities are available for volunteers to help in the Arboretum. These range from hands on grounds maintenance support to assisting with promotional, design and technological projects.
If interested please contact:
Mike Mastrota
Arboretum Manager
mastrot@american.edu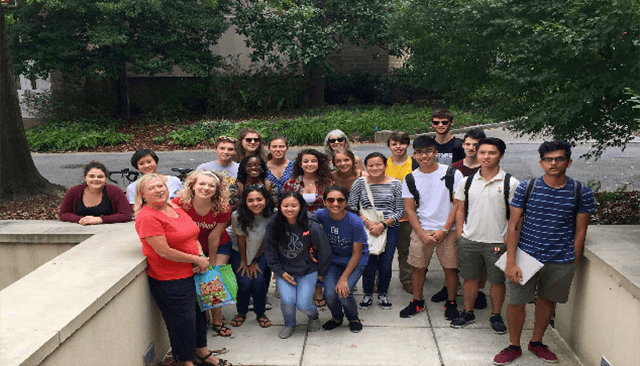 Contact Stephanie DeStefano to schedule a walking tour of the arboretum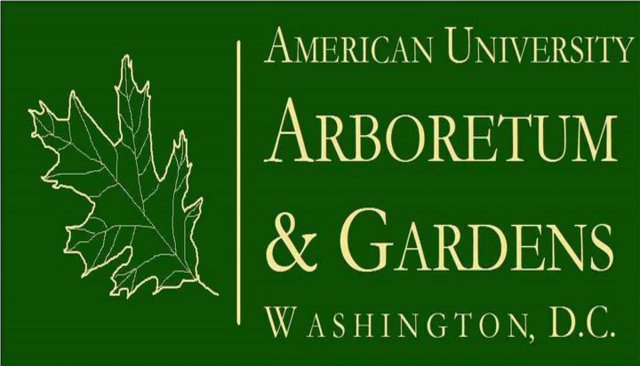 Learn more about AU's Arboretum by finding us on Facebook! You don't need an account to see the page.
Become a friend of the Arboretum by clicking the link below for more info.