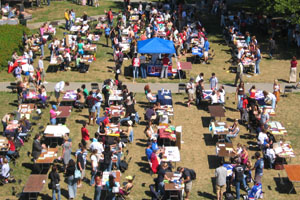 Event Support
Events on campus seem to be an everyday occurrence. Should you need assistance in setting up your event on campus, we are available to assist you. Our assistance includes furniture set up, such as tables and chairs and utilities set up, such as additional electricity or water. 
We also want to ensure that if your event is indoors that the environment is comfortable for your event by monitoring the temperature settings.
Moves
Are you moving office locations? Do you need something moved? We also provide assistance in this effort.
Getting Help
Please provide us with a list of your needs so that your event or move can be a success. Simply fill out a Facility Service Request with all the appropriate information and fax it to x1162.
You may also submit a Facility Service Request online by completing a Chargeable Facilities Service Request (FSR) on the AU portal.
If you are in need of scheduling your event please contact University Event Scheduling (UES)