Alumni
Breaking Barriers, Delivering Success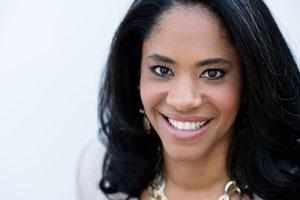 Jina Etienne, BSBA '89, MST '93, knew she wanted to make a difference during her time at American University, but she didn't realize which program area matched her interests. Her academic journey culminated with earning two degrees from Kogod—a launching pad for her lifetime of work solving dynamic challenges.
Now the Director of Diversity and Inclusion at Grant Thornton, a global accounting and consulting firm, Etienne works to create a company culture where professionals can interact innovatively and dynamically, and bring the most value to clients.
"If I do my job right, I will work myself out of a job. Because you shouldn't need somebody like me in a company," Etienne said. "I believe that if you create an environment that is inclusive, where everyone can participate however they feel most comfortable, it will naturally become more diverse."
Creating a space for diversity is vital for organizations, Etienne said. She wants to build a holistic culture at Grant Thornton that embraces differences in style, age, approach, and process, in addition to race and sexual identity. She capitalizes on her previous accounting experience to help Grant Thornton's employees' transfer leadership strategies and collaborative practices into their daily work.
Working and interning full-time while at AU, Etienne was able to get her start in the accounting profession. An internship at Touche Ross, a "Big 8" accounting firm, led her to her first job out of school with the same company which merged with Deloitte.
As an undergraduate in Kogod, her path lead her to participate in the Frederick Douglass Distinguished Scholars program, AU's most prestigious, merit-based scholarship for exceptional incoming first-year student leaders. Historically underrepresented minority students and those from disadvantaged backgrounds are especially encouraged to apply.
The scholarship covers nearly all expenses associated with attending college, including tuition, housing, a meal plan and books. 
"I absolutely credit that scholarship opportunity with the reason I have a college degree today," said Etienne. "This is a commitment to diversity that predates the language we use in business today around diversity and inclusion."
Etienne began in the tax department at Deloitte, where she rose to the level of Senior Consultant. During her time there, she returned to Kogod to earn an MS in taxation, enjoying the academic rigor and flexibility of coursework while working full time.
Etienne then left Deloitte to found a boutique accounting firm where she served the greater DC community for over 17 years. Being her own boss, Etienne had the opportunity to act independently and follow her natural entrepreneurial instincts.
"I knew that I could solve problems for clients and I knew people who could use my help that couldn't afford a big accounting firm," Etienne said. 
A mother of two, Etienne said that she was afraid that being a working mother while operating her own business was going to cost her in the long run. Nothing could have been further from the truth. With unconditional support from her husband and a clear commitment to her clients, Etienne got the job done.
"The fact that I happened to be a mom with a child at the office did not stop me from being the best accountant I could be," Etienne said. "I will get the work done and I will be available when you need me—without having to sacrifice being a mom."
From the halls of American University to the boardrooms of America's biggest companies, Etienne sees that diversity and inclusion is essential for business—whether based in gender, ethnicity or parenthood status.
"If we're lucky as a society there won't be people doing what we're doing in the future we would have figured out that we have to be inclusive in order to have a diverse workforce, only the most diverse workforce is the most productive business." 
Learn more about Kogod's bachelor of science in business administration program.
Learn more about Kogod's master of science in taxation program.