Contact:
Ashley Barnes
Senior Coordinator, AU Cornerstone
AU Cornerstone
4400 Mass Ave, NW
Washington
,
DC
20016
United States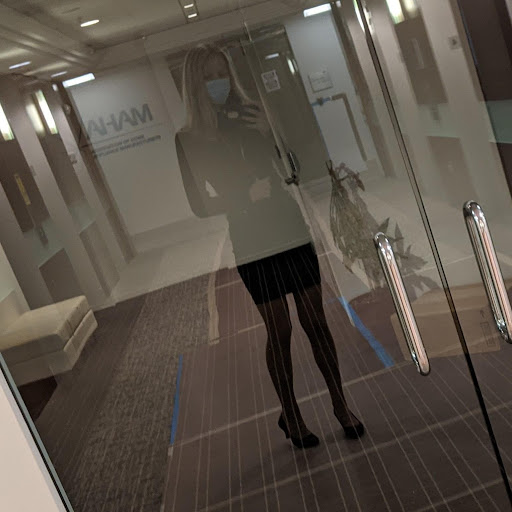 Kimberly Kraska
Internship: Securing America's Future Energy (SAFE)
December 8, 2021 | Hey everyone! I can't believe it is already the last time I will be writing to you guys! The semester has flown by. It is the week before finals week, and I have two papers due tomorrow. The key to being successful during this time is planning out beforehand and managing your time. I wrote my paper two pages at a time, so I would not get overwhelmed. This allowed me to sit and reflect on what I had written the day before, and come in the next day armed with new ideas. It also helps to break up the big projects with smaller assignments. I use a reward system – for every 3 hours of work, I spend an hour outside reading with my friends or playing Mario Kart in the lounge. For my Statistic's final, I have been meeting with my classmates for two hours at a time, three days a week. It is helpful to reserve a collaborative workspace in the library, so you can utilize the whiteboards, and do not have all the distractions of a dorm room. We study by reviewing quiz and test questions, and working through concepts that all of us struggled with.

I have had lots of time to prepare for my finals, because my internship ended on Friday, December 3rd. It was sad to say goodbye to everyone. I really loved working with the SAFE team. I made sure to connect with coworkers on Linkedin and my supervisor's personal contact information, in case I had to contact her regarding my final evaluation. At the end of the semester, you complete a personal evaluation of your performance at your internship site. I realized through the evaluation process that I have grown a lot. I have learned to use a variety of different tools, and have learned personal responsibility. In addition, I have honed my communication, writing, and research skills. I am really proud of the work I did with SAFE, and have learned that I have a passion for environmental policy. With this knowledge, I will be able to select future internships that relate to my interests.

After finals are over, I will be heading back to New Jersey. One of the first things I will be doing is getting my booster shot of the COVID-19 vaccine. I also plan to go back to working for Wawa over the break. I will be spending a lot of time with my family, and catching up with friends. I am looking forward to hot chocolate, the fireplace, and snow. Christmas is always one of my favorite times of the year. 
If I had to give all future Cornerstone students one piece of advice, it would be to stay organized, and take advantage of every opportunity afforded to you. Your academics and your internship are very important aspects of your life, but they are not the only thing that AU provides. Manage your time well, and you can do it all. My friends and I explored the wintertime activities that DC has, such as ice skating in the Smithsonian Sculpture Garden, the White House Christmas tree, and the Christmas Market. AU is aware of the stress that finals bring to students, so they plan lots of exciting activities through the weeks leading up. No one can study effectively if studying is all they are doing, which is why my friends and I have made a point to participate in AU-sponsored activities, like the Wonk Ball and the Gingerbread House Building Competition. In the hour or two that these activities took us away from our work, we were able to have a good time and renew our energy. Here at AU, you can find your passions, your community, and your home.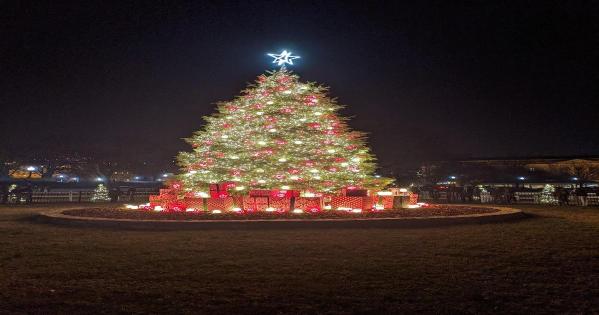 November 14, 2021 |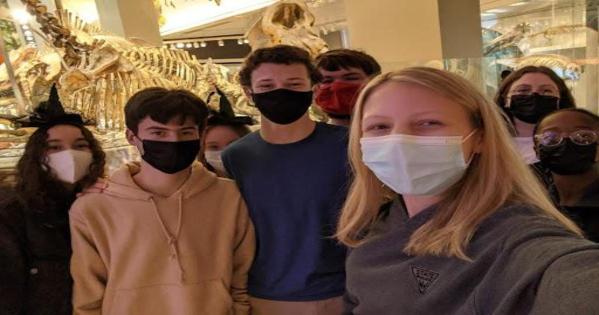 Hey guys! Welcome back! Life at AU is full of countless experiences. My friends and I are always on the go and making plans. Over Halloween weekend, we went to Embassy Row and the Museum of Natural History. It was exciting to be with my friends experiencing all the museum has to offer, instead of being dragged along on a school field trip or a family outing. The museum has many interactive tools that truly bring history to life! I also found out that weekend that my supervisor would be leaving the organization. At first, I was nervous about the changes to come, but my new supervisor and I had already worked together, which made the transition easier. She wanted to make sure the internship was a good educational experience for me, and I have been trying tasks in a variety of areas to learn new skill sets. My workload has definitely increased, and I am enjoying being challenged to reach my full potential. I have learned from this experience that change is not inherently bad; you can gain something valuable from each new person you interact with.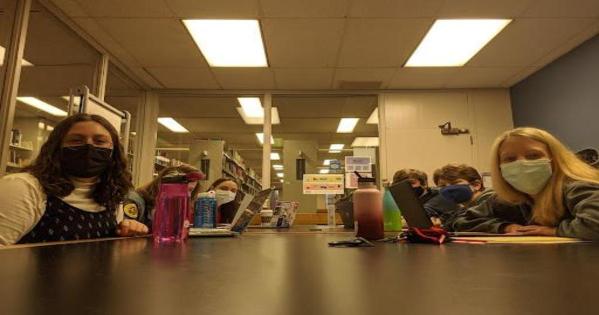 I have been enjoying my classes, especially LIT 121 with Professor Hartman. The class is centered around how food and identity are intertwined in ways we often do not recognize. It has changed my perspective on the importance of food and has allowed me to read more critically. I love the flexibility being a CLEG major provides, and am constantly trying to decide which minors I want to pursue. AU provides so many options, that the hardest part is trying to pick just a couple! A lot of work for my classes gets done on Sunday, and my friends and I have gotten into the habit of reserving a group study room in the library for hours at a time to encourage us to get our work done, and make sure no one feels overwhelmed by their workloads. Studying with friends makes it much more enjoyable!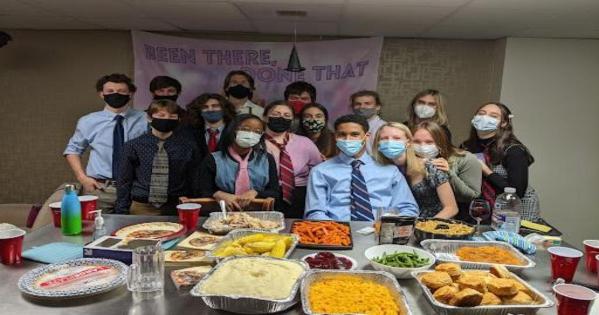 I hang out with a lot of the people from my floor, and this weekend we decided to do Friendsgiving. We spent all day Saturday cooking in the lounge (special shoutout to Letts 3 & 5 North for letting us use their ovens) and even our RA pitched in! When it was all finished, we gathered around the table to celebrate our friendship and enjoy delicious meals. It was especially important for our floormates who will not be making the trip back home for Thanksgiving, and I am grateful we were able to pull it all together. 

The next day, I went to the farmer's market with a few friends. We bought skin care products, flowers, and fresh produce. We stopped at Starbucks for a hot drink and then went to the cute little bookstore next door. I feel like I have struck a balance between school, work, and leisure. That being said, I am looking forward to going home for Thanksgiving and spending quality time with family and puppies. 
October 12, 2021 | Hey Everyone! It is October 12th, and I have been interning for Securing America's Future Energy (SAFE) for almost a month now! I really enjoy being a communications intern. I work from 9am to 4pm on my three internship days. I am in person on Tuesdays and Wednesdays, and virtually on Fridays. I start my day researching news that pertains to oil, infrastructure, and geopolitical issues, and compiling it to send out to staff so they can easily inform themselves on the current events. After that, I do research and work on newsletters to go out to current or prospective donors. I also attend the larger staff meetings in addition to meetings with the Communications team every Wednesday. I'm learning that it is important to remember to be a team player. As an intern, you will often end up helping in areas that were not specifically outlined in your job description. Take every opportunity as a chance to learn more, whether that be about the organization , a software program, or writing style.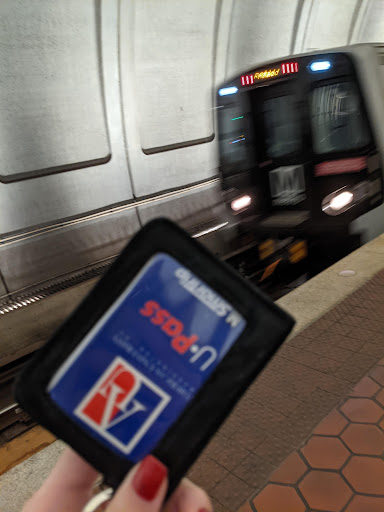 One of the things I was most stressed about coming into the Cornerstone Program was feeling overwhelmed and having too much on my plate, especially as a freshman doing an internship in the first semester. Now that I am in a routine, I do not feel overwhelmed at all. In fact, one of my favorite parts of going to work is how productive it makes me. I get back from work in a good mindset to do my homework efficiently.
When I am not busy with internship or academic work, I spend a lot of time in my floor's lounge or on the quad. The Letts-Anderson Quad is a great place to read a book or meet up with friends, and the Main Quad is great for laying out in the sun or playing volleyball. I have also started working as a Deputy Editor for Agora. I really enjoy editing other people's work, so when I heard the position was still available it felt like fate. There are so many different clubs and activities to involve yourself in; every person can find their niche. Outside of campus, my friends and I make many late night runs to grab Taco Bell, Insomnia Cookies in Georgetown, or meet up with friends from Howard University. In my opinion though, you do not have to go any farther than the Tenleytown Panera Bread to find the best chocolate chunk cookies. I am so grateful that American University provides students with an unlimited Metrocard. I would not be able to experience half of the fun adventures outside of AU without it, and not transport to and from work would be pricey.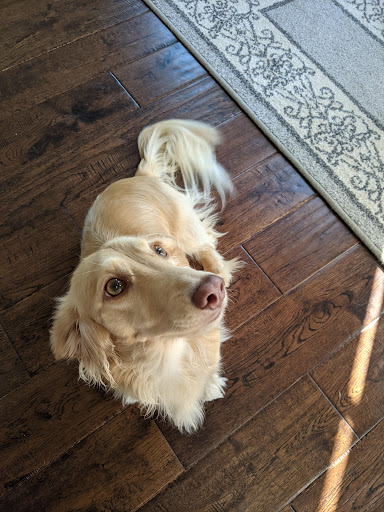 During Parents' Weekend, I went home to see my puppies and go on an official visit to Rutgers University with my sister. As a recruit for their softball team, we had the opportunity to tour their facilities and attend a football game against Ohio State. It was great to see another college campus up close, but it only made me miss my friends and AU's campus more. I may be a little biased, but no school speaks to me more than AU.
Currently, I am really looking forward to Halloween. My friend group has been in constant debate about what group costume we should wear. I have heard from upperclassmen that trick or treating on Embassy Row is a lot of fun, so we will likely end up there. Life is so action packed here at American, one day feels like three (in the best way possible!). I have never felt more like I am living my life to the fullest.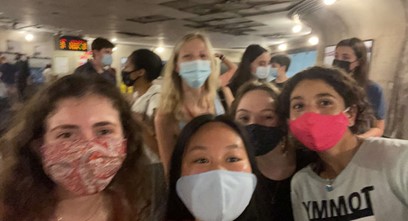 September 22, 2021 | Hi everyone! My name is Kimberly Kraska and I am from Lumberton, New Jersey. I am a Communications, Legal Institutions, Economics, and Government (CLEG) major and I am super excited to be sharing my experience with the Cornerstone Program with you! As a freshman here at American University, I have been spending a lot of time these first few weeks adapting to the new environment. There is never a shortage of activities to involve myself in, whether on-campus or off!
When I moved in on August 25th, I was in awe of all the possibilities. My hall is filled with great people who have quickly gone from being strangers to some of my closest friends. I was nervous about getting an internship, with only 20 days before the deadline and 3 interviews set up. Living with fellow Cornerstone students helped me realize that I was not behind, and we were all in the same situation. I originally had two internships but ultimately decided that one internship was best! Mainly because I want to continue exploring D.C. and get involved on campus. I say this to say - it is more than possible to find an internship as long as you follow the guidance of Cornerstone staff. Emailing your questions is always a good idea! I am a Communications Intern for Securing America's Future Energy (SAFE). It is a paid position, and the organization focuses on environmental policy and energy problems, specifically working towards reducing the United States' dependency on oil.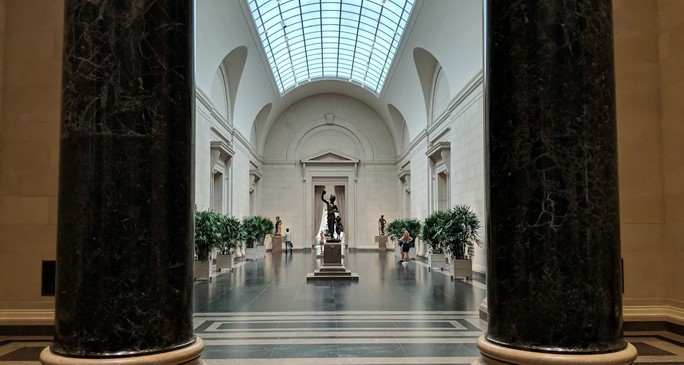 One of the most important things to do in the first few weeks of college is to make friends, go to as many events as possible, and do things in the city. On campus, go up to tables and learn about all the different club options, and enjoy the different sporting events. Off campus, night monumenting is a great way to see everything while beating the DC heat and humidity. My friends and I walked around outside the Capitol and sat on the Supreme Court steps. It is impossible to describe the surreal feeling of being in such a significant place with people who are changing our nation every day. Another day, I ate at the Good Stuff Eatery, a burger place that President Barack Obama frequented. My friends and I wondered if we were sitting at one of the tables the President had sat at. Following that, we tried the bike share system and visited the National Gallery of Art. There are so many enriching activities to do in DC. This past weekend, my roommate and I traveled to Myrtle Beach, SC with my family, and made great memories at diners and tourist traps alike. However, by the end of the trip I was missing the charm and liveliness of DC. I am ecstatic to be settled in and already calling DC (and more specifically, Letts 4 North) my home!