Contact:
Ashley Barnes
Senior Coordinator, AU Cornerstone
AU Cornerstone
4400 Mass Ave, NW
Washington
,
DC
20016
United States
Interview with Morgan Taylor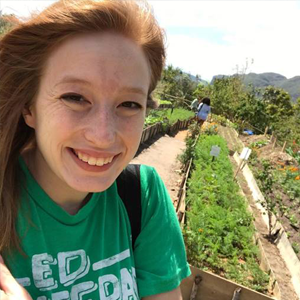 What was your major?

Public Health (major), Education Studies (minor)

What school did you attend?

College of Arts and Sciences, I now attend Johns Hopkins Bloomberg School of Public Health (pursuing a master's).
 

What are you passionate about?

I am passionate about health and education, and viewing education access as a public health issue. I am really interested in the impact of schooling on student success, and the way health influences this—the question that drives my studies is "how can we be educated if we are not healthy? How can we be healthy if we are not educated?"
 

Your career ambition?

I want to be a professor. It was a long time coming on this decision, but ultimately the incredible support I had from professors during undergrad paired with my interest in education has made me want to teach, and guide students in the way that I was.
 

What did you do next after Cornerstone DC/AU?

After Cornerstone DC, I actually stayed with my internship for another two years. During my time with Cornerstone DC I was a corps member on a team, and the next year I was promoted to Team Leader. My time focusing on education and disparities with Jumpstart heavily influenced my decision to become an education minor, and geared my focus towards the health and education of families. Last year I graduated from American and started my Masters of Science in Public Health, where I am focusing on maternal and child health.
 

What are you doing now?

I am currently a 1st year graduate student at Johns Hopkins! I received funding from the maternal and child health training grant, which has allowed me to focus my studies on the health and wellbeing of moms and children in the United States. This year I have been taking classes, but this summer I will be doing research as part of my practicum.
 

Why did you choose Cornerstone DC?

I chose Cornerstone DC because of the opportunities it provided for internship experience as a freshman. Learning outside of the classroom has always been important to me, and Cornerstone DC offered many opportunities for this through my practicum and site visits.
 

Where was your internship and what did you do there?

I did my internship with Jumpstart DC. Jumpstart is an AmeriCorps program that aims to bridge the opportunity gap in low-income preschools in DC by implementing lesson plans that focus on literacy and word development. Myself, along with a team of 4 other students from American, went to Cedar Tree Academy twice a week and ran sessions in our classrooms with 24 amazing preschoolers!
 

Favorite experience in the program?

My internship was definitely my favorite experience in the program, and honestly one of the most influential of my undergrad experience. I was really nervous to have an internship as a first semester student, but it actually ended up being nice to have a non-academic outlet, and I gained great mentors while I was there.
 

What do you want the world to know about Cornestone DC?

Students who choose Cornerstone DC make connections early, and these connections and experiences stay with you beyond your freshman year. I doubt I would be where I am today had I not been exposed to health and education in my practicum.
 

Favorite course of study (Cornerstone DC/or AU)?

My favorite class was Politics in the US because we did a lot of interesting site visits, and my favorite AU class was Maternal and Child Health.
 

What did you do for fun in DC and on the weekends?

My friends and I and took advantage of all the great musicians who came through DC and went to a lot of concerts, had fun exploring downtown and finding great brunch spots.
 

Who is/has been the biggest influence on your Cornerstone DC experience so far?

My internship supervisor, Stacia was the biggest influence on me. She is incredibly passionate and encouraging, and really gave me the confidence to step up into a leadership position following my internship.
 

Favorite quote?

"What might seem to be a series of unfortunate events may in fact be the first steps of a journey."
 

How did Cornerstone DC change your life?

My internship helped shape my studies in undergrad and has put me down the path I am on today. The internship helped me figure out what I was passionate about. Additionally, some of the people I met in the program are my best friends to this day.